French Almond Cake Recipe | Food Diaries | Zarnak Sidhwa | Dessert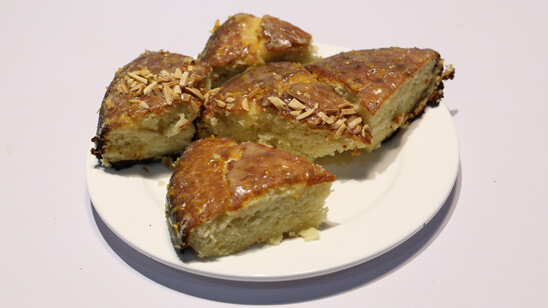 Mar 21, 2023 at 03:44 AM (GMT -04:00)

Check out the French Almond Cake Recipe in Urdu. Learn how to make best French Almond Cake Recipe , cooking at its finest by chef Zarnak Sidhwa at Masala TV show Food Diaries. Check all the Pakistan Cooking recipes in Urdu of Masala TV. Also Check French Almond Cake Recipe , ingredients and complete Method.
You do not need to run off to bakeries to get your loved ones a delicious cake. Bake French Almond Cake at home this Eid and send a more personalized and thoughtful Cake this Eid.
Watch this Masala TV video to learn how to make French Almond Cake and Corn Spinach Pulao Recipes. This show of Food Diaries with Chef Zarnak Sidhwa aired on 29 July 2020.
Ingredients:
Yogurt ¾ cup
Caster sugar 1½ cups
Eggs 4
Flour 1½ cups
Almonds powdered ¾ cup
Baking powder 3 tsp
Salt ¾ tsp
Almond essence 1 tsp
Vanilla essence 2 tsp
Oil ¾ cup
For The Glaze:
Grated orange zest 1 tsp
Orange juice 3 tbsp
Vanilla essence 1 tsp
Almond essence ½ tsp
Icing sugar ¾ cup
Sliced almonds 1/2 cups
Method:
Roast almonds in an oven until golden brown, set aside to cool.
Combine the orange zest, orange juice, icing sugar and both vanilla and almond essences in a bowl for the glaze. Cover and set aside.
Combine the yogurt, sugar and eggs until well blended. Add the flour, almonds powdered, baking powder, salt and vanilla and almond essences. Add the oil and stir well. Don't worry, at first it will seem to separate, but keep stirring till smooth for a few minutes.
Pour the batter into a greased and lined pan. Bake at 180 degrees C for 35-45 minutes, until a toothpick inserted into the center comes out clean. Cover loosely with foil if getting too brown near the end and cake is still not done. Be careful not to over bake. Cool cake on a wire rack for 10 minutes; then turn it out of the pan onto the rack.
While cake is still warm, using a pastry brush, gently brush the glaze all over the cake. Sprinkle almonds over top of cake while glaze is wet. Allow cake to cool completely. Sprinkle with icing sugar and serve.
Ingredients:
Corn ¾ cup
Spinach 1 bunch
Rice soaked 1 ½ cups
Clarified butter 2 tbsp
Mustard seeds 1 tsp
Cumin seeds 1 tsp
Onions chopped 2
Salt to taste
Ginger paste 1 ½ tsp
Garlic paste 1 ½ tsp
Coriander powder 1 tsp
All spice powder 1 tsp
Orange 1 for garnish
Raita to serve
Method:
Heat clarified butter, add mustard seeds and let them splutter. Add cumin seeds and let them change colour. Add onions and a pinch of salt, sauté till onions turn golden brown. Add ginger paste and garlic paste, sauté. Drain and add rice and mix. Add coriander powder, adjust salt and add all spice powder, corn, spinach and water and mix well. Cover and cook on low heat till the moisture is absorbed and the rice is cooked completely. Take the pan off the heat and transfer the rice into an oiled ring mould, packing it tightly. Place a plate upside down on the mould and turn it over and gently remove the mould. Arrange the orange slices all around the rice. Place a bowl with raita in the center cavity of the rice.

French Almond Cake Recipe in Urdu and English
At Masala TV you can check complete French Almond Cake Recipe in Urdu and English. This is one of the best recipes by chef Zarnak Sidhwa at Masala TV show Food Diaries. Check out the other best recipes of chefs Zarnak Sidhwa.
Top relevant recipes of French Almond Cake Recipe in Urdu