Fried Chicken Tikka Boti Recipe | Lazzat | Samina Jalil | Desi Food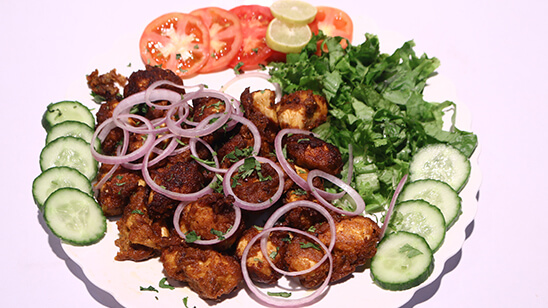 Jan 24, 2021 at 10:39 PM (GMT -05:00)

Check out the Fried Chicken Tikka Boti Recipe in Urdu. Learn how to make best Fried Chicken Tikka Boti Recipe , cooking at its finest by chef Samina Jalil at Masala TV show Lazzat. Check all the Pakistan Cooking recipes in Urdu of Masala TV. Also Check Fried Chicken Tikka Boti Recipe , ingredients and complete Method.
Fried Chicken Tikka Boti has a special spicy touch to it that makes even more succulent. It's easy to prepare so give it a try!
Watch this Masala TV video to learn how to make Fried Chicken Tikka Boti , Dahi Baingan Masala and Bread Pudding Recipes. This show of Lazzat with Chef Samina Jalil aired on 26 November 2020.
Ingredients:
For marination:
Chicken 500 gram
Ginger garlic paste 1 tbsp
Lemon juice 2 tbsp
Corn flour 2 tbsp
Flour 2 tbsp
All spice powder 1 tsp
Cumin powder 1 tsp
Chaat masala 1 tsp
Salt 1-1/2 tsp
Red chili powder 1 tbsp
Tikka masala 2tbsp
Yogurt 2 tbsp
Meat tenderizer 1 tsp
Yellow food color 2 pinch
Oil 2 tbsp
Coal 1
Oil for frying
For serving:
Lettuce leaves as required
Onion rings as required
Tomato as required
Lemon slice as required
Method:
Marinate chicken with all ingredients and leave for 4 to 5 hours. Now give coal smoke. Then fry in oil on medium flame then remove. Serve with lettuce leaves, onion rings, tomato and lemon slice.
Ingredients:
Brinjal ½ kg
Oil for frying
Crushed ginger garlic 1 tbsp
Crushed coriander, cumin 1 tbsp
Whole red chilies 4-5
Salt to taste
Crushed red chili 1 tsp
Turmeric ½ tsp
Green chilies (finely cut) 6-7
Onion (finely cut) 1
Asafoetida 1 pinch
Sugar 2 tbsp
Green coriander as required
Oil for masala ½ cup
Yogurt 1 cup
Tomatoes 2-3
Lemon juice 2 tbsp
Method:
Cut brinjal in length in thick pieces and deep fry it then remove. Now heat ½ cup oil add finely cut onion, crushed ginger garlic, green chilies and whole red chilies and fry them. When it gets light golden then add asafoetida. Then add tomatoes, salt, red chili and turmeric and saute well. Now add fry brinjal, crushed coriander, cumin, little green coriander and lemon juice and let it simmer for 2 to 3 minutes. Then in yogurt add salt, sugar and crushed cumin and beat well. Take out brinjal masala in dish and let it cool down. Then put yogurt and green coriander on it and serve.
Ingredients:
Croissants 4
Eggs 4
Cream 1 packet
Sugar ¾ cup
Cinnamon powder ½ tsp
Vanilla essence 2-3 drops
Butter ½ cup
Raisins as required
Method:
Make small pieces of croissant and put them in dish then add raisins. Now beat eggs, cream, sugar, cinnamon, vanilla essence and butter and add this on croissant and leave for 15 minutes. Now bake in pre heat until it get set. Take out and serve with ice cream.

Fried Chicken Tikka Boti Recipe in Urdu and English
At Masala TV you can check complete Fried Chicken Tikka Boti Recipe in Urdu and English. This is one of the best recipes by chef Samina Jalil at Masala TV show Lazzat. Check out the other best recipes of chefs Samina Jalil.
Top relevant recipes of Fried Chicken Tikka Boti Recipe in Urdu