Fried Fish Steak Recipe | Flame On Hai | Irfan Wasti | Sea Food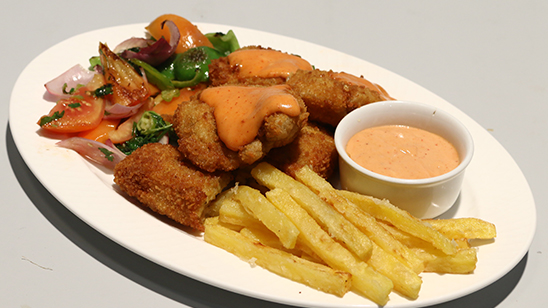 Sep 28, 2022 at 08:45 PM (GMT -04:00)

Check out the Fried Fish Steak Recipe in Urdu. Learn how to make best Fried Fish Steak Recipe , cooking at its finest by chef Irfan Wasti at Masala TV show Flame On Hai. Check all the Pakistan Cooking recipes in Urdu of Masala TV. Also Check Fried Fish Steak Recipe , ingredients and complete Method.
Fried Fish Steak is a must try dish. It has chicken fillets marinated and cooked to perfection to bring out great taste and flavor.
Watch this Masala TV video to learn how to make Fried Fish Steak , Bhindi Qeema Ghotala and German Chocolate Cake Recipes. This show of Flame On Hai with Chef Irfan Wasti aired on 5 June 2021.
Ingredients for Marinate:
Fish fillets 4
Oil 2 – 3 tbsp
Garlic chopped 2 cloves
Salt to taste
Black pepper ½ tsp
Mustard paste 1 tbsp
Soy sauce 2 to 3 tbsp
Lemon juice 2 to 3 tbsp
COATING:
Egg 1
Flour as required
Bread crumbs as required
Oil for frying
SAUCE:
Mayonnaise 3 tbsp
Tomato ketchup 3 tbsp
Chili sauce 2 tbsp
Cream 2 tbsp
Grilled vegetables side line
Potato fries side line
METHOD:
In mixing bowl add fish fillet and marinate with all ingredients for 2 to 3 hours, keep in fridge. Add egg beat in bowl. Coat fish with flour and dip in egg. Coat with bread crumbs shallow in fry hot oil. For sauce mix all ingredients in mixing bowl. Place fish in serving platter then pour sauce on it. serve with fries and grilled vegetables.
Ingredients:
Okra slices 1 cup
Beef mince 1 cup
Oil 3 to 4 tbsp
Onion chopped 1 large
Garlic chopped 3 to 4 cloves
Tomato puree 1 cup
Salt to taste
Red chili powder 1 tbsp
Turmeric powder ½ tsp
All spice powder ½ tsp
Egg 1
Green chili chopped 1 large
Fresh coriander chopped 1 tbsp
METHOD:
Heat oil add onion sauté well. Add mince and garlic cook well. Add all spice cook. Add water leave for simmer. When meat is done add tomato puree cook till oil is separate. Add fried lady fingers, green chili and green coriander mix well. Add egg mix well cook for 1 minute. Remove in serving dish add ginger, green chilies and green coriander, serve.
Ingredients for Sponge:
Flour 2 cups
Sugar 2 cup
Cocoa powder ¼ cup
Baking soda 2 tsp
Baking powder 1 tsp
Salt ½ tsp
Milk 1 cup
Warm water 1 cup
Oil 1/3 cup
Eggs 2
Vanilla essence few drops
Ingredients for Frosting:
Whipping cream 200 gm
Chocolate haze 100 gm
Ingredients for Topping:
Brown sugar ½ cup
Sugar ½ cup
Butter 50 gm
Egg yolk 2
Milk ½ cup
White chocolate flakes ½ cup
Peanuts 50 gm
Vanilla essence few drops
METHOD:
For sponge, mix all ingredients in mixing bowl. Make dough add in 9×9 inch mould bake for 180 C for 30 to 35 minutes. For frosting beat cream well. Add chocolate haze mix well. For topping add all ingredients except peanut and white chocolate cook till sauce becomes thick. Mix chocolate and peanut in the end, serve.

Fried Fish Steak Recipe in Urdu and English
At Masala TV you can check complete Fried Fish Steak Recipe in Urdu and English. This is one of the best recipes by chef Irfan Wasti at Masala TV show Flame On Hai. Check out the other best recipes of chefs Irfan Wasti.
Top relevant recipes of Fried Fish Steak Recipe in Urdu