Fried Mac & Cheese Recipe | Dawat | Abida Baloch | Fusion Food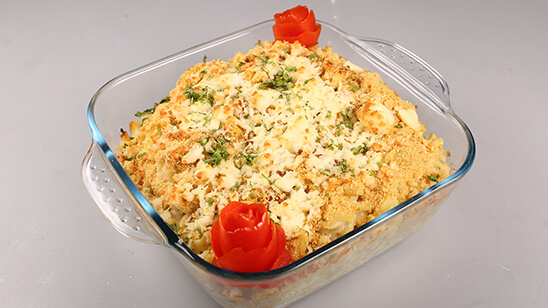 Sep 17, 2021 at 06:26 AM (GMT -04:00)

Check out the Fried Mac & Cheese Recipe in Urdu. Learn how to make best Fried Mac & Cheese Recipe , cooking at its finest by chef Abida Baloch at Masala TV show Dawat. Check all the Pakistan Cooking recipes in Urdu of Masala TV. Also Check Fried Mac & Cheese Recipe , ingredients and complete Method.
Fried Mac & Cheese recipe by our expert chef so make this at home for happy occasions and treat your loved ones!
Watch this Masala TV video to learn how to make Fried Mac & Cheese and Beef Khara Masala Recipes. This show of Dawat with Chef Abida Baloch aired on 11 May 2021.
Ingredients:
Macaroni boiled 1 packet
Oil 4 tbsp
Unsalted butter 3 tbsp
Flour 1/4 cup
Whole dried milk 2 cups
Heavy whipping cream 1 cup
Cheddar cheese shredded 1 cup
Salt and pepper to taste
Bread Crumbs 1 cup
Paprika 1/4 tsp
Method:
Preheat oven. Lightly grease a baking dish and set aside melt butter in a deep saucepan, Whisk in flour over medium heat and continue whisking for about 1 minute until bubbly and golden. Gradually whisk in the milk and heavy cream until nice and smooth. Continue whisking until you see bubbles on the surface and then continue cooking and whisking for another 2 minutes. Whisk in salt and pepper. Add half shredded cheese and whisk until smooth. Stir in the cooled pasta until combined and macaroni is fully coated with the cheese sauce. Pour half of the macaroni and cheese into the prepared baking dish. Top with remaining shredded cheese and then the remaining macaroni Sprinkle breadcrumbs and paprika over the top and bake until bubbly and golden brown, about 30 minutes. Serve immediately.
Ingredients:
Beef ½ kg
Oil ½ cup
Onion sliced 1 cup
Garlic paste 1 tsp
Ginger paste 1 tsp
Salt 1 tsp
Crushed black pepper 1 tsp
Whole red chili 8
Black cardamom 1
Green cardamom 4
Cinnamon stick 1inch
Star anise 1
Cumin seeds 1 tsp
Coriander powder 1 tsp
Tomato puree 1 cup
Green chilies few
Fresh coriander for garnishing
lemon wedges for serving
Method:
In a pan, add onion in hot oil over medium heat, cook till getting blond. Add garlic and ginger paste and stir. Add salt, crushed black pepper, whole red chilies, black & green cardamom, cinnamon stick, star anise, cumin seeds and coriander powder. Cook for a minute & add small amount of water. Add beef and stir well. Cook until oil is getting separate. When oil is separated, add tomato puree and cook well. Add water if need to cook meat until tender. When meat is tender, add green chilies, balance salt if needed and garnish with coriander and serve.

Fried Mac & Cheese Recipe in Urdu and English
At Masala TV you can check complete Fried Mac & Cheese Recipe in Urdu and English. This is one of the best recipes by chef Abida Baloch at Masala TV show Dawat. Check out the other best recipes of chefs Abida Baloch.
Top relevant recipes of Fried Mac & Cheese Recipe in Urdu