Gooey Chocolate Cake Recipe | Masala Mornings | Shireen Anwar | Dessert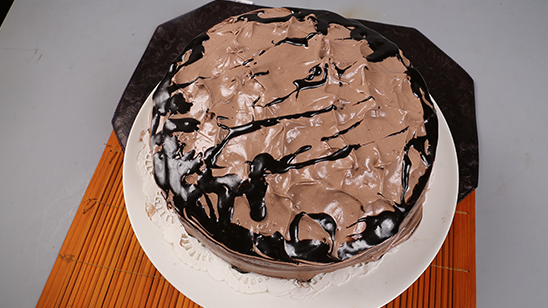 Dec 01, 2021 at 04:09 AM (GMT -05:00)

Check out the Gooey Chocolate Cake Recipe in Urdu. Learn how to make best Gooey Chocolate Cake Recipe , cooking at its finest by chef Shireen Anwar at Masala TV show Masala Mornings. Check all the Pakistan Cooking recipes in Urdu of Masala TV. Also Check Gooey Chocolate Cake Recipe , ingredients and complete Method.
This Gooey Chocolate Cake is gooey on the inside with a crisp outer crust that will give you a great combination of soft and crunch. Bake this for your special occasions and enjoy every single bite of it!
Watch this Masala TV video to learn how to make Gooey Chocolate Cake , Special Roast Chicken And Tamarind Sharbat Recipes. This show of Masala Mornings with Shireen Anwar aired on 1 April 2021..
Ingredients for Cake:
Melted butter 8 gm
Eggs 2
Sugar 1 ½ cup
Milk 1 cup
Hot coffee 1 cup
Vanilla essence 1 tsp
Flour 2 cups
Coco powder ¾ cup
Baking soda 2 tsp
Baking powder 1 tsp
Salt ½ tsp
Sour cream ½ cup
Ingredients for Soaking Syrup:
Ingredients for Soaking Glaze:
Milk 1 cup
Chopped chocolate ¾ cup
Ingredients For Frosting:
Dark chocolate 200 gm
Cream 300 gm
Ingredients for Glaze
Chocolate 200 gm
Cream 100 gm
METHOD FOR CAKE:
Put all the dry ingredients in one bowl. In another bowl add melted butter, eggs, sugar, milk, sour cream, essence and hot coffee, beat all, add the dry ingredients, do not overbeat, pour into two 9 inch round pans, bake at 180 D for 40 mins.
METHOD FOR SOAKING SYRUP:
Cook till sugar melts and syrup slightly thick.
METHOD FOR SOAKING GLAZE:
Heat till chocolate is melted and mixed with milk.
METHOD For Frosting:
Make frosting, chill and beat.
METHOD:
First soak one piece of cake with soaking syrup, put the second piece of cake on top, then soak with glaze, then apply the ganache all over the cake. In the end, pour and spread the glaze, chill and serve.
Ingredients:
Chicken 1 kg whole give cuts
Ginger garlic 1 tbsp
Allspice 1 tsp
Button red chilies 8 grinded
Nutmeg ¼ tsp
Mace ¼ tsp
Green cardamom ¼ tsp
Saffron ¼ tsp
Screwpine 1 tsp
Desiccated coconut grinded 2 tbsp
Yogurt 1 cup
Salt 1 ½ tsp
Turmeric ½ tsp
Oil ½ cup
Boiled eggs 2 to serve
Cream cheese 2 tbsp
METHOD:
Marinate chicken with all the given ingredients for 2 hours except saffron, kewra, oil and boiled eggs. Heat oil add marinated chicken, cover and cook till done. Serve sprinkled with saffron, screwpine and cream cheese. Garnished with boiled eggs
Ingredients:
Tamarind 250 gm
Sugar ¾ cup heaped
Black pepper whole 25-30
Water 4 cups
Crushed ice to serve
Roasted cumin crushed to sprinkle before serving
Mint leave to serve
White soda drink 1 tin
METHOD:
Boil tamarind, sugar, black pepper whole, 4 cups water for about 30 mins till thick and shiny, strain well using a fine sieve, put in bottle keep in fridge. For 1 glass add ¼ cup or 4 tbsp prepared tamarind mixture with crushed ice, white soda drink and blend until smooth, serve sprinkled with roasted and crushed cumin and mint leaves.

Gooey Chocolate Cake Recipe in Urdu and English
At Masala TV you can check complete Gooey Chocolate Cake Recipe in Urdu and English. This is one of the best recipes by chef Shireen Anwar at Masala TV show Masala Mornings. Check out the other best recipes of chefs Shireen Anwar.
Top relevant recipes of Gooey Chocolate Cake Recipe in Urdu