Grilled Chicken Panini Recipe | Flame On Hai | Irfan Wasti | Fast Food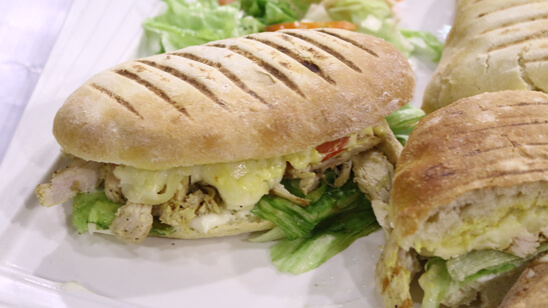 May 12, 2021 at 11:45 PM (GMT -04:00)

Check out the Grilled Chicken Panini Recipe in Urdu. Learn how to make best Grilled Chicken Panini Recipe , cooking at its finest by chef Irfan Wasti at Masala TV show Flame On Hai. Check all the Pakistan Cooking recipes in Urdu of Masala TV. Also Check Grilled Chicken Panini Recipe , ingredients and complete Method.
Grilled Chicken Panini will make the ultimate sandwich that is loved by all! Try it and let us know how you liked it.
Watch this Masala TV video to learn how to make Grilled Chicken Panini , Deep Fried Burger and Paprika Potato Wedges Recipes. This show of Flame On Hai with Chef Irfan Wasti aired on 23 August 2020.
Ingredients for Panini:
Flour 500 gm
Sugar 1 tsp
Salt 1 tsp
Yeast 1 tsp
Bread improver ½ tsp
Water as required
Oil 1 tbsp
Ingredients for Grilled Chicken:
Boneless chicken fillet 500 gm
Oil 2 tbsp
Garlic paste 1 tbsp
Mustard paste 1 tbsp
Lemon juice 2 tbsp
Salt as required
Black pepper 1 tsp
For Panini Assembling:
Panini bread 2-3
Grilled chicken as required
Mayonnaise as required
Mustard paste as required
Iceberg as required
Tomato slices as required
Cheese slices 2-3
METHOD:
For Panini, add flour and all ingredients knead well. Cover and leave dough for 30 minute. After 30 minute knead dough again make balls. Make Panini bread and keep on baking tray. Keep bread for 30 to 35 minute for oven proof. Pre heat oven at 220C. spray water on bread and dusting with flour and again bake for 10 minute. For grilled chicken mix chicken and all ingredients leave for marinate and keep in fridge for 2 hour. Heat grill pan well. Grease with oil cook chicken from both sides. To assemble Panini cut bread from center apply mayonnaise. Add tomato sliced, cheese sliced and mustard paste. Cover with top and place grill pan to give mark.
Ingredients for Chicken Patty:
Chicken minced 1 cup
Garlic chopped 1 tbsp
Green chili chopped 1 tbsp
Onion chopped 1 tbsp
White pepper 1 tsp
Salt as required
Bread sliced 1
Oil for frying
For Burger Making:
Burger buns 4
Chicken patty 4
Mayonnaise as required
Cheese slices 4
Dough as required
Egg 2
Bread crumbs as required
Oil for frying
METHOD:
For chicken patty add chicken minced and all ingredients mix well. Form into patty shape and fry in hot oil. Cut burger bun from center, apply mayonnaise on base. Add chicken patty and cheese slice on top of bun. Roll the dough. Place burger on top of dough. Seal burger with dough. Dip in egg, apply bread crumbs. Heat oil fry burger on low flame. When it turns golden remove and serve.
Ingredients:
Potatoes 5 – 6
Salt 1 tbsp
Vinegar ¼ cup
Water 1 liter
Oil for frying
For Paprika Seasoning:
Paprika 2 tbsp
Salt 1 tsp
Chicken powder 1 tbsp
Garlic powder 1 tsp
Corn flour as required
METHOD:
Mix all ingredients of paprika seasoning in mixing bowl. Add water, salt and vinegar in pan. When boil comes add potato wedges with skin. Remove potato wedges from water sieve and dry well. Add corn flour keep aside. Heat oil fry wedges on low flame. When it turns golden and crispy remove from pan and sprinkle seasoning.

Grilled Chicken Panini Recipe in Urdu and English
At Masala TV you can check complete Grilled Chicken Panini Recipe in Urdu and English. This is one of the best recipes by chef Irfan Wasti at Masala TV show Flame On Hai. Check out the other best recipes of chefs Irfan Wasti.
Top relevant recipes of Grilled Chicken Panini Recipe in Urdu