Grilled Chops Recipe | Masala Mornings | Shireen Anwar | Continental Item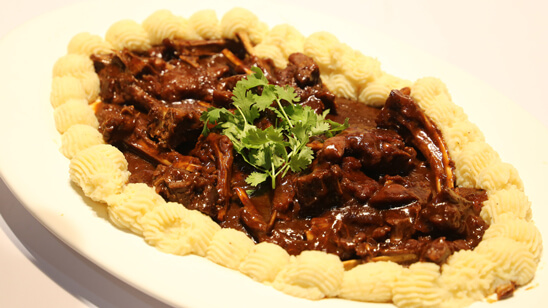 May 14, 2021 at 06:56 AM (GMT -04:00)

Check out the Grilled Chops Recipe in Urdu. Learn how to make best Grilled Chops Recipe , cooking at its finest by chef Shireen Anwar at Masala TV show Masala Mornings. Check all the Pakistan Cooking recipes in Urdu of Masala TV. Also Check Grilled Chops Recipe , ingredients and complete Method.
This Grilled Chops recipe will help you achieve the most flavorful and tender chop at the com fort of your home!
Watch this Masala TV video to Learn how to make Grilled Chops , Saag Handi and Strawberry Swirl Recipes. This show of Masala Mornings with Chef Shireen Anwar aired on 3 September 2020.
Ingredients to marinate:
Chops flattened 750 gm
Salt 1 tsp heaped
Crushed black pepper 1 tsp heaped
Black pepper powder ½ tsp
Mustard powder 1 ½ tsp
Worcestershire sauce 3 tbsp
Vinegar 2 tbsp
Ketchup ¼ cup
Ginger garlic 1 tbsp
Oil ¼ cup
Other ingredients :
Mashed potatoes to serve
Onion chopped 1 cup
Method:
Marinate chops with all above for 1 hour. Heat oil fry chopped onion till light golden, add in your marinated chops, fry till light brown, add 2 cups water, cover and cook till chops tender and mixture dry, serve with mashed potatoes.
Ingredients:
Fenugreek ½ kg
Spinach 1 kg cleaned
Kulfa cleaned and chopped ½ kg
Oil ½ cup
Coarsely crushed ginger garlic 1 tbsp each
Salt 1 tsp leveled
Crushed red pepper 1 tsp
Ingredients to temper:
Clarified butter ¼ cup
Onion sliced 3 tbsp
Garlic cloves sliced lengthwise 4
Button red chilies 8-10
Cumin seeds 1 tsp
Method:
Clean all the saags well, wash and boil in 4 cups of water with 2 inch piece of ginger, 6 small whole green chilies, boil for 30 mins, drain the remaining water and blend all together. Heat ½ cup oil, add coarsely crushed ginger garlic, fry till light golden, add in blended saags with salt, fry till oil disappears, add crushed red pepper.
Method for tadka:
Heat ghee in a fry pan, add sliced onion, fry till light golden, add julienne of garlic, button red chilies, white cumin whole, add this to the saag in handi, mix again, put the handi to cook for 5 mins.
Ingredients for short bread crust:
Flour 1 ½ cup
Granulated sugar 4 tbsp
Butter ½ cup
Ingredients for filling:
Strawberry jell-o powder 1 packet
Boiling water ¾ cup
Frozen strawberries 2 cups
Milk ½ cup
Marshmallow white or pink 20
Whipped cream 2 cups
Method for short bread:
Combine flour and sugar in a bowl, rub in butter until it resembles bread crumbs, press firmly in a greased 8×8 inch pan, bake on 180 d for 15 mins until golden, cool.
Method for filling:
Stir jell-o powder into boiling water until dissolved, stir in strawberries, chill until mixture is syrupy. Heat milk on medium flame, do not let it boil, add marshmallows, stir until melted, cool stirring, fold marshmallow mixture into whipped cream, fold into strawberry mixture leaving some white streaks, spread evenly over cool crust, chill, cut into pieces and serve.

Grilled Chops Recipe in Urdu and English
At Masala TV you can check complete Grilled Chops Recipe in Urdu and English. This is one of the best recipes by chef Shireen Anwar at Masala TV show Masala Mornings. Check out the other best recipes of chefs Shireen Anwar.
Top relevant recipes of Grilled Chops Recipe in Urdu