Hot Dragon Soup Recipe | Lazzat | Samina Jalil | Chinese Food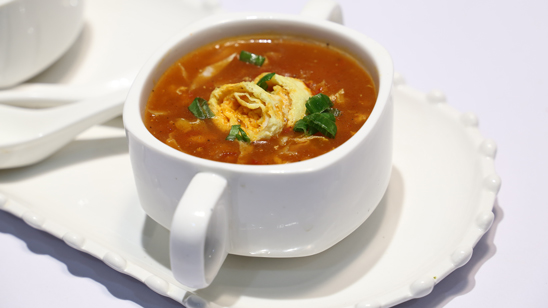 Sep 17, 2021 at 11:44 PM (GMT -04:00)

Check out the Hot Dragon Soup Recipe in Urdu. Learn how to make best Hot Dragon Soup Recipe , cooking at its finest by chef Samina Jalil at Masala TV show Lazzat. Check all the Pakistan Cooking recipes in Urdu of Masala TV. Also Check Hot Dragon Soup Recipe , ingredients and complete Method.
Hot Dragon Soup is the delicious combination of sweet and sour that everyone will love!
Watch this Masala TV video to learn how to make Hot Dragon Soup, Chili Cherry Chicken and Spicy Sea Food Fried Rice Recipe. This show of Lazzat with Chef Samina Jalil aired on 8 June 2020.
Ingredients:
Chicken mince boiled 200 grams
Chicken stock 6 cups
Hot sauce 2 tbsp
Talhar chili paste 1 tsp
Tomato puree 1 tbsp
Salt, black pepper to taste
Sesame oil 1 tsp
Oil 1 tbsp
Crushed ginger 1 tsp
Corn flour 2 tbsp
Cabbage ¾ cup
Eggs 2
Vinegar 1 tbsp
Soy sauce 1 tbsp
Chili sauce 1 tbsp
Chili oil 1 tbsp
Method:
Heat oil and add crushed ginger and fry lightly .now add chicken mince ,tomato puree ,hot sauce and Talhar chili paste mix then add chicken stock mix and leave for few minutes .then add cabbage ,vinegar ,soy sauce ,and salt ,black pepper add and cook for 10 minutes .after this in egg add salt and beat well then fry .then remove and roll it then cut it .now add in corn flour add water and mix when soup thick then add sesame oil .after this remove in a bowl and garnish with omelet and chili oil and serve .
Ingredients for marination:
Boneless chicken 400
Flour 2 tbsp
Salt ½ tsp
Soy sauce 1 tbsp
White chili ½ tsp
Oil for frying
For sauce ingredients:
Oil 2 tbsp
Crushed ginger garlic 1-1/2 tsp
Tomato paste 2 tbsp
Crushed red chili 1 tbsp
White chili ½ tsp
Tomato cubes 2
Lemon juice 2 tbsp
Cherries ¾ cup
Chili sauce 1 tbsp
Method:
In Boneless chicken add all chicken marination ingredients and leave for half an hour. then heat oil and fry lightly. then for sauce heat oil and all sauce ingredients and chicken mix. finally add cherries and serve.
Ingredients:
Boiled rice 1 cup
Small prawns ¾ cup
Fish small pieces 200 grams
Green onion 3-4
Finely cut capsicum 1
Sesame oil 1 tsp
Chili sauce 4 tbsp
Chili garlic sauce 2 tbsp
Crushed garlic 1 tbsp
Crushed black pepper 1 tsp
White pepper ½ tsp
Oil 4 tbsp
Soy sauce 2 tbsp
Chicken stock ¾ cup
Method:
Heat oil and fry garlic and add fish and small prawns then mix and fry .now add chili sauce ,chili garlic sauce ,soya sauce ,white pepper and crushed black pepper .then add chicken stock and boil rice and mix well then fry .finally add spring onion ,finely cut capsicum and sesame oil add and mix .after this serve it

Hot Dragon Soup Recipe in Urdu and English
At Masala TV you can check complete Hot Dragon Soup Recipe in Urdu and English. This is one of the best recipes by chef Samina Jalil at Masala TV show Lazzat. Check out the other best recipes of chefs Samina Jalil.
Top relevant recipes of Hot Dragon Soup Recipe in Urdu