Hyderabadi Dum Biryani Recipe | Lively Weekends | Desi Food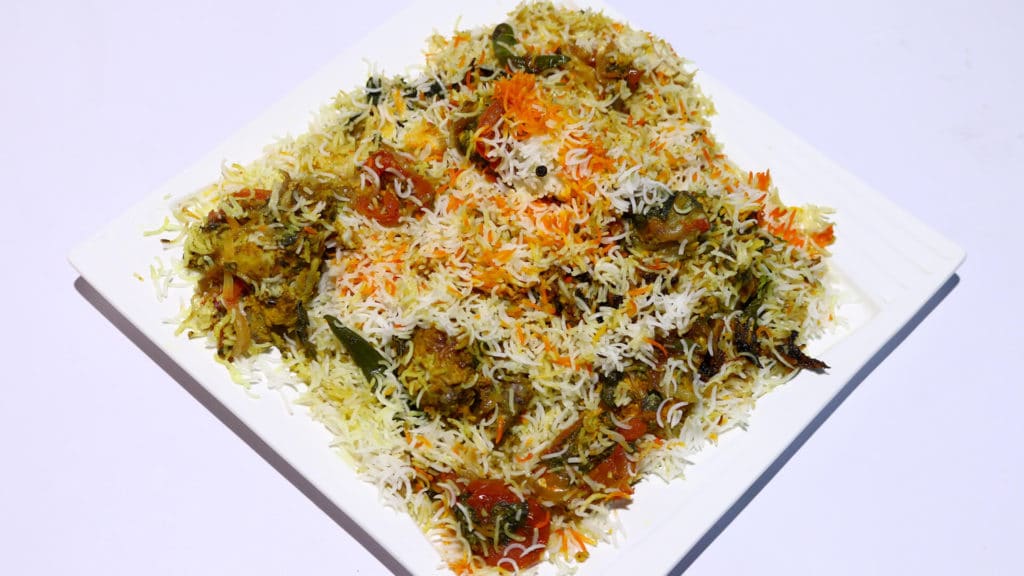 Oct 21, 2021 at 08:39 AM (GMT -04:00)

Check out the Hyderabadi Dum Biryani Recipe in Urdu. Learn how to make best Hyderabadi Dum Biryani Recipe , cooking at its finest by chef at Masala TV show Lively Weekends. Check all the Pakistan Cooking recipes in Urdu of Masala TV. Also Check Hyderabadi Dum Biryani Recipe , ingredients and complete Method.
This Hyderabadi Dum Biryani will satisfy your craving for a spicy biryani like never before!
Watch this Masala TV video to learn how to make Hyderabadi Dum Biryani ,Tarka karahi and Custard Fruit Cream Recipes. This show of Lively Weekend with Host Kiran Khan aired on 1 March 2020.
Ingredients:
Chicken 1/2 kg
Yogurt 1 cup
Green chilies 5
Mints 1/2 bunch
Green coriander 1/2 bunch
Tomatoes 4
Ginger 1tbsp
Garlic 1tbsp
Salt 2 tbsp
Red chili powder 1tbsp
Coriander powder 1 tbsp
Turmeric ½ tsp
Fried onion 1 cup
Lemon juice 2 tbsp
Dry plums 5
Cardamom 3
Cumin ½ tsp
Black cardamoms 2
Cloves 4
Black pepper 5
Bay leaves 2
All spices powder ½ tsp
Boil rice 2 cup
Screw pine ½ tsp
Food color 1 tsp
Method:
Boil water .then add whole gram masala and rice add and cook half .after this salt ,red chili powder ,coriander powder ,grinded garam masala ,yogurt ,tomatoes ,ginger garlic and turmeric add and mix .then add chicken .now in a pan heat oil and add marinate chicken ,fried onion ,green coriander ,mints ,dry plump, green chili ,lemon juice ,screw pine , food color and rice add and leave on dum then serve .
Ingredients:
Chicken 1/2 kg
Oil as required
Tomatoes paste 2
Yogurt 4 tbsp
Green chilies 3
Onion 1
Chopped ginger 1tbsp
Chopped garlic 1 tbsp
Salt 1 tsp
For oil tempering:
Oil 3 tbsp
Cumin ½ tsp
Nigella seeds ½ tsp
Curry leaves 5
Whole red chilies 5
Whole coriander ½ tsp
Black pepper ½ tsp
Green chilies 3
Ginger for garnishing
Lemon slices for garnishing
Method:
Heat oil and lightly fry garlic and onion and add chicken and fry. After this add grinded tomatoes, and all chicken spices and roast. Finally heat oil and add all oil tempering ingredients add and fry then do the tarka and garnish with lemon and ginger and serve.
Ingredients:
Milk 1 liter
Custard powder 4tbsp
Jelly 2packets
Apple 2
Bananas 3
Cream 1packet
Orange juice 1cup
Almond chopped 2 tbsp
Pistachio chopped 2 tbsp
Condensed milk 1 tin
Cake rusk as required
Method:
Boil the milk and mix condensed milk .then mix custard powder .after this cut the fruits and cook the jelly .now cake rusk dip in orange juice and do the layer in dish .now pour custard then jelly ,fruits and cream mix .finally garnish with almond and pistachios and serve .

Hyderabadi Dum Biryani Recipe in Urdu and English
At Masala TV you can check complete Hyderabadi Dum Biryani Recipe in Urdu and English. This is one of the best recipes by chef at Masala TV show Lively Weekends. Check out the other best recipes of chefs .
Top relevant recipes of Hyderabadi Dum Biryani Recipe in Urdu