Kesar Peda Recipe | Food Diaries | Zarnak Sidhwa | Dessert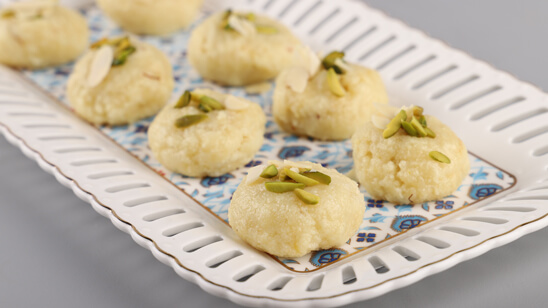 May 18, 2022 at 02:38 AM (GMT -04:00)

Check out the Kesar Peda Recipe in Urdu. Learn how to make best Kesar Peda Recipe , cooking at its finest by chef Zarnak Sidhwa at Masala TV show Food Diaries. Check all the Pakistan Cooking recipes in Urdu of Masala TV. Also Check Kesar Peda Recipe , ingredients and complete Method.
Kesar Peda is traditional Desi Dessert that is in semi-solid form, rich in milky goodness. Give it a try!
Watch this Masala TV video to learn how to make Kesar Peda and Veg Kofta Biryani Recipes. This show of Food Diaries with Chef Zarnak Sidhwa aired on 28 January 2021.
Ingredients:
Clarified butter 1-1/2 tbsp
Whole dried milk 200 gm
Saffron threads 1 pinch
Warm milk 2 tbsp
Caster sugar 1/2 cup
Almonds or pistachios sliced 10-12
Method:
Soak the saffron threads in warm milk. Heat ghee in a pan and add the khoya to it. Stir until it melts and becomes lump free. Now add the saffron soaked milk and mix well. When it is little stiff, transfer it to a bowl and let it cool completely. Add caster sugar to it and mix well to make dough. Apply ghee on hands and scoop out a small portion. Make balls and flatten it. Make a small dent in center. Place the nuts in center. Refrigerate it for an hour before you serve.
Ingredients for Kofta :
Boiled potatoes 2
Grated paneer 1/2 cup
Bread crumbs 1/2 cup
Red chillipowder 1/2 tsp
All spice powder 1/2 tsp
Coriander powder 1/2 tsp
Cashews & almonds 2 tbsp
Salt 1 tsp
Sugar 1/4 tsp
Chopped coriander leaves as required
For gravy :
oil – 2 tbsp
clarified butter 1 tbsp
Tomatoes pureed 2
Cumin seeds 1/2 tsp
Ginger and garlic paste 1/2 tsp
Green chilli 1
Red chilli powder 1/2 tsp
Coriander powder 1 tsp
All spice powder 1/2tsp
Sugar a pinch
Salt ½ tsp
Yogurt mixture :
yogurt 3/4 cup
Kewra essence few drops
Rose water few drops
cardamom powder 1 tsp
Yellow food color ½ tsp
For Rice :
rice 1 cup
Cinnamon 1 piece
Cloves 2
Star anise 1
Cardamom 1
Salt 1tsp
To garnish:
Fried onions 1/4 cup
Mint + coriander leaves – 2-3 tbsp
METHOD:
Cook earlier soaked rice in water, salt and the whole spices, till 3/4 done. Drain the water and set aside. For the koftas, in the boiled potatoes ,mix the grated cottage cheese, bread crumbs ,chopped nuts, spice powders and salt. Reserve some bread crumbs for coating the kofta balls. Make small koftas out of the mixture and coat it bread crumbs. Heat oil and shallow fry the koftas. Drain when golden. In the remaining oil, fry the sliced onions & set aside .In a bowl whisk the curd and add the essences and food color. Heat oil and add cumin seeds. Add the ginger and garlic paste and saute. Add the green chilli, tomato puree, the spice powders. Saute until paste becomes thick .Add the fried kofta balls & half of the fried onion slices to the gravy. Mix well & spread the rice. Sprinkle the yogurt mixture all over the rice. Garnish with the remaining fried onions and chopped mint and coriander leaves. Cover and simmer on low. Serve hot with raita.

Kesar Peda Recipe in Urdu and English
At Masala TV you can check complete Kesar Peda Recipe in Urdu and English. This is one of the best recipes by chef Zarnak Sidhwa at Masala TV show Food Diaries. Check out the other best recipes of chefs Zarnak Sidhwa.
Top relevant recipes of Kesar Peda Recipe in Urdu