Korean Fried Chicken Recipe | Food Diaries | Zarnak Sidhwa | Korean Food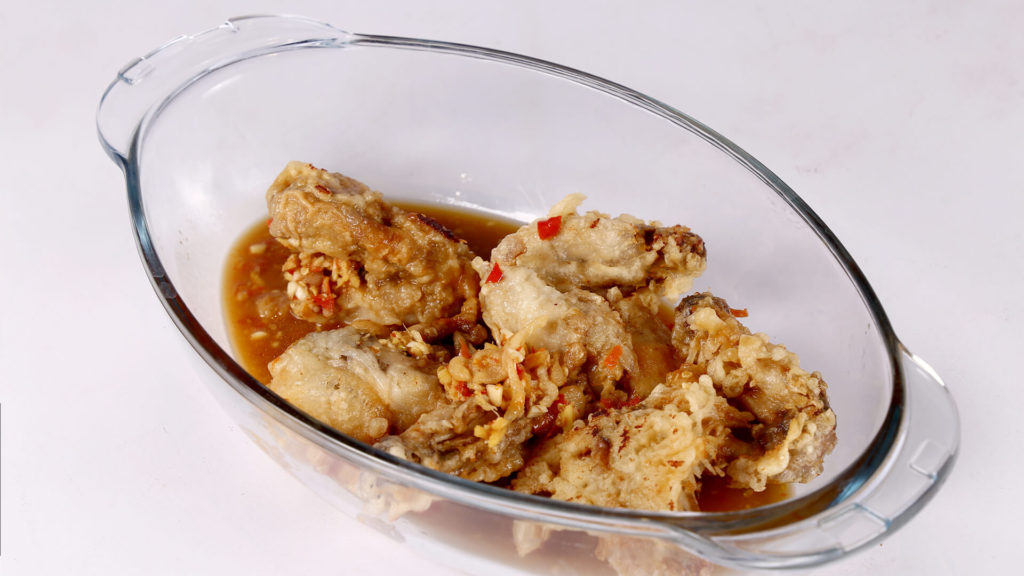 Jul 04, 2022 at 08:50 AM (GMT -04:00)

Check out the Korean Fried Chicken Recipe in Urdu. Learn how to make best Korean Fried Chicken Recipe , cooking at its finest by chef Zarnak Sidhwa at Masala TV show Food Diaries. Check all the Pakistan Cooking recipes in Urdu of Masala TV. Also Check Korean Fried Chicken Recipe , ingredients and complete Method.
This Korean Fried Chicken has biting taste that feels tingly in the mouth. The tangy sauce will make you go wild for it!
Watch this Masala TV video to learn how to make Korean Fried Chicken and Fruit Cake in Parmesan Spinach Sauce Recipes. This show of Food Diaries with Chef Zarnak Sidhwa aired on 30 January 2020
Ingredients:
5 cloves Garlic
1 inch piece Ginger, peeled
3 tbsp Soya sauce
3 tbsp Red chilli paste
1 1⁄2 tbsp Rice vinegar
1 tbsp Sesame oil
1 tbsp Honey
2⁄3 cup Flour
1 tbsp Corn flour
½ kg Chicken wings
Method :
Chop garlic and ginger in a food processor. Add soya sauce, vinegar, sesame oil, and honey, blend well and put sauce into a bowl. Whisk flour, cornflour and 2⁄3 cup water in another bowl. Add chicken wings and toss. Fry chicken wings in deep hot oil until golden and done. Drain on paper towels. Toss chicken in sauce.
Ingredients:
1 teaspoon Baking soda
1 cup Sour cream
1 cup Chopped dates
2 cups Raisins
1/2 cup Chopped glazed cherries
1 cup Chopped walnuts
2 cups Flour
1/2 cup Butter
1 cup Caster sugar
1 Egg
1 orange Orange grated rind
1 teaspoon Salt
1 orange Orange Juice
Method :
Mix together the baking soda and sour cream; set aside. Combine the dates, raisins, cherries, and nuts with 1/4 cup of the flour and toss to coat the fruit and nuts. Set aside. Beat together the butter and sugar until fluffy. Mix in the egg, then the orange rind and orange juice, then the sour cream/baking soda mix. Add the flour and the salt and mix together. Combine fruit/nut mixture with creamed ingredients and mix well to distribute the fruit and nuts evenly. Pour batter into a greased and lined loaf pan. Place a separate pan of water in the oven either on a rack underneath the fruitcake or beside it. (The water will help with a more even, gentle cooking.) Bake at 170 degrees C for 1 1/2 to 2 hours, or until a wooden skewer inserted into the center comes out clean. Water may need to be replenished during baking. Remove to a rack to cool for few minutes.

Korean Fried Chicken Recipe in Urdu and English
At Masala TV you can check complete Korean Fried Chicken Recipe in Urdu and English. This is one of the best recipes by chef Zarnak Sidhwa at Masala TV show Food Diaries. Check out the other best recipes of chefs Zarnak Sidhwa.
Top relevant recipes of Korean Fried Chicken Recipe in Urdu