Kulfi Falooda Recipe | Food Diaries | Zarnak Sidhwa | Dessert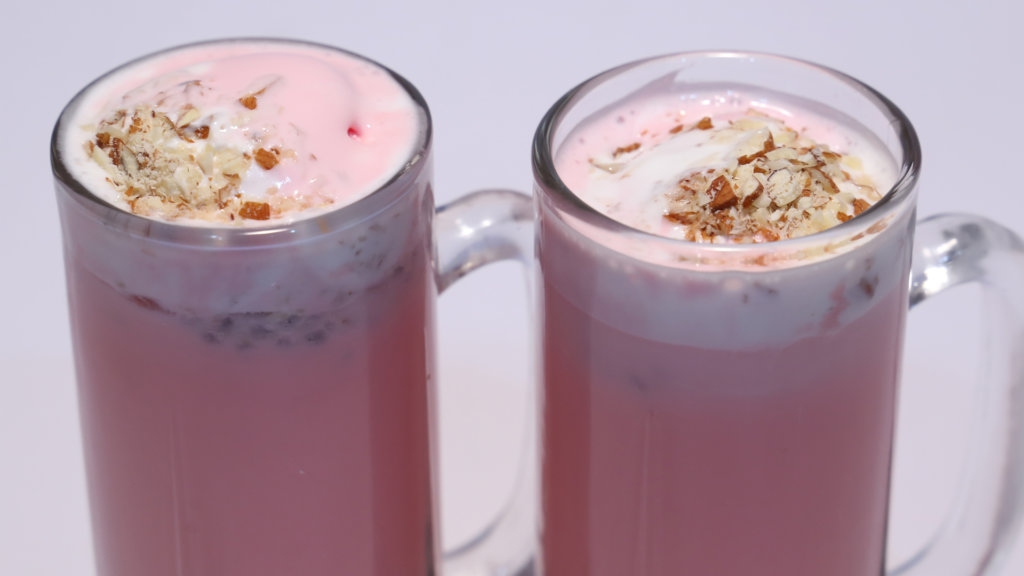 Dec 09, 2023 at 01:24 PM (GMT -05:00)

Check out the Kulfi Falooda Recipe in Urdu. Learn how to make best Kulfi Falooda Recipe , cooking at its finest by chef Zarnak Sidhwa at Masala TV show Food Diaries. Check all the Pakistan Cooking recipes in Urdu of Masala TV. Also Check Kulfi Falooda Recipe , ingredients and complete Method.
What could be better than a Kulfi Falooda on a scorching summer evening? Make these for Iftaar and save the recipe for Eid. It'll be a complete hit!
Watch this Masala TV video to learn how to make Kulfi Falooda, Spinach Cheese Crepes and Shrikhand Recipe. This show of Food Diaries with Zarnak Sidhwa aired on 13 May 2020.
Ingredients:
Basil seeds 1 ½ tbsp
Sugar 1/3 Cup
Milk 1 litre
Green cardamoms 2-3
Rose water 2-3 tbsp
Assembling:
Soaked basil seeds as required
Ice cubes crushed as required
Condensed milk as required
Rose syrup as required
Falooda sev as required
Almonds & Pistachios crushed as required
Vanilla or strawberry or rose ice-cream as required
Prepared milk as required
Almonds & Pistachios chopped as required
Method :
Soak the basil leaves in water, refrigerate until use. Cook sugar let caramelize in a pan and then add a cup of water. Add milk, mix and bring it to boil. Add green cardamoms and rose water, cook until milk is reduced to half & thickens and keep stirring in between. Let the mixture cool and refrigerate for 2 hours. Assembling: In serving glass, add basil seeds, ice cubes crushed, condensed milk, rose syrup, faloodasev, almonds & pistachios, ice cream scoops, prepared milk, almonds & pistachios & serve..
Ingredients:
Flour 8 oz
Eggs 3
Milk 8 floz
Water 8 floz
Oil 2 floz
Fruit to serve
Maple syrup to serve
Pancake syrup to serve
Honey or chocolate sauce to serve
Extra-virgin olive oil 2 tsp
Onion chopped 1 small
Spinach 3 oz
Lemon juice 1 tsp
Salt and ground black pepper t o taste
Chili sauce 1 tbsp
Crumbled feta cheese 2 oz
Crepes 4-6
Unsalted butter 1 tsp
Parsley chopped 2 tbsp
Method :
Mix flour, eggs and milk and whisk, add oil, water and make a smooth batter for thin crepes, let stand for a while and then heat a crepe pan, brush with oil or butter and cook a ladle-full of crepe batter, for a minute on each side and then layer on a plate with greaseproof paper in between so they don't stick. Serve with maple syrup or honey or chocolate sauce.
Ingredients for filling:
Method :
Heat olive oil. Add onion and cook. Add spinach one handful at a time, cooking until wilted before adding next handful. Add lemon juice, chili sauce, salt and pepper. Transfer to a bowl and fold in feta cheese. Lay 1 crepe flat on a cutting board and spread 1/4 of spinach/feta mixture over half of crepe. Fold other half over, then fold both halves over to form a quarter circle. Repeat with remaining crepes and filling. Return pan to medium heat and add butter, swirling until melted. Add crepes and cook, swirling occasionally, until well browned and crisp. Flip crepes and cook on second side until browned and crisp. Transfer to a serving platter, garnish with parsley and serve.
Ingredients:
Thick yogurt 1 cup
Condensed milk ¼ cup
Red syrup 1 ½ tsp
Sliced almonds 3 tsp
Method:
Whisk all the ingredients except almonds until combined. Allow the mixture to cool. Transfer to individual serving size bowls. Lastly sprinkle with almonds and serve.

Kulfi Falooda Recipe in Urdu and English
At Masala TV you can check complete Kulfi Falooda Recipe in Urdu and English. This is one of the best recipes by chef Zarnak Sidhwa at Masala TV show Food Diaries. Check out the other best recipes of chefs Zarnak Sidhwa.
Top relevant recipes of Kulfi Falooda Recipe in Urdu