Lacha Paratha Recipe | Tarka | Rida Aftab | Desi Food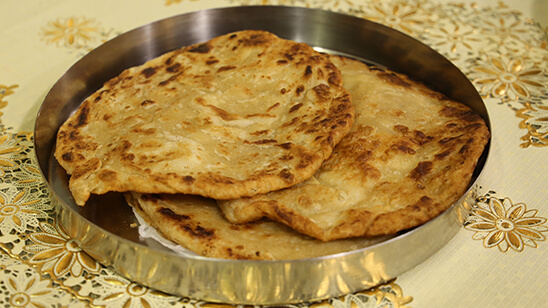 Oct 21, 2021 at 08:23 AM (GMT -04:00)

Check out the Lacha Paratha Recipe in Urdu. Learn how to make best Lacha Paratha Recipe , cooking at its finest by chef Rida Aftab at Masala TV show . Check all the Pakistan Cooking recipes in Urdu of Masala TV. Also Check Lacha Paratha Recipe , ingredients and complete Method.
Lacha Paratha is crispy on the outside but once you start making bites out of it, it's layers will leave you mesmerized.
Watch this Masala TV video to learn how to make Lacha Paratha , Potato Pasta Salad and Chicken Nihari Recipes. This show of Tarka with Chef Rida Aftab aired on 14 April 2021.
Ingredients:
Flour 1 cup
Wheat 1 cup
Salt 1 tsp
Sugar 1 tsp
Clarified butter for dough
Warm water as required
METHOD:
first of all take a pot and put maida+ata+ salt+sugar+ghee+water and make a fine dough and leave it for 2_3 hours then make around medium size ball of a dough and
with the help of a rolling pin make a thin chapati then spread ghee
and sprinkle a little bit of Maida and start overlapping the chapati and then make round and the help of ur fingers spreadit out the paratha and put it on the medium hot tawa and shelow fried it with ghee…
Ingredients:
Pasta (boiled) 1 cup
Potatoes (boiled) 1
Cucumber 1
Yogurt 1 cup
Salt as required
Black pepper as required
Method:
Beat yougurt add cucumber and potato,mix it.After it add boil pasta, salt and black pepper,mix nicely and serve.
Ingredients:
Chicken (boiled) 1 kg
Star anise 4
Black cardamoms 4
Dry ginger 1 tsp
Turmeric powder 1 tsp
Salt 1 tsp
Cumin seeds 2 tsp
Nutmeg ½ tsp
Mace ½ tsp
Coriander powder 2 tsp
Red chili powder 2 tsp
Fennel seeds 2 tsp
Ginger garlic paste 1 tbsp
Wheat flour 4 tbsp
Onion 1
Oil 1 cup
Stock 2 cups
Method:
In grinder add Star anise, Dry ginger, Nutmeg, Mace, Cumin seeds, Black cardamoms and blend to make powder. Now in add, Coriander powder, Red chili powder, Ginger garlic paste, Turmeric powder and Salt mix nicely. After it heat oil and fry chicken with half spices powder which we make. Cook it nicely. Now add stock and wheat flour and cook for ½ hour. When it becomes thick,turn off the flame. Now fry onion in oil and give tarka on nihari and put remaining masala then serve hot. ,

Lacha Paratha Recipe in Urdu and English
At Masala TV you can check complete Lacha Paratha Recipe in Urdu and English. This is one of the best recipes by chef Rida Aftab at Masala TV show . Check out the other best recipes of chefs Rida Aftab.
Top relevant recipes of Lacha Paratha Recipe in Urdu