Lady's Kiss Cookies Recipe | Food Diaries | Zarnak Sidhwa | Dessert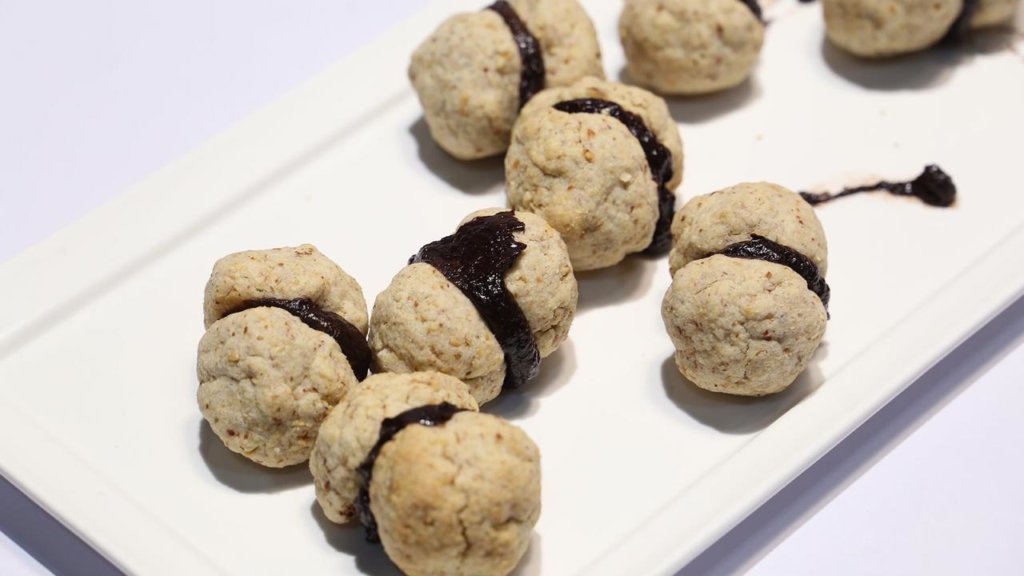 Nov 30, 2020 at 03:23 AM (GMT -05:00)

Check out the Lady's Kiss Cookies Recipe in Urdu. Learn how to make best Lady's Kiss Cookies Recipe , cooking at its finest by chef Zarnak Sidhwa at Masala TV show Food Diaries. Check all the Pakistan Cooking recipes in Urdu of Masala TV. Also Check Lady's Kiss Cookies Recipe , ingredients and complete Method.
These Lady's Kiss Cookies are filled with chunks of chocolate that will melt in your mouth as you have them.
Watch this Masala TV video to learn how to make Lady's Kiss Cookies and Apple Corn Flake Shots Recipes. This show of Food Diaries with Chef Zarnak Sidhwa aired on 10 June 2020.
Ingredients:
Unsalted butter ½ cup
Butter extra 2 tbsp
Flour 1¾ cup
Caster sugar ¾ cup
Almonds 1 cup
Vanilla essence 1 tsp
Egg 1
Salt ½ tsp
For Chocolate Filling:
Chocolate 2 cups
Cream ¼ cup
Method:
Toast the almonds in a pan until fragrant and set aside to cool. In a food processor, combine the almonds and about half of the caster sugar, and pulse until fine. Mix the nut flour along with the flour, the rest of the sugar and salt. Add the butter into the bowl, and using a pastry cutter mix the butter into the dry ingredients until combined. Add in the vanilla and egg, and mix until a soft dough forms. It should be a bit sticky! Put the dough onto a lightly floured surface and knead, adding more flour, until the dough is soft and smooth without being overly sticky. Tightly wrap the dough with plastic wrap, and refrigerate for at least 1 hour. Form small balls of dough. The cookies should not spread during baking. Refrigerate the cookie dough balls for another 30 minutes before baking. When ready, preheat the oven to 180 degrees C and bake the cookies for 20-22 minutes. Cookies should be slightly firm to the touch but not golden. Remove cookies to a cooling rack, and make the chocolate filling. Melt the chocolate and cream until smooth and creamy. Pipe the filling onto one cookie and sandwich with another. Let the sandwiches stand for a few minutes to allow the filling to solidify, then enjoy!
Ingredients:
Apples, peeled and sliced 3
Caster sugar 3 tbsp
Golden syrup 2 tbsp
Butter 2 tbsp
Plain cornflakes 1 cup
Cream 200 ml
Method:
Cook the apples, caster sugar and 3 tbsp water in a pan until softened. Divide mixture between 4 shot glasses and leave to cool. Meanwhile, heat the golden syrup and butter in a pan. Add the cornflakes and stir well to coat. Top the cooled apple with the cream, then divide the corn flake mix between the glasses.

Lady's Kiss Cookies Recipe in Urdu and English
At Masala TV you can check complete Lady's Kiss Cookies Recipe in Urdu and English. This is one of the best recipes by chef Zarnak Sidhwa at Masala TV show Food Diaries. Check out the other best recipes of chefs Zarnak Sidhwa.
Top relevant recipes of Lady's Kiss Cookies Recipe in Urdu