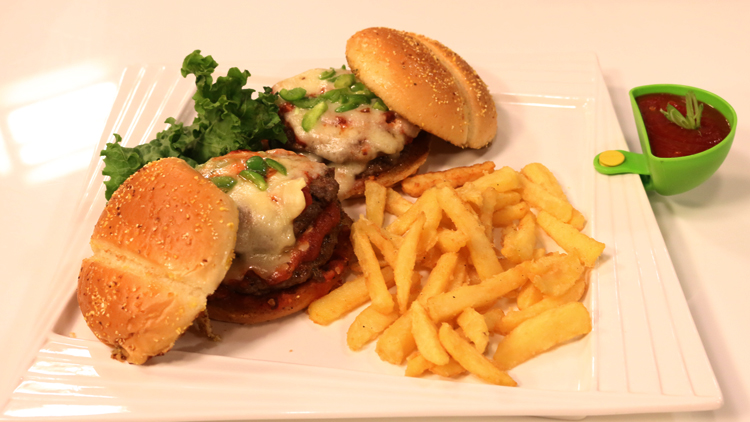 Ingredients
Beef mince                         ½ kg
Spaghetti sauce                                ¾ cup
Garlic powder                    ½ tsp
Italian mix herb                 2 tsp
Butter                                   4 tbsp
Mozzarella cheese          1-1/2 cup
Bun                                        4
Black pepper powder     1-1/2 tsp
Salt                                         to taste
Egg                                         1
Capsicum (finely cut)      2 tbsp
For spaghetti sauce:
Tomatoes (boiled)           1 cup
Tomato puree                   1 tbsp
Crushed red chili              1 tsp
Vinegar                                                1 tbsp
Salt                                         to taste
Mix Italian herb                                2 pinch
Methods
Add salt, black pepper, 1 tsp Italian mix herb and egg in mince, mix well then make patty and grill it.
Mix garlic powder and remaining Italian herb in butter then put on burger bun and grill it as well.
Now put one burger patty on it, 1 tbsp spaghetti sauce, cheese and again burger patty then put sauce and cheese.
Also add capsicum and bake in oven till cheese melts.
Then take out and put the part of burger bun and serve.
For spaghetti sauce mix all ingredients and cook till it gets thick.