Lemon Icebox Pie Jars Recipe | Food Diaries | Chef Zarnak Sidhwa | Dessert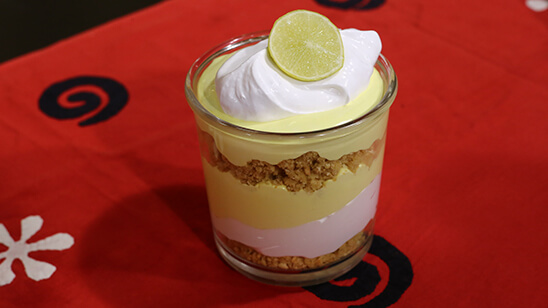 Mar 28, 2023 at 11:43 AM (GMT -04:00)

Check out the Lemon Icebox Pie Jars Recipe in Urdu. Learn how to make best Lemon Icebox Pie Jars Recipe , cooking at its finest by chef Zarnak Sidhwa at Masala TV show Food Diaries. Check all the Pakistan Cooking recipes in Urdu of Masala TV. Also Check Lemon Icebox Pie Jars Recipe , ingredients and complete Method.
Lemon Icebox Pie Jars is a mood-changer. Have it chill cold to enjoy it to the fullest!
Watch this Masala TV video to learn how to make Lemon Icebox Pie Jars and Steamed Cupcakes Recipes. This show of Food Diaries with Chef Zarnak Sidhwa aired on 15 July 2021.
Ingredients:
Biscuit crumbs 3/4 cup
Unsalted butter (melted) 1 tbsp
Condensed milk 1 1/4 cups
Lemon juice 1/2 cup
Yellow food color 2 drops
Cream 1 1/4 cups
Caster sugar 2 tbsp
Lemon slices to decorate
Method:
Combine the biscuit crumbs and butter in a bowl. Divide between clear glass jars. Press down the crumbs evenly. Combine condensed milk, lemon juice and yellow food coloring. In a separate bowl, beat the cream, gradually adding the 2 tablespoons sugar. Remove 1/3 of the whipped cream and place in a piping bag fitted with a star tip. Fold the remaining whipped cream into the lemon mixture. Spoon or pipe the lemon pie filling over the crusts. Pipe whipped cream on top of each pie and garnish with lemon slices. Refrigerate until ready to serve.
Ingredients:
Flour 175 gm
Caster sugar 225 gm
Cocoa powder 50gm
Bicarbonate of soda ½ tsp
Salt ½ tsp
Unsalted butter 175 gm
Eggs 2
Milk 175ml
For The Frosting:
Butter cream 400gm
Pink food gel 2 drops
Green food gel 2 drops
Yellow food gel 2 drops
For The Chocolate Sauce:
Dark chocolate 200 gm
Butter 25 gm
Brown sugar 25 gm
Cream 175ml
Method:
Mix the flour, sugar, cocoa powder, bicarbonate soda and salt. Add the softened butter and mix. Add the eggs and milk and mix. Begin by wrapping the lid of a deep dish fry pan in a tea towel. It's really important you don't skip this step because it's going to help keep absorb the steam that would otherwise collect on top of the lid. Add cupcake liners to ramekins. Fill the liners ¾ with the batter. Put the ramekins in a pan. Fill just under half way with boiling water. Cover with lid and cook for 15 minutes.
Frosting: Colour 2 tbsp of the buttercream green. Then colour half of the frosting pink and the other half yellow. Frost the cupcakes by using a piping tip.
Chocolate Sauce: Cook all ingredients to make a sauce.

Lemon Icebox Pie Jars Recipe in Urdu and English
At Masala TV you can check complete Lemon Icebox Pie Jars Recipe in Urdu and English. This is one of the best recipes by chef Zarnak Sidhwa at Masala TV show Food Diaries. Check out the other best recipes of chefs Zarnak Sidhwa.
Top relevant recipes of Lemon Icebox Pie Jars Recipe in Urdu