Liver Karahi Recipe | Evening With Shireen | Shireen Anwar | Desi Food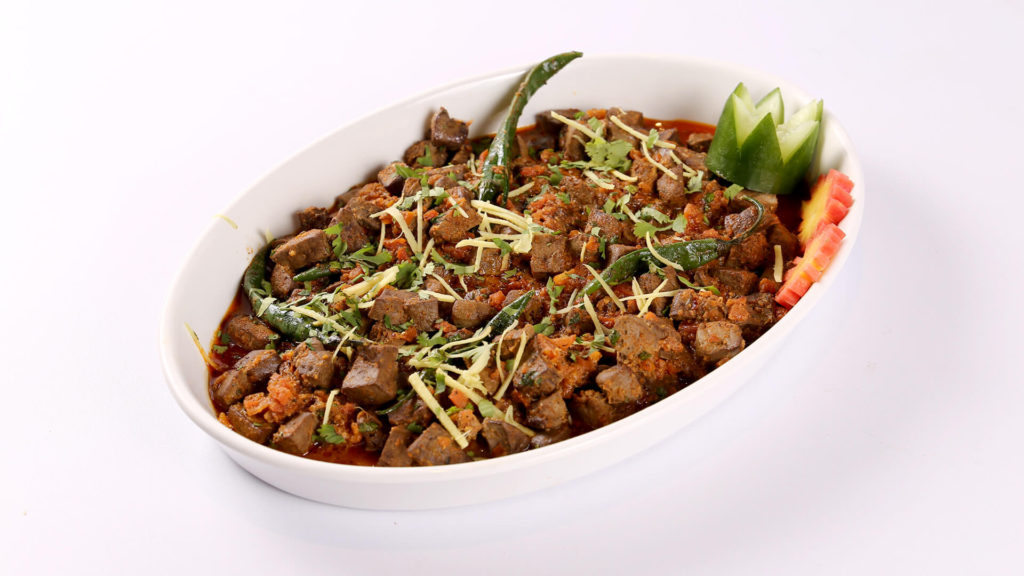 Jan 26, 2022 at 02:28 PM (GMT -05:00)

Check out the Liver Karahi Recipe in Urdu. Learn how to make best Liver Karahi Recipe , cooking at its finest by chef Shireen Anwar at Masala TV show Evening with Shireen. Check all the Pakistan Cooking recipes in Urdu of Masala TV. Also Check Liver Karahi Recipe , ingredients and complete Method.
Try this Liver Karahi Recipe if you are tired of the same old desi dishes that you have been having for years. This has a different flavor palette that will make you enjoy desi food in a distinct way!
Watch this Masala TV video to learn how to make Liver Karahi, Calizza-la-mama and White chocolate coffee cake Recipe. This show of Evening With Shireen with Chef Shireen Anwar aired on 6 February 2020.
Ingredients:
Mutton Liver ½ kg small
Chili powder ½ tsp
Karahi masala 2 tbsp leveled
Ginger garlic paste 1 tbsp
Tomatoes 2 chopperized
Oil ½ cup
Coriander leaves chopped 2-3 tbsp
Salt ½ tsp
Cumin roasted & crushed 1 tsp
Allspice ½ tsp
Yogurt ½ cup
Dried fenugreek 1 tsp
Green chilies whole 6
Ginger julienne 2 tbsp
Method:
In a wok add ½ cup water with chopperized tomatoes, ginger garlic, salt, chili powder, fry well, add oil and liver, fry well with karahi masala, yogurt, lastly add kasuri methi, ginger julienne, allspice, coriander and green chilies, serve with nan.
Ingredients for dough:
Flour 2 ½ cup
Instant yeast 1 ½ tsp
Egg 1
Milk powder 2 tsp
Oil ¼ cup
Sugar 1 tbsp
Salt ½ tsp
Lukewarm water to knead
Ingredients for filling:
Pizza sauce 3 tbsp
Mushroom sliced 4
Onion 1 chopped coarsely
Black olives 2 tbsp
Capsicum ½ finely chopped
Oregano leaves 1 tsp
Mozzarella cheese 4 tbsp
Cheddar cheese 3 tbsp
Egg 1 to brush
Chicken sausages 2 chopped and stir fried
Method for dough:
Mix all the ingredients together in a bowl and knead into a soft dough, cover and leave it to rise for 2 hours, punch down dough and divide into 2 portions, roll both the portions to the dinner plate size.
Method for filling:
Roll both the portions of dough to the size of your pizza plate, spread 1 roll dough into the greased pizza plate, spread with sauce, then little cheese, then top with chopped sausages, mushrooms and all the rest, sprinkle oregano and cheese, cover with the 2nd rolled dough, seal the edges with the help of your fingers, brush with beaten egg and put to bake on 190 d for 20 mins, remove cut in slices and serve.
Ingredients for cake mixture:
Butter softened 6 ounces
Granulated sugar 6 ounces
Brown sugar ¾ cup
Flour 2 cups
Baking powder 2 tsp
Cinnamon powder ½ tsp
Milk 1 ¼ cup
Egg 1
vanilla 1 tsp
White chocolate chips 1 cup
Ingredients for crumb topping:
Brown sugar 2/3 cup
Flour ½ cup
Chilled butter 6 tbsp
Walnuts ½ cup
Chocolate chips ½ cup
Method for crumb topping:
Mix all the ingredients together in a bowl, mix until crumbly.
Method for cake:
Heat oven to 180 d, grease and flour 13 x 9 inch rectangular pan, prepare above crumb topping. Beat butter, both the sugars until creamy, fold in flour, cinnamon powder and baking powder, gradually add milk, egg and vanilla, beating until mixed, pour half the batter into pan, top with half crumb topping, gently spread remaining batter over topping, sprinkle remaining topping over batter, bake for 35-40 mins, cool completely.

Liver Karahi Recipe in Urdu and English
At Masala TV you can check complete Liver Karahi Recipe in Urdu and English. This is one of the best recipes by chef Shireen Anwar at Masala TV show Evening with Shireen. Check out the other best recipes of chefs Shireen Anwar.
Top relevant recipes of Liver Karahi Recipe in Urdu