Malai Kofta Recipe | Dawat | Abida Baloch | Desi Food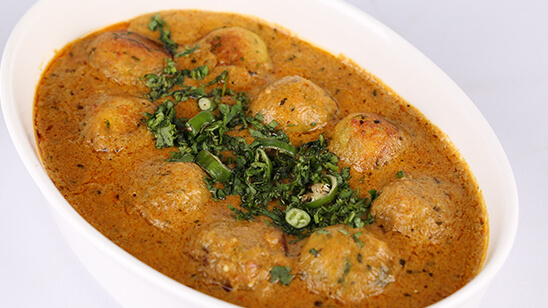 Jun 19, 2021 at 04:54 PM (GMT -04:00)

Check out the Malai Kofta Recipe in Urdu. Learn how to make best Malai Kofta Recipe , cooking at its finest by chef Abida Baloch at Masala TV show Dawat. Check all the Pakistan Cooking recipes in Urdu of Masala TV. Also Check Malai Kofta Recipe , ingredients and complete Method.
Malai Kofta makes the most delicious tasting desi dish that we guarantee you'll absolutely fall in love with!
Watch this Masala TV video to learn how to make Malai kofta and Kasi Phal Ki Bhujiya Recipes. This show of Dawat with Chef Abida Baloch aired on 21 December 2020 .
Ingredients:
Cottage cheese (grated) 1 cup
Green chili (chopped) 1
Coriander (chopped) 2 tbsp
Cumin powder ¼ tsp
Salt to taste
Flour 2 tbsp
Oil for frying
Egg 1/2
FOR THE CURRY:
Oil 1/4 cup
Onion (sliced and golden) 1
Ginger garlic paste 1 tsp
Tomatoes (sliced) 2
Cumin 1 tsp
Green cardamoms 2 pods
Bay leaf 1
Cinnamon 1 inch
Cloves 2
Cayenne pepper powder 1 tsp
Turmeric powder ½ tsp
Coriander powder 1 tsp
Salt 1 tsp
Cream ¼ cup
Water ½ cup
Fenugreek leaves (crushed) 1 tsp
All spice powder ¼ tsp
Method:
In a large mixing bowl take cottage cheese add green chili, coriander, cumin powder and salt. Mix well making sure all the spices are well combined. Now add flour, egg and mix well forming soft dough. Flour helps to absorb moisture and bind the mixture well. Prepare a small ball sized kofta by greasing hand with oil.
Fry until the kofta turn golden brown and crisp. Drain off the koftas and keep aside.
For The Curry:
In a pan heat oil and sauté 1 onion, 1 tsp ginger garlic paste. Sauté until onions changes color slightly. Further add 2 tomato and sauté slightly. Continue to sauté until tomatoes soften completely. Cool completely and transfer to a blender.
Blend to smooth paste adding water if required. Keep aside. In same wok sauté cumin, cardamom, leaf, cinnamon and cloves until it turns aromatic. Further keeping the flame on low; add red chili powder, turmeric, coriander powder. Sauté until the spices turn aromatic. Further add in the prepared onion tomato puree, 1 tsp salt and mix well. Cover and cook until the mixture starts to thicken and oil separates from sides. Further, add ½ cup water and mix well adjusting consistency as required. Get the curry to a boil; add crushed fenugreek leaves and all spice powder. Lastly add cream, mix well. Finally, pour the curry over kofta and malai kofta is ready to enjoy.
Ingredients:
Pumpkin (peeled and cubed) 500 gm
Oil ½ cup
Mustard seeds 1/2 tsp
Tomatoes (chopped) 2
Fenugreek seeds 1/4 tsp
Cumin seeds 1/2 tsp
Raw mango powder 2 tsp
Red chili powder 1 tsp
Coriander powder 2 tsp
Turmeric powder 1/4 tsp
Jaggery (crushed) 1 tbsp
All spice powder 1/2 tsp
Salt to taste
Fresh coriander (chopped) for garnish
Method:
In a heavy bottomed wok, heat the oil. Add mustard seeds, fenugreek seeds, cumin seeds. Once the mustard splutters, add the pumpkin cubes and toss well cook for 5 minutes or so, then add all remaining powdered spices, including crushed jaggery, along with tomatoes and cook on low flame until tender. Then mash it with spoon and cook until oil comes on top. Garnish with finely chopped coriander. Serve with hot puris.

Malai Kofta Recipe in Urdu and English
At Masala TV you can check complete Malai Kofta Recipe in Urdu and English. This is one of the best recipes by chef Abida Baloch at Masala TV show Dawat. Check out the other best recipes of chefs Abida Baloch.
Top relevant recipes of Malai Kofta Recipe in Urdu