Manda Patti Recipe | Dawat | Abida Baloch | Frozen Food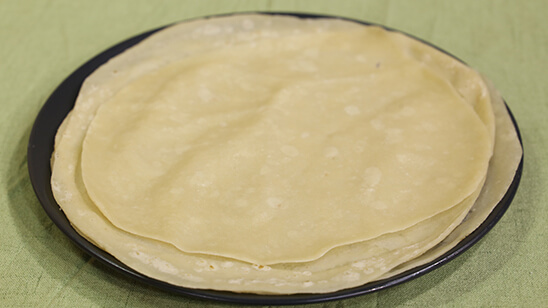 Nov 28, 2023 at 07:26 AM (GMT -05:00)

Check out the Manda Patti Recipe in Urdu. Learn how to make best Manda Patti Recipe , cooking at its finest by chef Abida Baloch at Masala TV show Dawat. Check all the Pakistan Cooking recipes in Urdu of Masala TV. Also Check Manda Patti Recipe , ingredients and complete Method.
Manda Patti helps you out this Ramzan you can make samosas, rolls and many other items using this.Comment down below if you loved it.
Watch this Masala TV video to learn how to make Manda Patti , Frozen Seekh Kabab and Thai Chili Pasta Recipes. This show of Dawat with Chef Abida Baloch aired on 13 April 2021.
Ingredients:
Flour 2 cups
Water as required
Salt to taste
Oil 1/2 cup
Method:
In flour add salt and water and knead well .then make small balls and rolling .now in rolled 5 small loaf place and spread the oil .as same ready all .then heat skillet and cook half done then separate the layers and cut the as your desire shape .finally store in zip lock bag and place in refrigerator.
Ingredients:
Beef mince 500gm
For marination:
Vinegar 1 tbsp
Garlic paste 1/2 tbsp
Poppy seed paste 1tsp
Breadcrumbs 1/4 cup
Salt to taste
Black pepper powder 1/2 tbsp
All spice powder 1/2 tbsp
Coriander leaves, chopped 2 tbsp
Green chilies finely chopped 1 tbsp
Long pepper powder (Pipli) 1
Kabab cheeni powder 2-3
Oil 2tbsp
Method:
In a large bowl, mix all the ingredients refrigerate the meat mixture, covered, to marinate for at least 5 hours. Shapethe meat mixture into long 'tubes' around the skewers and placed in a tray. Bake, fry or freeze for later use as desired.
Ingredients:
Boiled Pasta 1 packet
Carrot (Shredded) 1
Chopped Garlic 1 tbsp
Chopped Green Onion ½ cup
Chicken (Shredded) 2 cups
Chopped Peanut ¼ cup
Vinegar 2 tbsp
Soy Sauce ¼ cup
Chopped Thai Chili 2 tbsp
Salsa 1 cup
Salt to taste
Oil 2 tbsp
Method:
In a wok heat oil, fry garlic and carrot. Add salsa, Thai chili, vinegar and soy sauce form into sauce. Add boiled pasta mix well. After that add chicken shredded mix. Add peanut and green onion dish out.
Serve hot.

Manda Patti Recipe in Urdu and English
At Masala TV you can check complete Manda Patti Recipe in Urdu and English. This is one of the best recipes by chef Abida Baloch at Masala TV show Dawat. Check out the other best recipes of chefs Abida Baloch.
Top relevant recipes of Manda Patti Recipe in Urdu