Mediterranean Panini Recipe | Evening With Shireen | Chef Shireen Anwar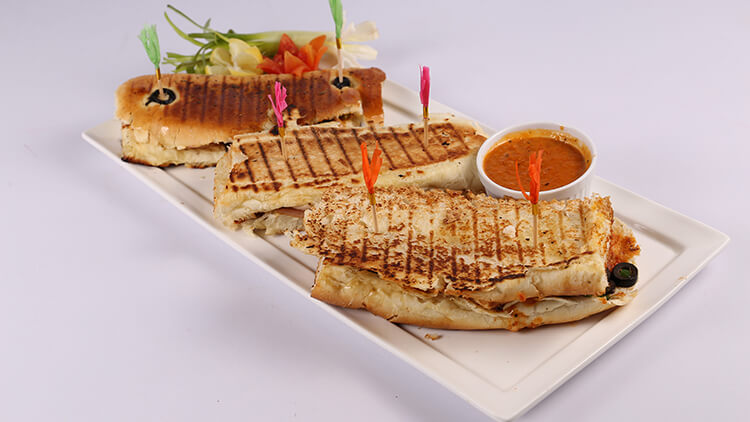 Sep 27, 2023 at 11:29 AM (GMT -04:00)

Check out the Mediterranean Panini Recipe in Urdu. Learn how to make best Mediterranean Panini Recipe, cooking at its finest by chef Shireen Anwar at Masala TV show Evening with Shireen. Check all the Pakistan Cooking recipes in Urdu of Masala TV. Also Check Mediterranean Panini Recipe, ingredients and complete Method.
Don't miss out on this simple Mediterranean Panini with amazing flavors and ingredients. Serve it at your party and share your reviews.
Watch this Masala TV video to learn how to make Mediterranean Panini ,Banoffee Pie and Beef Masala fried. This show of Evening With Shireen with Chef Shireen Anwar aired on 28 October 2019.
Ingredients to marinate chicken :
Chicken breasts flattened 3
Baking powder 1 tsp
Cumin powder 1 tsp
Chili powder 1 tsp
Ginger garlic paste 1 tbsp
Hot sauce 3 tbsp
Ketchup 3 tbsp
Black pepper ½ tsp
Salt ½ tsp
Ingredients for sauce:
Tomatoes chopped 4
Capsicum chopped ½
Chopped garlic ½ tsp
Almonds chopped 10
Oil ¼ cup
Vinegar ¼ cup
Parsley 1 tbsp
Paprika 1 tsp
Thyme ¼ tsp
Sugar 1 tbsp
Black pepper ½ tsp
Salt ½ tsp
Cream ¼ cup
Ingredients to grilled vegetables:
Onions cut into rings 2
Capsicum diced 1
Olives 4 tbsp
Salt & pepper ½ tsp
Oregano ½ tsp
Sugar ½ tsp
Oil 2 tbsp
Soya sauce 2 tbsp
Ingredients To assemble:
Panini bread 1
Butter 2tbsp
Cheese slices 2
Method for sauce:
Chopperize coarsely tomatoes, capsicum, garlic and almonds, keep aside. Heat oil add the chopperized mixture with all the remaining ingredients, cook for 15 mins till thick, remove and keep aside.
Method for chicken:
Marinate breast fillets with all the given ingredients for at least 2 to 3 hours, cook in 1 tbsp oil on a grill pan, keep aside.
Method for vegetables:
Heat oil on a grill pan, add all the veggies with seasonings, grill for 5 mins, remove and keep aside.
Method to assemble sandwich:
Apply sauce on panini bread slices, place cheese slices on each bread piece, cover with grilled chicken fillet and grilled vegetables, cover with panini bread slice, put butter on the grill pan and toast the sandwich. Serve immediately.
Ingredients for base:
Butter melted 3 ounces
Digestive biscuits 250 gm
Ingredients for caramel:
Butter 4 ounces
Brown sugar ½ cup
Condensed milk 1 can
Butterscotch essence few drops
Ingredients for topping:
Bananas sliced 3
Whipping cream 1 cup
Banana essence few drops
Grated chocolate 1 to 1 ½ cup
Method for base:
Chopperize biscuits and butter together, press down on a 7 inches pie tray and place in freezer for 15 mins to set or you can bake the base for 10 mins on 180 d.
Method:
In a sauce pan put all the ingredients for caramel till sugar dissolves and reaches a nice golden color, remove, cool at room temp, pour over base and chill for 30 mins, mix 2-3 tbsp of the prepared caramel in whipping cream, add in banana essence, fold in sliced bananas and spread over caramel layer, cover with grated chocolate.
Ingredients:
Undercut julienne ½ kg
Meat tenderizer ½ tsp
Ginger garlic paste 1 tbsp
Ingredients for dry spices:
Fennel seeds ground 1 tbsp
Black pepper ground 1 tbsp
Cardamoms green ground 4
Cloves ground 4
Cinnamon small 2 stick
Star anise grinded ½
Chopped ginger 1 tbsp
Chopped garlic 1 tbsp
Turmeric ½ tsp
Cayenne pepper grounded 2
Desiccated coconut ¼ cup
Salt 1 tsp
Roasted & crushed coriander 1 tbsp
Roasted & crushed cumin 1 tsp
Other ingredients :
Curry leaves 10-12
Oil ¼ cup
Capsicum julienne 1
Tomatoes 2 julienne
Green chilies julienne 4
Onions cut in rings 3
Method:
Marinate undercut with ginger garlic paste and meat tenderizer for half an hour, add water, cover and cook till tender. Heat oil in a pan, add curry leaves, chopped ginger garlic, sliced onion and cooked beef, add in all the spices, veggies, fry on high flame, serve with nan

Mediterranean Panini Recipe in Urdu and English
At Masala TV you can check complete Mediterranean Panini Recipe in Urdu and English. This is one of the best recipes by chef Shireen Anwar at Masala TV show Evening with Shireen. Check out the other best recipes of chefs Shireen Anwar.
Top relevant recipes of Mediterranean Panini Recipe in Urdu