Naan Pizza Recipe | Mehboob's Kitchen | Chef Mehboob Khan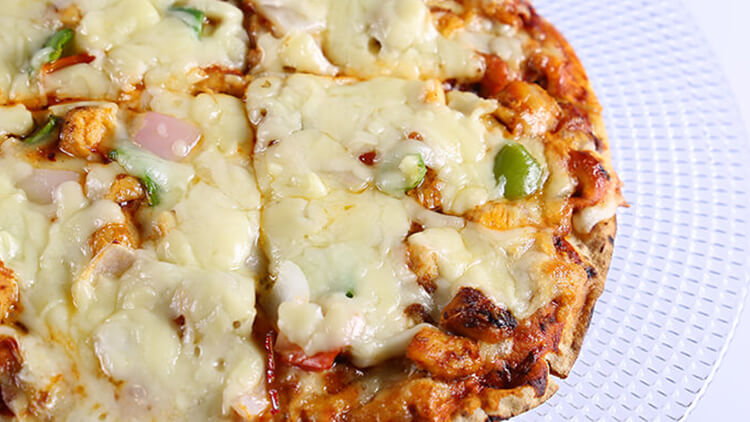 Jul 01, 2022 at 06:17 PM (GMT -04:00)

Check out the Naan Pizza Recipe in Urdu. Learn how to make best Naan Pizza Recipe, cooking at its finest by chef Mehboob Khan at Masala TV show Mehboob's Kitchen. Check all the Pakistan Cooking recipes in Urdu of Masala TV. Also Check Naan Pizza Recipe, ingredients and complete Method.
This recipe of pizza naan is super easy! Because we use naan instead of frozen pizza base and top it with any topping of our choice.
Watch this Masala TV video to learn how to make Naan Pizza, Chocolate Lava Cake and Chicken Mashed Potato Pancakes Recipes. This show of Mehboob's Kitchen with Chef Mehboob Khan aired on 7 November 2019.
Ingredients:
Naan 4
For the topping:
Capsicum (cubed) 1
Tomato (Cubed) 2
Onion (cubed) 1
Green chili slice 3
Pizza sauce 1 cup
Mozzarella cheese (grated) 1-1/2 cup
Crushed red chili 2 tbsp
For the chicken:
Chicken (cubed) 250 grams
Red chili powder 1 tsp
Garlic paste 1 tsp
Ginger paste 1 tsp
Salt 1 tsp
Oil 6 tbsp
Cumin powder 1 tsp
Garam masala powder ½ tsp
Lemon juice 1 tsp
Method:
For the chicken:
• In bowl heat oil add chicken and all ingredients well mix then mix oil.
• Then pour the mixture in a pan and cook on high flame for 8 minutes then place a side.
To assemble the pizza:
• Place one naan spread 3 tbsp of pizza sauce on it .sprinkle 5 tbsp of mozzarella cheese on top sprinkle ¼ of the chicken ¼ of all the vegetable and 1 tsp of crushed chili then bake in a preheat oven on 200c for 8 minutes then remove and cut in to 4 pieces then serve hot .
Ingredients:
Eggs 3
Cooking chocolate 200 grams
Butter 120 grams
Vanilla essence 1 tsp
Refined flour 3 tbsp
Sugar 75 grams
Salt 1 pinch
Baking temperature 200 C
Method:
• Melt the cooking chocolate and butter.
• Now in a bowl egg and sugar whipped and refined flour and vanilla essence mix and whipped then melted chocolate add and well mix and pour in baking cup and bake at 200c then remove .
Ingredients:
Mashed Potatoes 4 cups
Mozzarella cheese (grated) 2 cups
Egg 1
Flour ¼ cup
Spring onions (greens) 2-3 tsp
Oil as required
Bread crumbs as required
Ketchup to serve
Method:
Boiled potatoes until soft and tender with 1 tbsp salt. Drain well and mash these potatoes with 4 tbsp butter, let it cool .
In a large mixing bowl combine mashed potatoes, cheese egg, flour and chopped onion leaves, use a potato masher to mash the mixture until mixed . Now form a round think patty out of this batter, Dredge both sides if the pancake in bread crumbs.
Heat a nonstick pan over medium heat with some oil covering the bottom of the pan. Sautéthis cheesy pancake for 32-4 minutes on each side until golden brown.
Serve with ketchup

Naan Pizza Recipe in Urdu and English
At Masala TV you can check complete Naan Pizza Recipe in Urdu and English. This is one of the best recipes by chef Mehboob Khan at Masala TV show Mehboob's Kitchen. Check out the other best recipes of chefs Mehboob Khan.
Top relevant recipes of Naan Pizza Recipe in Urdu