Nutty Lemon cupcakes Recipe | Food Diaries | Chef Zarnak Sidhwa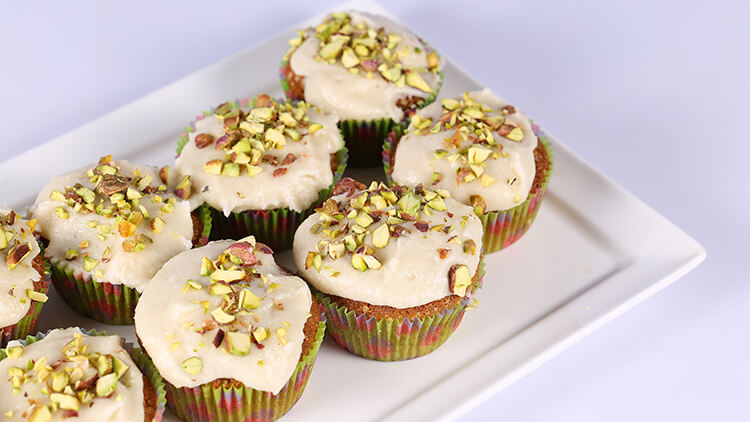 Aug 03, 2020 at 12:40 PM (GMT +00:00)

Check out the Nutty Lemon cupcakes Recipe in Urdu. Learn how to make best Nutty Lemon cupcakes Recipe, cooking at its finest by chef Zarnak Sidhwa at Masala TV show Food Diaries. Check all the Pakistan Cooking recipes in Urdu of Masala TV. Also Check Nutty Lemon cupcakes Recipe, ingredients and complete Method.
Nutty Lemon cupcakes made from lemon zest and lemon juice with creamy icing, topped with nuts. Kids will love these cupcakes and they can be enjoyed as light snacks too.
Watch this Masala TV video to learn how to make Nutty Lemon cupcakes and Fried Chicken Sandwich Recipes. This show of Food Diaries with Chef Zarnak Sidhwa aired on 13 November 2019.
Ingredients for cupcakes:
Caster sugar ¾ cup
Butter 60gm
Lemon zest 1 tbsp
Egg 1
Pistachios 70gm
Flour 1 cup
Baking powder 2 tsp
Salt a pinch
Lemon juice 50 ml
Milk 100 ml
For Icing:
Butter 60gm
Icing sugar 2 cups
Vanilla essence ¼ tsp
Lemon juice 2 tbsp
Milk 1-2 tbsp
Pistachios 30gm
Method:
Beat the caster sugar and butter until combined and pale. Add the lemon zest, egg and the ground pistachios. Sift in the flour, baking powder and salt. Add the lemon juice and milk and mix. Divide the mixture between the cupcake cases. Bake at 180 degrees C for 15 minutes or until an inserted skewer comes out clean. Allow to cool. To make the icing: beat the butter. Sift in the icing sugar. Add the vanilla essence, milk and lemon juice and mix. Add enough milk to give the icing a spreading consistency. Pipe or spread the icing onto the cold cupcakes. Chop the pistachios up finely and sprinkle over the cupcakes.
Ingredients:
Chicken thigh fillets 4
Buttermilk 284ml
Flour 150gm
Corn flour 2 tbsp
Oil for deep frying
Burger buns 4
Melted butter for toasting
Sliced gherkins to serve
For Spice Mix:
Garlic powder 1 tbsp
Cayenne pepper 2 tsp
Crushed black pepper 1 tsp
Paprika 1 tbsp
Dried oregano 2 tsp
For Salted Hot Honey Glaze:
Honey 4 tbsp
Salt ½ tbsp
Unsalted butter 2 tbsp
Hot /Tabasco sauce 2 tbsp
Method:
Combine the spice mix ingredients. Put the chicken, 1 tbsp of the spice mix, 1 tsp salt, the buttermilk and 3 tbsp pickle liquid from the jar of gherkins into a bowl. Leave to marinate for 4 hours in a fridge (or preferably overnight). When you are ready to fry the chicken, mix the flour, corn flour and the remaining spice mix. Heat oil, take the chicken thighs out of the marinade, shake any excess off then dredge thoroughly in the spiced flour mix. Carefully lower the chicken into the oil and fry until golden brown and crisp. Brush the buns with melted butter then put cut-side down on a griddle pan until charred and crisp. Heat the glaze ingredients in a pan. To assemble, lay some gherkins on the bottom of each bun. Top with a chicken thigh, drizzle with some glaze then put the bun top on.

Nutty Lemon cupcakes Recipe in Urdu and English
At Masala TV you can check complete Nutty Lemon cupcakes Recipe in Urdu and English. This is one of the best recipes by chef Zarnak Sidhwa at Masala TV show Food Diaries. Check out the other best recipes of chefs Zarnak Sidhwa.
Top relevant recipes of Nutty Lemon cupcakes Recipe in Urdu