Orange Salad Recipe | Lazzat | Samina Jalil | Appetizer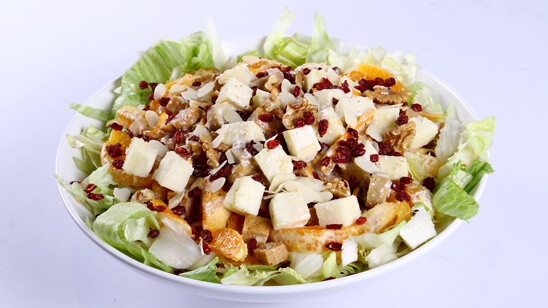 Aug 09, 2022 at 05:58 AM (GMT -04:00)

Check out the Orange Salad Recipe in Urdu. Learn how to make best Orange Salad Recipe , cooking at its finest by chef Samina Jalil at Masala TV show Lazzat. Check all the Pakistan Cooking recipes in Urdu of Masala TV. Also Check Orange Salad Recipe , ingredients and complete Method.
Orange Salad recipe has a combination of lettuce, oranges and all the ingredients that makes it the best salad. Stay fit, live healthy!
Watch this Masala TV videoo to learn how to make Orange Salad, Kabuli pulao and Mutanjan Sevaiyan Recipes. This show of Lazzat with Chef Samina Jalil aired on 11 March 2020.
Ingredients:
Orange slices 2 cup
Pomegranate seeds ½ cup
Iceberg as required
Cottage cheese ½ cup
Almond slices 2 tbsp
Walnut 2 tbsp
Chicken chunks ¾ cup
Orange for garnishing
Dressing ingredients:
Orange juice ½ cup
Orange zest 1 tsp
Vinegar 1 tbsp
Olive oil 2 tbsp
Black pepper powder 1 pinch
Salt to taste
Mayonnaise 1 tbsp
Sugar powder 1 tbsp
Method:
Firstly, all dressing ingredients well mix. Now in a bow add as required iceberg spread. Then orange slice, Pomegranate seeds, cottage cheese and chicken chunks mix. After this add dressing. Finally garnish with almond slice and walnut then serve it.
Ingredients for kabab :
Beef mince ½ kg
Cinnamon powder ½ tsp
Black pepper powder 1-1/2 tsp
Salt as required
Onion 1
Ginger 1 piece
Meat tenderizer 1-1/2 tsp
Oil for frying
For rice ingredients:
Boil Sella rice ½ kg
Boil white chickpeas 1-1/2 cup
Finley cut carrot ¾ cup
Small raisin 4 tbsp
Lemon juice 2 tbsp
Brown sugar ½ cup
Chicken stock 1 cup
Mix dry fruit as required
Oil ¾ cup
Butter 2 tbsp
Cinnamon stick 2 pieces
Bay leaves 2
Method:
For kabab ingredients all ingredients grind and make kabab and fry in oil .then heat butter and Small raisin and finely cut carrot fry .now brown sugar melt then add chicken stock and make syrup .then heat oil and add cinnamon stick and bay leaves fry then add boil chickpeas and mix .then add lemon juice and chicken stock ,syrup and cook till than boil then add rice and leave on dum .finally dish out and garnish with dry fruits and carrot then place kabab and serve it .
Ingredients:
Vermicelli 2 cup
Clarified butter ¾ cup
Sugar 1 cup
Whole dried milk ¾ cup
Chamcham 1 cup
Milk 1 cup
Mix dry fruits as required
Greem and red ashrfiyan as required
Silver paper 1
Small cardamom 3-4
Screw pine few drops
Yellow food color 1 pinch
Method:
Heat clarified butter and fry small cardamom .now add Vermicelli and fry .then add 1 cup of milk ,1 cup of water and sugar add .after this add yellow color and cook till then sugar dissolve .now fried vermicelli add and cook till than boil .then add screw pine add and leave on dum .then add whole dried milk and leave on dum for 5 minutes .finally dish our and mix dry fruits ,green and ashrarfiyan ,cham cham and garnish with silver paprer and serve .

Orange Salad Recipe in Urdu and English
At Masala TV you can check complete Orange Salad Recipe in Urdu and English. This is one of the best recipes by chef Samina Jalil at Masala TV show Lazzat. Check out the other best recipes of chefs Samina Jalil.
Top relevant recipes of Orange Salad Recipe in Urdu