Oriental Qeema Pasta Recipe | Tarka | Rida Aftab | Fusion Food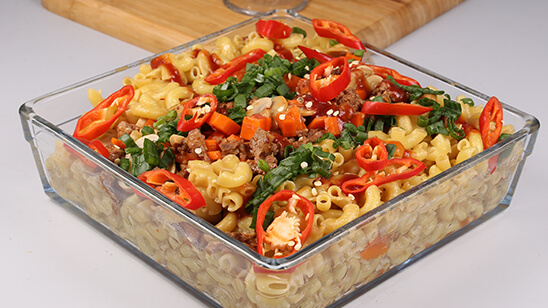 May 23, 2022 at 01:46 AM (GMT -04:00)

Check out the Oriental Qeema Pasta Recipe in Urdu. Learn how to make best Oriental Qeema Pasta Recipe , cooking at its finest by chef Rida Aftab at Masala TV show Tarka. Check all the Pakistan Cooking recipes in Urdu of Masala TV. Also Check Oriental Qeema Pasta Recipe , ingredients and complete Method.
Oriental Qeema Pasta Recipe is for you ! If you have leftover qeema, you just need to boil pasta and cut your favorite veggies to ace this recipe.
Watch this Masala TV video to learn how to make Oriental Qeema Pasta , Mutton Masala Kaleji and Banana and Cream Dessert Recipes. This show of Tarka with Chef Rida Aftab aired on 7 June 2021.
Ingredients:
Pasta boiled 1 packet
Boiled beef mince ½ kg
Carrot chopped 2
Mushrooms 1 cup
Stock 1 cup
Tomato ketchup ½ cup
Garlic chopped 1 tsp
Ginger chopped 1 tsp
Crushed red pepper 1 tsp
Sesame oil 1 tsp
Corn flour 1 tbsp
Vinegar 1 tbsp
Salt ½ tsp
Oil 3 tbsp
Soy sauce 3 tbsp
Method:
Heat 3 tbsp oil in pan, add 1 tsp chopped garlic and fry well. Now add 1 tsp chopped ginger with 250 gm Boiled beef mince and fry well. Add 1 cup mushrooms and 2 chopped carrots, fry for 1 minute. Now add 1 cup stock, 3 tbsp soya sauce, ½ cup tomato ketchup, 1 tsp sesame oil, ½ tsp salt, 1 tsp crushed red pepper and 1 tbsp vinegar. Thickens the mixture with 1 tbsp corn flour mixed in 2 tbsp water. Lastly add 1 packet boiled pasta and serve.
Ingredients:
Mutton Liver ½ kg
Green Chilies 4
Coriander Leaves ½ bunch
Oil ½ cup
Tomatoes 250 gm
All spice Powder 1 tsp
Cumin Seeds 1 tsp
Mustard Seeds 1 tsp
Ginger Garlic Paste 1 tbsp
Red Chilies (crushed) 1 tsp
Lemon Juice 4 tbsp
Salt to taste
Dried fenugreek 2 tbsp
Method:
• Heat oil, add ginger garlic paste and fry.
• Now add dried fenugreek ,red chilies, cumin seeds andsalt.
• Then add tomatoes and cover it 10 to15 minutes.
• Now add liver pieces, green chilies and cook on high flame.
• When dries water, add all spice powder, coriander leaves, lemon juice and removes from the stove.
• Delicious Kaleji Masala is ready.
Ingredients:
Bananas 4
Cream cheese 1 bottle
Condensed milk 1/2cup
Coconut milk 2tbsp
Vanilla essence 1/2tsb
For making base:
Biscuit crumble 1cup
Butter 50 gram
Method:
Mix biscuits crumble and butter thoroughly and adjust this mixture in a glass base. Now add cream cheese, condensed milk, coconut milk and vanilla essence to mix well. Cut bananas to add over the set base. Lastly pour the cream mixture over the top and garnish with cream and bananas to serve.

Oriental Qeema Pasta Recipe in Urdu and English
At Masala TV you can check complete Oriental Qeema Pasta Recipe in Urdu and English. This is one of the best recipes by chef Rida Aftab at Masala TV show Tarka. Check out the other best recipes of chefs Rida Aftab.
Top relevant recipes of Oriental Qeema Pasta Recipe in Urdu