Palak Khichri Recipe | Food diaries | Zarnak Sidhwa | Desi Food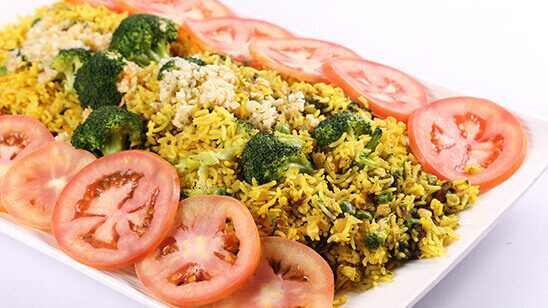 Feb 27, 2021 at 09:52 AM (GMT -05:00)

Check out the Palak Khichri Recipe in Urdu. Learn how to make best Palak Khichri Recipe , cooking at its finest by chef Zarnak Sidhwa at Masala TV show Food Diaries. Check all the Pakistan Cooking recipes in Urdu of Masala TV. Also Check Palak Khichri Recipe , ingredients and complete Method.
Try this spiced up version of Palak Khichri . You will love the new taste.
Watch this Masala TV video to learn how to make Palak khichri and Makhana Moong Phali Kadhi Recipes. This show of Food Diaries with Chef Zarnak Sidhwa aired on 16 October 2020.
Ingredients:
Rice 1/2 cup
Red lentils 1/2 cup
Spinach leaves 1 cup
Garlic, chopped 1 tbsp
Onion, chopped 1
Green peas 1/4 cup
Broccoli florets 1/3 cup
Cinnamon stick 1 inch
Cumin seeds 1/2 tsp
Bay leaf 1
Green chilies, slit 2
Garlic, sliced 3 cloves
Turmeric powder 1/4 tsp
All spice powder 1/2 tsp
Tomato, sliced 1
Clarified butter or oil as required
Salt to taste
Method:
In a pan heat oil, add rice, lentils, turmeric and water and cook khichri till done. Fold in the peas and broccoli at the end. In a saucepan, add the cleaned spinach leaves and cook for a minute or two covered till spinach wilts and then immediately drain it in a colander and transfer it into a bowl of cold water. Once cool blend it to a paste and set aside. Heat oil and add bay leaf, cumin seeds, chopped garlic, green chillies, chopped onions and saute until the onions have started to change colour. Add the pureed spinach and mix. Lower the flame, add the cooled khichri and mix until combined. Add all spice powder and salt. Heat ghee or oil, add sliced garlic and fry till golden, pour this onto the khichdi. Garnish with sliced tomatoes and serve with the phool makhana kadhi.
Ingredients:
Lotus Seeds 1/2 cup
Peanuts, steamed 2 tablespoons
Curd 1 cup
Flour 1 tablespoon
Green Chilli, slit 1
Sugar ½ tsp
sprigs Coriander Leaves, chopped 2
Salt to taste
Clarified butter 2 tbsp
Ingredients for Seasoning:
Clarified butter 1 tsp
Cumin seeds ½ tsp
Cinnamon Stick 1 inch
Method:
In a saucepan, combine the yogurt, flour, salt and sugar along with 2 cups of water. Whisk well and keep aside for later. Heat ghee. Once the ghee is warm add the lotus seeds, toast them until they pop. Turn off the flame and set aside to cool. In the same pan, add little more ghee and crackle the cumin seeds, green chilli and cinnamon. Set aside. Place the saucepan containing the curd mixture on heat and cook on low heat for 4 to 5 minutes. Whisk continuously so that no lumps are formed. Add the lotus seeds and the steamed peanuts along with the prepared tadka to the kadhi and garnish with coriander leaves. Makhana Moongphali is ready to be served with palak khichri.

Palak Khichri Recipe in Urdu and English
At Masala TV you can check complete Palak Khichri Recipe in Urdu and English. This is one of the best recipes by chef Zarnak Sidhwa at Masala TV show Food Diaries. Check out the other best recipes of chefs Zarnak Sidhwa.
Top relevant recipes of Palak Khichri Recipe in Urdu