Pancake Mix Recipe | Mehboob's Kitchen | Chef Mehboob Khan | Dessert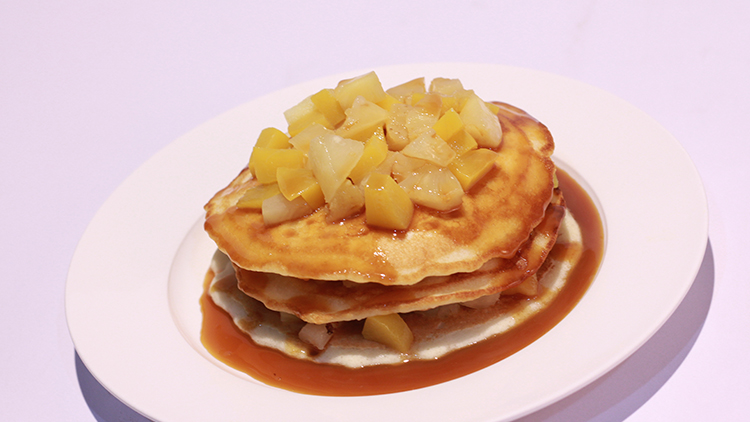 Aug 18, 2022 at 09:08 PM (GMT -04:00)

Check out the Pancake Mix Recipe in Urdu. Learn how to make best Pancake Mix Recipe, cooking at its finest by chef Mehboob Khan at Masala TV show Mehboob's Kitchen. Check all the Pakistan Cooking recipes in Urdu of Masala TV. Also Check Pancake Mix Recipe, ingredients and complete Method.
Masala TV brings you breakfast special recipe of pancake mix! It is fancy, tasty and easy to make.
Watch this Masala TV video to learn how to make Pancake Mix,Shawarma Rolls and Chicken corn soup Recipes. This show of Mehboob's Kitchen with Chef Mehboob Khan aired on 24 December 2019.
Ingredients:
Pan cake mix 1 packet
Mix fruit as required
Caramel sauce as required
Oil as required
Method:
In a bowl pour pan cake mix and water and make thick paste then in a fry pan add some oil and cook .finally on pan cake pour the fruits and ceramal and serve .
Ingredients:
Flour 2 tbsp
Sliced chicken boneless ½ kg
Onion 1
Roll patti 1 packet
Garlic 1 tbsp
All spice 1 tsp
Green chilies 3
Cheddar cheese 1 cup
Sliced pickled cucumber ½ cup
Oil for frying
Tahini paste 6 tbsp
Lemon juice 1 tbsp
Eggs 2
Salt to taste
Method:
Put lemon juice, all spice and salt on chicken and leave for 1 hour to marinate. Except roll patti, oil, flour and egg mix all ingredients well. Then mix egg and flour. Now take roll patti and fill 3 tbsp mixture in it and seal it with egg mixture and make roll. Now fry them in oil for 8 minutes and serve.
Ingredients:
Chicken 1-1/2 kg
Stock 1liter
Eggs 2
Cream of corn 1small tin
Sesame oil few drops
White chili powder 1tsp
Sugar 1tsp
Chicken cube mix in flour 1tbsp
Oil 2tbp
Corn flour 3tbsp
Salt as required
Method:
Cook chicken and cut in little pieces, now take out 1 cup of water from the stock and set aside, Now in a pan add stock and 1 liter cream of corn , cook on low flame , when it boils add 1 tbsp chicken cube mix in flour , 1tsp sugar , 1tsp white pepper , and chicken pieces now stir , now add oil , now beat 2 eggs , now in stock add 3 tbsp soaked corn flour , add this in soup and stir with wooden spoon, now remove from flame after 2 min add eggs and stir well, now again put this to flame now eggs start crumble , sprinkle some sesame oil and serve.

Pancake Mix Recipe in Urdu and English
At Masala TV you can check complete Pancake Mix Recipe in Urdu and English. This is one of the best recipes by chef Mehboob Khan at Masala TV show Mehboob's Kitchen. Check out the other best recipes of chefs Mehboob Khan.
Top relevant recipes of Pancake Mix Recipe in Urdu