Paneer Reshmi Handi Recipe | Dawat | Abida Baloch | Desi Food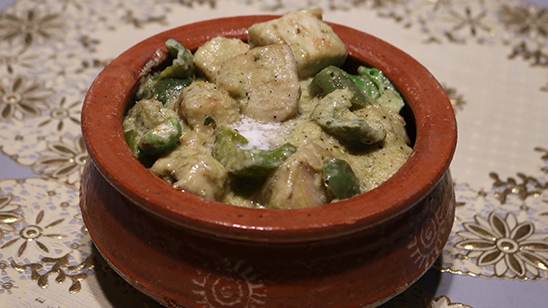 Dec 09, 2023 at 02:09 PM (GMT -05:00)

Check out the Paneer Reshmi Handi Recipe in Urdu. Learn how to make best Paneer Reshmi Handi Recipe , cooking at its finest by chef Abida Baloch at Masala TV show Dawat. Check all the Pakistan Cooking recipes in Urdu of Masala TV. Also Check Paneer Reshmi Handi Recipe , ingredients and complete Method.
Paneer Reshmi Handi makes one of the most rich Handis that has a soft texture and filled with scrumptious flavors.
Watch this Masala TV video to learn how to make Paneer Reshmi Handi and Pickled Pizza Recipes. This show of Dawat with Chef Abida Baloch aired on 10 March 2021.
For Gravy:
Oil ¼ cup
Onion (paste) 1
Green chili paste 1 tbsp
Ginger garlic paste 1 tbsp
Yogurt ½ cup
For Fry Chicken:
Chicken cubes 300grams
Cornflour 1 tbsp
Salt To taste
Butter 1 tbsp
For Sauté Veggies:
Oil 1 tbsp
Small capsicum, sliced 1
Small onion, sliced 1
Other ingredients:
Shredded cheese 1/4 cup
Cream 1/4 cup
Butter 1 tbsp
Green chilies julienne cut 3
Salt to taste
Method:
FOR GRAY:
In a pot, heat oil then adds paste of onion, chili, garlic and ginger paste. Mix well and cover the pot. Cook for 5 minutes on medium heat until onions are soft. Switch off heat then add yogurt and cook for 2.3 minutes and Set aside. In same pot, heat oil and sauté sliced onion and capsicum for 2 minutes until soft, set aside. In a bowl, mix chicken, salt and flour. Heat butter on low flame. Add the chicken and cook for 5 minutes until color changes. Now add in yogurt gravy, sautéed onions, capsicum and cheddar cheese to the chicken pot. Mix well and simmer for 2-3 minutes. Add 2 tablespoons of water Finally, mix in cream. Add butter on sides of pot and simmer for few more minutes until oil separates. Serve
Ingredients:
Olive oil 2 tbsp
Garlic powder 1 tsp
Italian seasoning 1 tsp
Pizza dough as required
Mozzarella and cheddar 1 -1/2 cup
Dill pickle slices 3/4 cup
Freshly chopped dill 1 tbsp
Crushed red pepper flakes 1/2 tsp
Dressing for serving
For dressing ingredients:
Garlic chopped 1 clove
Salt a pinch
Mayonnaise 1/4 cup
Sour cream 1tbsp
Fresh dill crushed 1 tbsp
Worcestershire sauce 1 tsp
Ground black pepper 1/4 tsp
Milk 2 tbsp
Paprika 1/4 tsp
Onion slice for serving
Lemon wedges for serving
Method:
Preheat oven
In a medium bowl, whisk together oil, garlic powder, and Italian seasoning. Place pizza crust on prepared baking try and brush all over with oil mixture. Top crust with mozzarella and cheddar and bakes until cheese got melt, 15 minutes. Top with pickles and bake 5 minutes more. Top with dill and red pepper flakes add and mix and all dressing ingredients then serve it.

Paneer Reshmi Handi Recipe in Urdu and English
At Masala TV you can check complete Paneer Reshmi Handi Recipe in Urdu and English. This is one of the best recipes by chef Abida Baloch at Masala TV show Dawat. Check out the other best recipes of chefs Abida Baloch.
Top relevant recipes of Paneer Reshmi Handi Recipe in Urdu