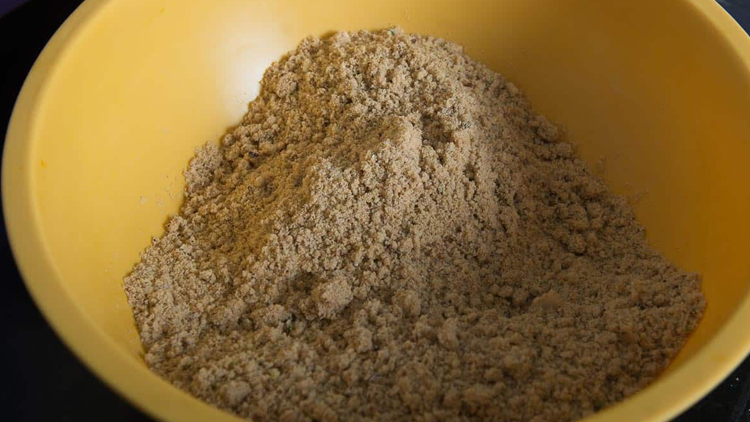 Ingredients
1 cup Whole wheat flour
1 tbsp Sooji
1/2 cup Powdered sugar
1/2 cup Dried ginger powder
2 tbsp Ghee
1 and 1/2 tbsp Gond
2 tbsp Makhane
5-6 Almonds
5-6 Pistachios
2 tbsp Dried coconut Sliced
5-6 Cashew nuts
1 tbsp Musk melon seeds
1/2 tbsp Flaxseeds
1 tsp Poppy seeds
Methods
Heat 1 tbsp ghee in a pan.
Roast gond until puffed.
Take out on a plate.
In the same ghee, roast the makhana until crisp.
Take out on a plate.
Add another tsp of ghee in the pan.
Roast almond, cashew nuts, pistachios, coconut, musk melon seeds and flax seeds.
Take out on a plate.
Roast poppy seeds until browned.
Take out on a plate.
Let the dry fruits cool down.
Grind them to make a coarse powder.
In the remaining ghee, roast whole wheat flour and sooji until golden brown.
Remove the pan from heat and let the mixture cool.
Keep mixing through out the process.
Once the flour mixture is cooled, add powdered sugar, dry ginger powder and ground dry fruits.
Mix well.
Store in an airtight container for up to 2 weeks.