Paris Brest Recipe | Food Diaries | Zarnak Sidhwa | French Food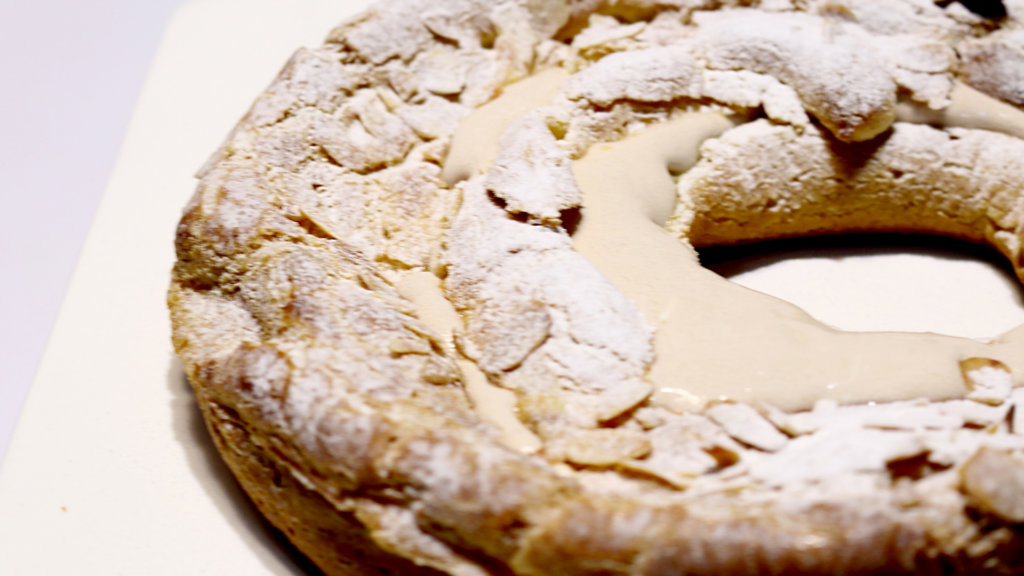 Nov 28, 2022 at 02:30 PM (GMT -05:00)

Check out the Paris Brest Recipe in Urdu. Learn how to make best Paris Brest Recipe , cooking at its finest by chef Zarnak Sidhwa at Masala TV show Food Diaries. Check all the Pakistan Cooking recipes in Urdu of Masala TV. Also Check Paris Brest Recipe , ingredients and complete Method.
This Paris Brest Recipe will give you the experience and taste of the classic French pastry. Dwell into the richness of taste with this Paris Brest Recipe.
Watch this Masala TV video to learn how to make Paris Brest and Chicken Liver With Almond Pulao Recipe. This show of Food Diaries with Zarnak Sidhwa aired on 1 June 2020.
Ingredients:
Flour 1 cup
Milk 100 ml
Water 100 ml
Sugar 2 tsp
Salt 1/2 tsp
Unsalted butter 5 1/2 tbsp
Eggs 4
Vanilla essence 1 tsp
Almonds flaked few
Egg 1 to brush
Pastry crème Filling:
Milk 2 cups
Egg yolks 4
Sugar 1/3 cup
Salt a pinch
Flour 2 tbsp
Corn flour 1/4 cup
Vanilla essence 1 tsp
Unsalted butter 1 tbsp
Chocolate spread 7 oz
Butter 2/3 cup
Whipped cream 3-5 tbsp
To Topping:
Method:
Firstly, for the choux paste, boil the water along with butter, salt and sugar. To it, add the flour all at once and cook for some time. Then take it off the stove. One at a time, add eggs to the flour mixture, accompanied by vanilla essence and mix thoroughly. Now taking a piping bag, fill it with the mixture and start piping into the shape of a crown on a baking tray. Brush with egg and put some almond flakes on the choux paste. Preheat your oven to 220 degrees C and allow the choux paste to bake for about 25 to 30 minutes. Prick a hole in it so the steam escapes. Set it aside to cool completely.
To prepare the Pastry Cream, boil milk, sugar, salt along with corn flour, egg yolks, and vanilla essence. Keep on stirring with a whisk until the mixture thickens. After the mixture thickens, turn off the heat and add butter to it while it is kept to cool. After the mixture cools down completely, add chocolate paste and whipped cream to it.
Now, using a serrated knife, cut across the Paris Brest. Now pipe the mixture on the lower half of the Paris Brest and place the upper part of the Paris Brest on the top the cream. Serve with icing sugar dusted on top.
Ingredients:
Butter 2 tbsp
Garlic, chopped 4 cloves
Onion, chopped 1 onion
Pine nuts 2 tbsp
Flaked almonds 2 tbsp
Currants 1 tbsp
Allspice powder 1/2 tsp
Dried basil 1 tsp
Chicken livers, finely chopped 1/2 kg
Salt and ground black pepper to taste
Parsley, chopped 2 tbsp
Dill, chopped 2 tbsp
Hot sauce 2 tbsp
For the rice:
1 cup rice 1 cup
1½ cups chicken stock 1 ½ cups
Saffron and parsley to garnish
Method:
Melt the butter in a pan, then add the garlic and onion and sweat for a few minutes. Stir in the pine nuts and currants and the allspice powder, basil, hot sauce and the chicken livers and brown lightly. Season with salt and ground black pepper and add the fresh herbs. Remove from the pan and set aside. For the rice, toss the rice in some butter in a pan, pour over the stock and bring to the boil. Simmer gently until the rice has absorbed the stock and is fully done. Carefully fold in the liver mixture. Cover with a lid and leave to stand for few minutes. Fluff up with a fork and serve, garnished with saffron and parsley.

Paris Brest Recipe in Urdu and English
At Masala TV you can check complete Paris Brest Recipe in Urdu and English. This is one of the best recipes by chef Zarnak Sidhwa at Masala TV show Food Diaries. Check out the other best recipes of chefs Zarnak Sidhwa.
Top relevant recipes of Paris Brest Recipe in Urdu