Pasta in Coconut Curry Recipe | Masala Mornings | Shireen Anwar |Italian Item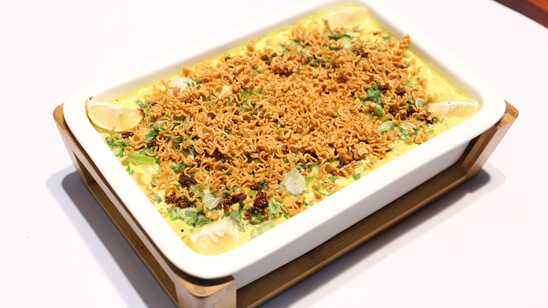 Apr 21, 2021 at 01:22 AM (GMT -04:00)

Check out the Pasta in Coconut Curry Recipe in Urdu. Learn how to make best Pasta in Coconut Curry Recipe , cooking at its finest by chef Shireen Anwar at Masala TV show Masala Mornings. Check all the Pakistan Cooking recipes in Urdu of Masala TV. Also Check Pasta in Coconut Curry Recipe , ingredients and complete Method.
Pasta in Coconut Curry is a unique pasta dish made in special coconut curry that will make you feel satisfied till the core!
Watch this Masala TV video to Learn how to make Pasta in coconut curry, Crunchy noodle kebab and Yoko sizzler with fries Recipes. This show of Masala Mornings with Chef Shireen Anwar aired on 2 September 2020.
Ingredients:
Chicken boiled ½ kg
Macaroni boiled 1 packet
Coconut cream 1 tin
Coconut milk 1 tin
Salt 1 ½ tsp
Crushed black pepper 1 tsp
Turmeric ½ tsp
Lemon juice ¼ cup
Green masala as required
Ginger garlic paste as required
Onion chopped 1 cup
Oil ¼ cup
Gram flour roasted /dissolved 3 tbsp
Water 1 cup
To serve with:
Crushed red pepper fried 3 tbsp
Lemon wedges as required
Spring onion leaves finely chopped ½ cup
Coriander leaves chopped 4 tbsp
Green chilies chopped 4
Maggie noodles fried 2 packets
Method:
Boil chicken with ginger garlic paste, grinded hara masala, 3 cups water, 1 tsp salt till tender, remove and chop coarsely. Heat oil fry chopped onion till transparent, add turmeric, salt, black pepper with coconut milk, coconut cream, when boiling add in dissolved gram flour, cook till slightly thick, fold in chicken and boiled macaroni, serve with given toppings, lastly add lemon juice.
Ingredients:
Tikka boti 1packet
noodles 1 packet boiled
Thick white sauce 1 cup
Soya sauce 1 tbsp
Chili garlic sauce 1 tbsp
Boiled potatoes mashed 1 ½ cup
Coriander leaves 2 tbsp
Green chilies 2 chopped
Eggs 2
Bread crumbs as required
Cheddar cheese ½ cup grated
Sweet corn ½ cup
Capsicum ½
Salt 1 tsp
Black pepper crushed 1 tsp
Method:
Mix all above together, make into small kebabs, dip in egg, and roll in crumbs, deep fry.
Ingredients to marinate:
Chicken breast bone attached 2
Garlic paste 1 tsp
Salt ½ tsp
Crushed red pepper 1 tsp
Soya sauce 1 tbsp
Crushed black pepper ½ tsp
Vinegar 1 tbsp
Oil ¼ cup
crushed pepper for topping
Parsley chopped for topping
Ingredients for sauce:
Black pepper sauce 3 tbsp
Siracha sauce 2 tbsp
Baby corn 4
Capsicum cut into cubes 1
Mixed frozen veggies ½ cup
Mushrooms sliced 4
Cream 4 tbsp
Other ingredients :
Onion rings 3-4
Cabbage leaves 2
Method:
Give cuts on chicken breast, marinate with garlic paste, salt, crushed red pepper, soya sauce, vinegar, crushed black pepper, and leave it for 30 mins. Heat oil fry chicken breast for 10 mins, remove. In the same fry pan add all the ingredients for sauces, cream, cook for 5 mins, add in chicken to the fry pan, cook for 5 mins with sauce, heat sizzler well, put onion rings on base with cabbage leaves, pour chicken with sauce, serve immediately with fries and mixed vegetables.

Pasta in Coconut Curry Recipe in Urdu and English
At Masala TV you can check complete Pasta in Coconut Curry Recipe in Urdu and English. This is one of the best recipes by chef Shireen Anwar at Masala TV show Masala Mornings. Check out the other best recipes of chefs Shireen Anwar.
Top relevant recipes of Pasta in Coconut Curry Recipe in Urdu