Peri Peri Fish Fingers Recipe | Food Diaries | Zarnak Sidhwa | Continental Food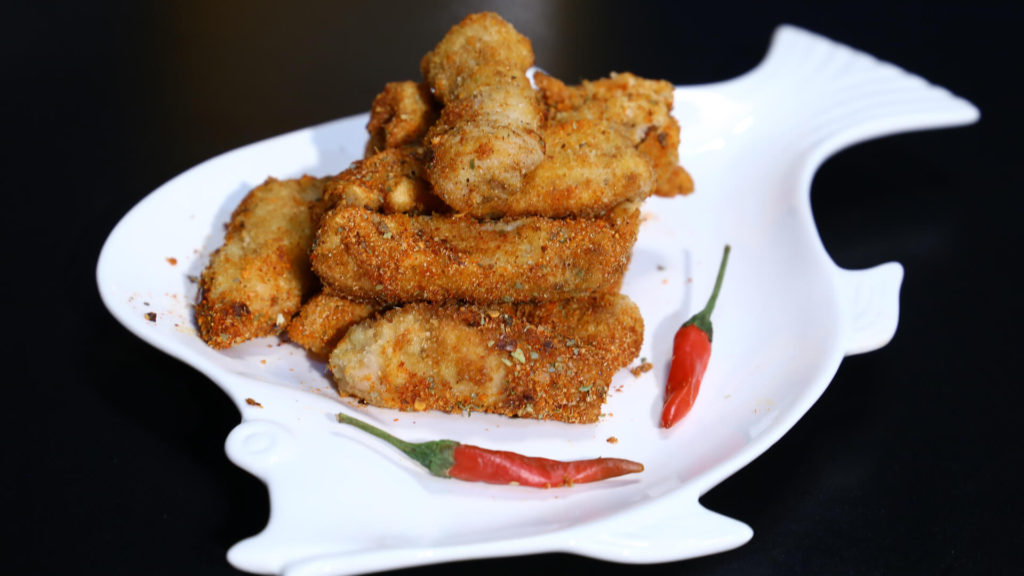 Nov 29, 2023 at 03:14 AM (GMT -05:00)

Check out the Peri Peri Fish Fingers Recipe in Urdu. Learn how to make best Peri Peri Fish Fingers Recipe , cooking at its finest by chef Zarnak Sidhwa at Masala TV show Food Diaries. Check all the Pakistan Cooking recipes in Urdu of Masala TV. Also Check Peri Peri Fish Fingers Recipe , ingredients and complete Method.
This Peri Peri Fish Fingers Recipe is bursting out the classic peri peri flavors that will leave you lip smacking. Enjoy Finger Fish done the fiery way!
Watch this Masala TV video to learn how to make Peri Peri Fish Fingers, Vegan Fried Rice and Bengali Kacha Gola Recipes. This show of Food Diaries with Chef Zarnak Sidhwa aired on 28 January 2020
Ingredients:
½ kg fish fingers
1/2 cup flour
1 tablespoon salt
1 tablespoon black pepper powder
1 egg
1/4 cup milk
1/4 cup bread crumbs
For Peri Peri Masala :
1 tablespoon red chilli powder
1 tablespoon red chilli flakes, crushed
1 tablespoon garlic powder
1 teaspoon dry ginger powder
1/4 teaspoon cinnamon powder
1 teaspoon dried oregano
Method :
Mix flour, salt and pepper and to the beaten egg add milk. Keep the bread crumbs ready in a separate plate. Heat oil. Add the fish to the seasoned flour and coat them well. Dust out any excess flour. Dip the fish into the egg mixture and then finally crumb coat it completely and shake off the excess. Heat oil. Deep fry the fish fingers until they turn golden brown. Drain well to remove any excess oil. To make the peri peri masala powder, mix the red chilli powder, red chilli flakes, garlic powder, dry ginger powder, cinnamon powder and dried oregano into a bowl. Toss the fish fingers in until evenly coated.
Ingredients:
1 cup Tofu
1 cup Brown rice
4 cloves Garlic, minced
1-2 chopped Spring onions
1/2 cup Peas
1/2 cup Carrots diced
Ingredients for Sauce:
3 tbsp Soya sauce
1 tbsp Peanut butter
2 -3 tbsp Brown sugar
1 clove Garlic, minced
1-2 tsp Chili garlic sauce
1 tsp Sesame oil
Method:
Boil rice in water and set aside. Mix all ingredients for the sauce. Add in the tofu. In a wok heat oil add garlic, spring onion, peas and carrots. Sauté for 3-4 minutes, stirring occasionally, and season with soy sauce. Add cooked rice, tofu, and remaining sauce and stir. Cook. Serve immediately with extra chili garlic sauce, crushed salted, roasted peanuts or cashews
Ingredients :
1 cup homemade crumbled cottage cheese
5 tbsp sugar
½ tsp cardamom powder
1 tsp rose water
Few strands of saffron
2 tbsp chopped pistachios
Method :
Make sure that the cottage cheese doesn't have any water left in it. You may use cheese-cloth to remove excess water. Knead by hands for 10-15 minutes. We don't use a food processor to knead this as it will result in a very loose runny paste. If the cheese is watery, then lightly saute it over medium heat for 2-3 minutes till water evaporates but not more as we do not want the cheese to cook. Once smooth, non-grainy dough is attained, add rose water, cardamom powder, saffron and sugar. Mix well and knead the dough for another 3-4 minutes. Now, the dough consistency will be very light and smooth. Divide the entire dough into 11-12 equal portions. Form into round balls (making sure there are no cracks or lines) and place into small cupcake cases. Decorate each kacha golla with crushed pistachios and rose petals. Serve immediately or refrigerate for 3-4 hours till cold.

Peri Peri Fish Fingers Recipe in Urdu and English
At Masala TV you can check complete Peri Peri Fish Fingers Recipe in Urdu and English. This is one of the best recipes by chef Zarnak Sidhwa at Masala TV show Food Diaries. Check out the other best recipes of chefs Zarnak Sidhwa.
Top relevant recipes of Peri Peri Fish Fingers Recipe in Urdu