Persian Halwa Recipe | Lively Weekends | Dessert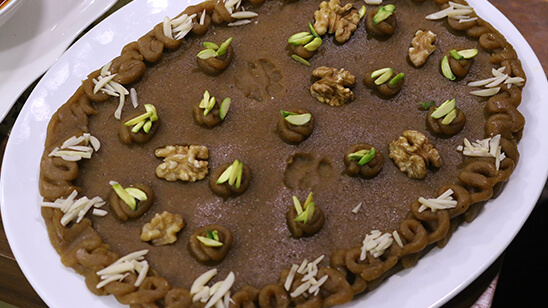 Nov 27, 2022 at 09:20 PM (GMT -05:00)

Check out the Persian Halwa Recipe in Urdu. Learn how to make best Persian Halwa Recipe , cooking at its finest by chef at Masala TV show Lively Weekends. Check all the Pakistan Cooking recipes in Urdu of Masala TV. Also Check Persian Halwa Recipe , ingredients and complete Method.
Persian Halwa is that one scrumptious form of Halwa you can't afford to miss. It's the perfect solution to your sweet tooth!
Watch this Masala TV video to learn how to make Persian Halwa , Laham bandora , Gheymeh and Mirza Ghasemi Recipes. This show of Lively Weekend with Host Kiran Khan aired on 6 February 2021.
Ingredients:
Wheat flour 250gm
Sugar 200 gm
Oil 200 gm
Saffron ½ tsp
Rose water ½ cup
Pistachios as required
Almonds sliced as required
Method:
Bring sugar and water to a boil in a saucepan; cook, stirring constantly, until sugar is dissolved, about 5 minutes. Stir rose water and saffron into the sugar mixture; cover saucepan and remove from heat.
Melt butter in a large saucepan over low heat; stir flour into the melted butter until mixture is a smooth paste. Continue to cook, stirring often, until paste turns golden, about 5 to 10 more minutes.
Slowly whisk sugar mixture into paste until smooth. Remove saucepan from heat and spread halva evenly onto a plate or platter. Make a pattern on the top of halva using the back of a spoon or a knife. Cover with plastic wrap and refrigerate until set, at least 1 hour.
Ingredients:
Beef or lamb 250gm
Green peas ½ Cups
Onion chopped 1
Tomato paste 2 tbsp
Lemon juice 2 tbsp
Saffron dissolved ¼ tsp
Turmeric 1 tbsp
Salt to taste
Black pepper to taste
Ground cardamom ½ tsp
Potatoes 2
Water as required
Vegetable oil as required
Rice 1-½
Method:
Chop the onion. Fry them in a large pot with 2 tablespoons of oil until it turns golden. Add meat and saute for 2-3 minutes. Add turmeric, salt, pepper.
Add ground cardamom and stir. This is an optional step but has a great effect on the aroma and taste of the stew. saute until all sides of the meat are lightly brown. Drain the yellow split peas and add to the pot and saute for 5 minutes.
Add saffron and mix thoroughly Add tomato sauce and mix well.
Pour in enough water to cover the mixture by about 2 inches. bring it to a boil on high heat for a couple of minutes. Then lower the heat, cover the lid and cook on medium to low heat for 60 minutes. Add a little more water if necessary
Add dried limes to the pot. Before adding the limes make some holes in them using a knife or a fork. Cover the lid and cook on low heat for 30 more minutes.
Peel and slice the potatoes and fry them for topping.
Serve warm with rice and garnish it with french fries on top.
Ingredients:
Eggplant 2
Tomatoes 2
Garlic 2tbsp
Eggs 2
Turmeric as required
black pepper to taste
Method:
Prepare your outdoor grill to high heat. Skewer the eggplants and grill them over hot coals or gas grill for 7-8 minutes on each side, or until the skin is charred all over and the eggplants can easily be pierced with a fork. (please see the alternative broiler/stovetop method in the pictured instructions)
Carefully pull the eggplants off the skewers and cool just until you can handle them without burning your fingers. Take the stems off and peel and discard the skins. You don't have to be very meticulous about peeling the skin, some leftover specs of charred skin is fine and adds extra smoky flavor to Mirza Ghasemi. Sprinkle the peeled eggplants with ⅛ tsp kosher salt and roughly chop them. Set aside.
Use a sharp knife to slice the tomatoes very thin, then dice them very small (please see the alternative method for peeled tomatoes in the pictured instructions). Set aside.
Heat 2 ounces of butter in a non-stick 10-inch skillet over medium heat. Add the minced garlic and saute for 1 minute. Add the diced tomatoes salt and pepper and increase the heat to medium high and saute for 3 minutes. Stir a few times.
cover and simmer for 15 minutes. Stir a few times.
Stir the eggplants, make 4 shallow wells on the surface and crack the eggs one at a time in each well. Use a fork to mix the egg whites into the eggplant mixture, leaving the yolks intact. Sprinkle the yolks with extra freshly cracked black pepper. increase the heat to medium low, cover the skillet and simmer for 2-3 minutes until the whites are cooked. The yolks should be soft poached and golden.

Persian Halwa Recipe in Urdu and English
At Masala TV you can check complete Persian Halwa Recipe in Urdu and English. This is one of the best recipes by chef at Masala TV show Lively Weekends. Check out the other best recipes of chefs .
Top relevant recipes of Persian Halwa Recipe in Urdu