Phiruze's Chocolate Gateau Recipe | Food Diaries | Zarnak Sidhwa | Dessert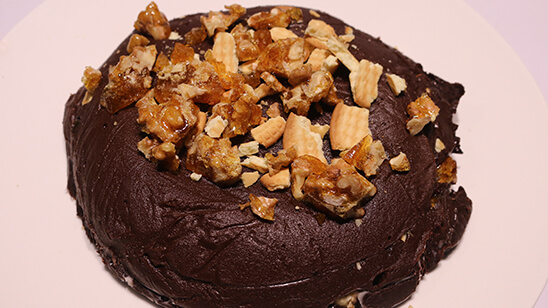 Dec 01, 2022 at 02:11 AM (GMT -05:00)

Check out the Phiruze's Chocolate Gateau Recipe in Urdu. Learn how to make best Phiruze's Chocolate Gateau Recipe , cooking at its finest by chef Zarnak Sidhwa at Masala TV show Food Diaries. Check all the Pakistan Cooking recipes in Urdu of Masala TV. Also Check Phiruze's Chocolate Gateau Recipe , ingredients and complete Method.
Phiruze's Chocolate Gateau is one of the most delightful chocolate desserts that there are. Try this one today!
Watch this Masala TV video to learn how to make Phiruze's Chocolate Gateau and Irish Soda Bread Recipes. This show of Food Diaries with Chef Zarnak Sidhwa aired on 29 October 2020.
Ingredients:
Chocolate chopped 2 cups
Cream 1 cup
Butter 1 tbsp
Plain biscuits, chopped 2 cups
For caramelized walnuts:
Walnuts 1 cup
caster sugar ¼ cup
unsalted butter 1 tbsp
Method:
To make the caramelized walnuts, in a pan put walnuts, sugar and butter. Heat over medium heat for 5 minutes, stirring frequently. When the mixture starts melting, stir constantly until all sugar is melted and nuts are coated. Transfer immediately onto a lightly greased lid and separate the nuts right away. Let cool and then chop coarsely.
Melt the chocolate with the cream in a saucepan and mix until the chocolate is completely melted and you have a smooth ganache. Add the butter and pour half the ganache into a lightly buttered round deep glass bowl. Refrigerate for 30-40 minutes, leave the remaining ganache out so it doesn't stiffen completely. Then take out the bowl and put few caramelized walnuts and the chopped biscuits and top with the remaining ganache and refrigerate overnight. To unmold, dip the dish in a larger bowl of hot water to loosen the ganache. Run a knife around the gateau to unmold and then decorate with more caramelized walnuts on top.
Ingredients:
Flour 4 ¼ cups
Caster sugar 1/4 cup
Baking soda 1 tsp
Salt 1 tsp
Cold unsalted butter cubed ¼ cup
Raisins or currants 1 cup
Buttermilk 1-1/2 cup
Egg 1
Method:
Mix the flour, sugar, baking soda and salt until well combined. Add the cold cubed butter and cut it into the dry ingredients with a pastry cutter or fork until you have small crumbs. Stir in the raisins and set aside. In a separate mixing bowl, whisk together the buttermilk and egg until fully combined. Pour the mixture into the dry ingredients and gently stir the dough together until just combined. The dough will be a little sticky. Turn the dough out on a floured surface, flour the top of the dough and your hands, then knead the dough together a few times adding more flour as needed until you can form it into a ball that's about 7-inches in diameter. Cut an 'x' into the top of the bread and brush with a little extra buttermilk if desired. Bake at 190°c for 45-60 minutes or until the top of the bread is browned and a toothpick inserted into the center of the bread comes out clean. Remove from the oven and allow the bread to cool for 15-20 minutes before slicing into it.

Phiruze's Chocolate Gateau Recipe in Urdu and English
At Masala TV you can check complete Phiruze's Chocolate Gateau Recipe in Urdu and English. This is one of the best recipes by chef Zarnak Sidhwa at Masala TV show Food Diaries. Check out the other best recipes of chefs Zarnak Sidhwa.
Top relevant recipes of Phiruze's Chocolate Gateau Recipe in Urdu