Pista Khoya Kheer Recipe | Tarka | Rida Aftab | Desert | Masala TV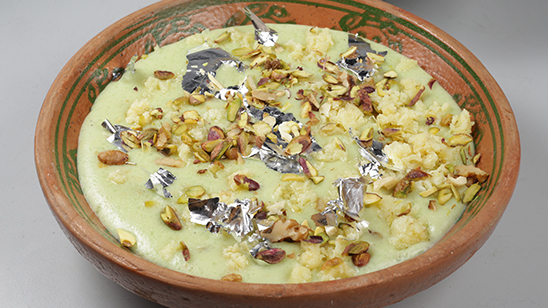 Nov 28, 2023 at 07:22 AM (GMT -05:00)

Check out the Pista Khoya Kheer Recipe in Urdu. Learn how to make best Pista Khoya Kheer Recipe , cooking at its finest by chef Rida Aftab at Masala TV show Tarka. Check all the Pakistan Cooking recipes in Urdu of Masala TV. Also Check Pista Khoya Kheer Recipe , ingredients and complete Method.
The fusion of pista and the traditional Khoya taste will have you falling in love with this dessert. Try this Pista Khoya Kheer today !
Watch this Masala TV video to learn how to make Pista Khoya Kheer , Lobia Qeema and Arvi Gosht Masala Recipes. This show of Tarka with Chef Rida Aftab aired on 2 July 2021.
Ingredients:
Milk 1-1/2 liter
Pistachios Paste ½ cup
Cardamom Powder ½ tsp
Whole dried milk 250 gm
Rice Powder 1 cup
Sterling Silver leaves 4
Green Color 1pinch
Pistachios for garnishing
Ingredients:
Mince ½ kg
Ginger garlic 1 tbsp
Whole red chili 10
Cumin 2 tsp
Salt ½ tsp
Turmeric ½ tsp
Red chili powder 1 tsp
Boiled Red kidney beans 250 grams
Onion 250-125 gram
Green coriander 1 bunch
All spice powder 1 tsp
Oil ½ cup
Ginger (finely cut) as required
Method:
Add 1 cup water, ginger garlic, turmeric, salt, red chili powder, whole red chili and cumin in mince and cook. When water gets dries then turn off the flame. In another pan heat oil and add Boiled Red kidney beans in it. Also add onion and fry on high flame. Now add green coriander and ginger also mince and mix well. Add all spice powder and leave it on dum for 10 minutes then sprinkle ginger and serve.
Ingredients:
Mutton ½ kg
Taro ½ kg
Turmeric 1 tsp
Red Chilies (Crushed) 1 tbsp
Salt To taste
Ginger Garlic Paste 1 tbsp
Onion 2
Lemon 2
Coriander Leaves (Finely chopped) ½ bunch
Allspice Powder 1 tsp
Green Chilies (Crushed) 3
Oil 1 cup
Method:
Wash and peel the taro. Then lightly grease your hands, coat the taro with turmeric powder and set aside.
In a pot, add the mutton, 2 cups of water, onions, turmeric powder, crushed red chilies, salt, ginger garlic paste, oil and cook on medium heat.
When the water from the mutton dries, mix in the taro and green chilies. Then add 2- 2 ½ cups of hot water.
When the taro cooks through, add the lemon juice, allspice powder, finely chopped green chilies, finely chopped coriander leaves and let it simmer for 5 minutes.
When the oil separates and comes to the top, Arvi Gosht is ready.

Pista Khoya Kheer Recipe in Urdu and English
At Masala TV you can check complete Pista Khoya Kheer Recipe in Urdu and English. This is one of the best recipes by chef Rida Aftab at Masala TV show Tarka. Check out the other best recipes of chefs Rida Aftab.
Top relevant recipes of Pista Khoya Kheer Recipe in Urdu