Pizza Omelette Recipe | Evening With Shireen | Chef Shireen Anwar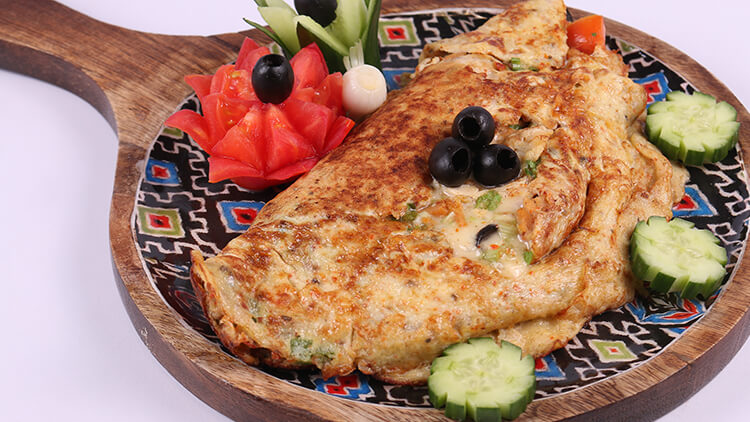 Jul 01, 2022 at 07:07 PM (GMT -04:00)

Check out the Pizza Omelette Recipe in Urdu. Learn how to make best Pizza Omelette Recipe, cooking at its finest by chef Shireen Anwar at Masala TV show Evening with Shireen. Check all the Pakistan Cooking recipes in Urdu of Masala TV. Also Check Pizza Omelette Recipe, ingredients and complete Method.
Try out the super combo of nutritious advantages in eggs and cheesy hit flavor of pizza.
Watch this Masala TV video to learn how to make Pizza Omelette,Brunch muffins and Hazelnut bites. This show of Evening With Shireen with Chef Shireen Anwar aired on 7 October 2019.
Ingredients:
Eggs 4
Spring onion chopped ½ cup
Capsicum cut cubes 1
Olives slices 2 tbsp
Chicken sausages 2
Tomato cut into cubes ½ cup
Mushrooms chopped 4
Crushed red pepper 1 ½ tsp
Oregano 1 tsp
Milk ¼ cup
Salt ½ tsp
Oil ¼ cup
Parmesan cheese 2 tbsp
Method:
Chop all the vegetables and chicken sausages, keep aside. Beat eggs with milk, all the dry spices. Heat oil in a pan, put half beaten egg mixture, top evenly with veggies, when half cooked sprinkle with parmesan cheese, cover pan, cook on low heat for 5 mins, cook until done, serve with toast.
Ingredients:
Chicken mince 400 gm
Salt ½ tsp
Chili powder ½ tsp
Eggs 3
Tomato 1
Onion chopped ½ cup
Capsicum ½ cup
Bread slices 8 to 10
Black pepper ½ tsp
Mixed herbs 1 tsp
Mustard powder ½ tsp
Oregano ½ tsp
Cheddar cheese grated 1 cup
Method:
Boil mince with salt and chili powder. Pre-heat oven to 190 d, remove edges from bread slices, slightly roll bread slices with rolling pin. Grease muffin tray, put each slice into cups of tray, and fill with chicken mince, all the chopped veggies. In a separate bowl, beat 2 eggs, add salt, pepper and mustard, pour equally into muffin cups, bake it in an oven for 15 mins, add grated cheese on top, sprinkle with oregano, re-bake for 5 mins.
Ingredients:
Bread slices 6
Hazel nut spread ½ cup
Eggs 3
Cinnamon powder ½ tsp
Caster sugar 3 tbsp heaped
Vanilla essence 1 tsp
Banana slices for topping
Milk ½ cup
Chocolate syrup for topping
Method:
Remove corners of bread slices, roll them like swiss roll, and keep aside. In a bowl beat together sugar and egg, cinnamon powder, vanilla essence and milk, dip the roll in this mixture and shallow fry until golden, after cooling, cut them into bite size pieces, decorate them with banana slices and drizzle chocolate syrup.

Pizza Omelette Recipe in Urdu and English
At Masala TV you can check complete Pizza Omelette Recipe in Urdu and English. This is one of the best recipes by chef Shireen Anwar at Masala TV show Evening with Shireen. Check out the other best recipes of chefs Shireen Anwar.
Top relevant recipes of Pizza Omelette Recipe in Urdu