Pizza Sandwich Recipe | Masala Mornings | Masala TV | Shireen Anwar | Fusion Food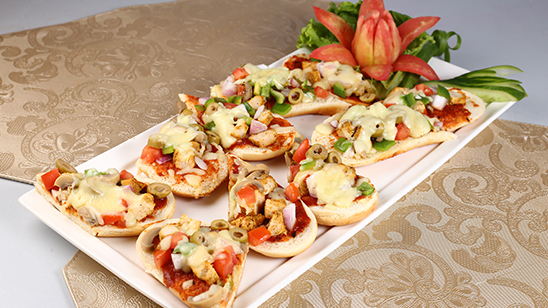 Mar 27, 2023 at 04:13 PM (GMT -04:00)

Check out the Pizza Sandwich Recipe in Urdu. Learn how to make best Pizza Sandwich Recipe , cooking at its finest by chef Shireen Anwar at Masala TV show Masala Mornings. Check all the Pakistan Cooking recipes in Urdu of Masala TV. Also Check Pizza Sandwich Recipe , ingredients and complete Method.
Learn to make Pizza Sandwich like never before. This recipe tastes incredible so give it a try!"
Watch this Masala TV video to learn how to make Pizza Sandwich ,Instant ravaidla and White chocolate cheesecake Recipes. This show of Masala Mornings with Chef Shireen Anwar aired on 27 August 2021.
Ingredients:
Buns 4
Pizza sauce ½ cup
Mince cooked 1 cup
Capsicum cubed 1
Onion cubed 1
Tomato cubed 1
Oregano 1 tbsp
Olives sliced 2 – 3 tbsp
Mushrooms sliced 6
Mozzarella cheese ½ cup
Cheddar cheese ½ cup
Method:
Cut hotdog buns lengthwise to make them into 8, spread them lavishly with pizza sauce, put bhuna hua qeema with all the toppings, oregano, both the cheeses, put on oven tray, grill in a pre-heated oven for 12-15 mins until cheese melts.
Ingredients:
Oil 2 tbsp
Mustard seeds 1 tsp
Cumin ½ tsp
Split Bengal gram 1 tsp
Curry leaves few
asafetida pinch
Green chili 1
Ginger finely chopped 1 tsp
Carrot grated 2 tbsp
Turmeric ¼ tsp
Semolina coarse 1 cup
Yogurt beaten ¾ cup
Coriander leaves 2 tbsp
Salt ¾ tsp
Water ½ cup
Cashew nuts cut into halves as required
food salt ¼ tsp
Method:
Heat oil in a fry pan, add rai dana, cumin seeds, chana daal, heing, curry leaves, fry for 2 mins, add 1 green chili chopped, ginger finely chopped, fry for another 2 mins, add grated carrots, turmeric, fry for another 2 mins till soft, add suji, roast on low flame for 5 mins, remove in a bowl, cool completely, add in beaten yogurt, coriander leaves, salt, mix well, add water, mix well, the batter should be of smooth consistency, leave it for 15 mins till water is absorbed, if required add 2 tbsp more water, grease ibli plate well, add ½ cashew on the base, add eno salt to the batter, mix gently, pour batter onto cashew and steam for 13 mins, remove, cool and serve with coconut chatni.
Ingredients:
Biscuits crumbs 2 cups
Caster sugar ½ cup heaped
Melted butter 4 ounce
Cream cheese 16 ounces
Eggs 2
White chocolate melted 4 ounce
Pepper mint essence ¼ tsp
Whipped cream 1 cup
Candy chopped 4 tbsp
Method:
Pre heat oven to 170 d, mix biscuits crumbs with melted butter, press onto bottom of 8 inches cheesecake pan, bake for 10 mins, beat cream cheese with sugar until blended, add 1 egg at a time mixing on low speed after each addition just until blended, stir in melted chocolate and essence, pour over crust, bake for 45 mins on until center is almost set, refrigerate for 4 hours, top with cream and chopped candies just before serving.

Pizza Sandwich Recipe in Urdu and English
At Masala TV you can check complete Pizza Sandwich Recipe in Urdu and English. This is one of the best recipes by chef Shireen Anwar at Masala TV show Masala Mornings. Check out the other best recipes of chefs Shireen Anwar.
Top relevant recipes of Pizza Sandwich Recipe in Urdu