Potato Soup Recipe | Food Diaries | Zarnak Sidhwa | Appetizer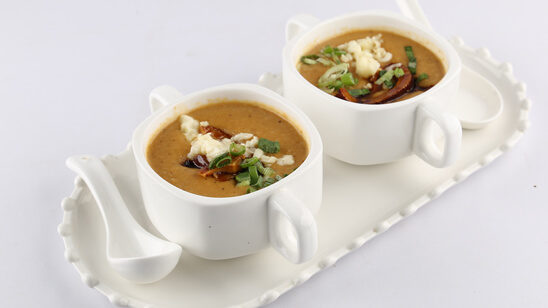 Jan 18, 2021 at 02:41 PM (GMT -05:00)

Check out the Potato Soup Recipe in Urdu. Learn how to make best Potato Soup Recipe , cooking at its finest by chef Zarnak Sidhwa at Masala TV show Food Diaries. Check all the Pakistan Cooking recipes in Urdu of Masala TV. Also Check Potato Soup Recipe , ingredients and complete Method.
Winter is here and what better way to enjoy it then with soup? Try this yummy Potato soup and thank us later.
Watch this Masala TV video to learn how to make Potato Soup and Chocolate Caramel Self-Saucing Pudding Recipes. This show of Food Diaries with Chef Zarnak Sidhwa aired on 3 December 2020.
Ingredients:
Olive oil 3 tbsp
Onion, chopped 1
Salt ½ tsp
Garlic cloves, chopped 4
White vinegar 1 tbsp
Vegetable stock 4 cups
Potatoes, chopped ½ kg
Cooked white beans 1½ cups
Dijon mustard ½ tsp
Lemon juice 1 tbsp
Paprika ¼ tsp
Ground black pepper as required
For Optional toppings:
Spring onion sliced as required
Thick yogurt as required
Cheddar cheese grated as required
For Coconut bacon :
Thick coconut flakes 4 tbsp
Dark soya sauce 1 tbsp
Maple syrup 2 tbsp
Paprika 1 tsp
Method:
Heat 2 tablespoons olive oil. Add the onion, salt and pepper. Sauté and then add the garlic. Stir in the white vinegar and then add the stock, potatoes and white beans. Bring to a boil, reduce the heat, and simmer 30 minutes.Let cool slightly, then transfer half of the soup to a blender with the remaining 1 tablespoon olive oil, mustard, lemon juice and paprika. Blend until smooth and return the pureed soup back to the pot.Use a potato masher to gently smash the potato chunks and beans. Season to taste with more salt and pepper and serve with desired toppings.
To make coconut bacon, Place thick coconut flakes, soya sauce, maple syrup and paprika in a pan and toss gently to coat. Spread in a thin layer on a baking sheet and bake at180 degrees C until dark golden brown and slightly crispy, about 6-10 minutes. Watch carefully as the coconut flakes can burn quickly.
Ingredients:
Flour 1-2/3 cups
Baking powder 1 tsp
Cocoa powder 2 tbsp
Caster sugar 1 cup
Butter, melted 125g
Milk 1 cup
White chocolate chips 1/3 cup
Thick caramel 190 gm
Cocoa powder for dusting
For Sauce:
Cocoa powder 1 tablespoon
Boiling water 2 cups
Brown sugar 1/2 cup
Method:
Mix flour, cocoa, sugar, butter, milk and choc chips in a bowl. Stir until smooth. Spread into an ovenproof dish. Make shallow holes in top. Fill with caramel. Using a spatula, spread top of batter to cover caramel. To make the sauce, combine cocoa powder, boiling water and brown sugar in a jug. Stir and pour sauce, over the back of a large metal spoon, over batter.Bake at 180 degrees C for 35-40 minutes or until top of pudding is just set. Stand for 5 minutes. Dust with cocoa. Serve.

Potato Soup Recipe in Urdu and English
At Masala TV you can check complete Potato Soup Recipe in Urdu and English. This is one of the best recipes by chef Zarnak Sidhwa at Masala TV show Food Diaries. Check out the other best recipes of chefs Zarnak Sidhwa.
Top relevant recipes of Potato Soup Recipe in Urdu