Prawn Pulao Recipe | Dawat | Abida Baloch | Desi Food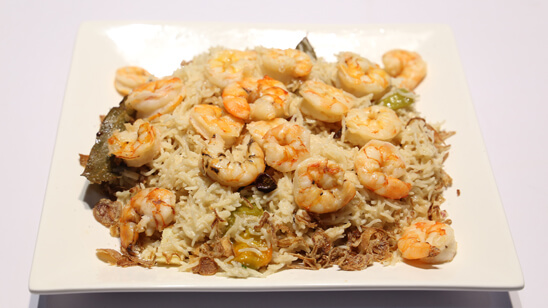 Feb 26, 2021 at 08:15 AM (GMT -05:00)

Check out the Prawn Pulao Recipe in Urdu. Learn how to make best Prawn Pulao Recipe , cooking at its finest by chef Abida Baloch at Masala TV show Dawat. Check all the Pakistan Cooking recipes in Urdu of Masala TV. Also Check Prawn Pulao Recipe , ingredients and complete Method.
Prawn Pulao is just the combination we al crave; rice and prawns together with the perfect seasonings!
Watch this Masala TV video to learn how to make Prawn Pulao ,Cut Mirchi Ki Sabzi and Raita Recipes. This show of Dawat with Chef Abida Baloch aired on 3 September 2020.
INGREDIENTS:
Prawns 1 packet
Rice 400 gm
Cinnamon 1
Cardamom 1 (big stick)
Bay leaf 1
Cloves 3
Onions golden 3-4
Green chilies 4-5
Yogurt 500 gm
Salt to taste
Water 3 cups
Whole red chilies 5-6
Ginger 1 inch piece
Garlic 1
Cumin 1 tsp
Black pepper corns 1/2 tsp
Vinegar 1tbsp
Brown onion 1
Oil 1/4 cup
Method:
Soak rice into hot water and vinegar for about 10 minutes. Then strain it and wash through tap water until cool. Now take a medium size skillet heat the oil add prawns and fry until golden set aside with oil. Make a muslin cloth pouch with 1 onion, 1 whole garlic and ginger.
For Lassi, add yogurt, 3 cups water and salt to taste. Allow it to boil and continuously stir until it's bubbling. Now add prawns along with cumin, cinnamon, big stick of cardamom, bay leaf, cloves, red chilies, cumin, black peppercorns and the muslin cloth pouch. Cook on high flame. When the mixture starts to boil add the rice and whole green chilies and brown onion. Cover and simmer the rice for 30-40. Lastly dish out and serve hot.
Ingredients:
long green chilies 7-10
Gram flour 1 cup
Carom seeds 1/2 tsp
Salt to taste
Water to mix the batter
Oil for deep frying
For stuffing:
Roasted split gram 1/2 cup
Tamarind pulp 1/4 cup
Peanuts 2 tbsp
Sesame seeds 2 tsp
Cumin seeds 1 tsp
Chili powder 1 tsp
Sugar 1 tsp
Chaat masala powder 1/2 tsp
Salt to taste
Water few tsp
To serve:
Long green chilies as required
Finely chopped onions as required
Finely chopped coriander leaves as required
Sweet chutney as required
Lemon wedges as required
Method:
For stuffing, take all the ingredients in a blender. Sprinkle some water and grind to a thick paste. Then wash and pat dry the chilies. Make a long slit on each chili and remove the seeds. Now make coating batter with gram flour, salt, carom seeds and water. Then stuff the prepared spice paste in each chili. Now coat the chilies with gram flour mixture. Then heat oil, add stuffed green chilies and deep fry until golden. Do not let them turn very crispy. Remove and let the excess oil drain. Now cut vegetables into small roundels. Then just before serving fry the roundels again until golden and crispy. Now Arrange on a plate and top with chopped onions, sweet chutney, coriander leaves and lemon wedges. Serve immediately.
Ingredients:
Boiled potatoes ½ cup
Yogurt 1 cup
Black pepper ½ tsp
Salt ½ tsp
Mint leaves 2 tbsp
Green chili 1
Crushed garlic 1 tbsp
Method:
In a bowl whisk yogurt, add boiled potatoes, salt, black pepper, mint leaves, green chili and crushed garlic. Mix well and serve.

Prawn Pulao Recipe in Urdu and English
At Masala TV you can check complete Prawn Pulao Recipe in Urdu and English. This is one of the best recipes by chef Abida Baloch at Masala TV show Dawat. Check out the other best recipes of chefs Abida Baloch.
Top relevant recipes of Prawn Pulao Recipe in Urdu