Pretzel Bites With Dip Recipe | Food Diaries | Masala TV | Zarnak Sidhwa | Dessert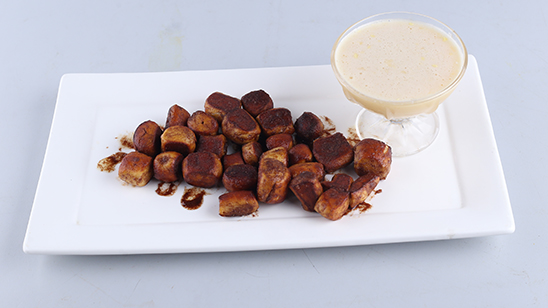 Nov 27, 2022 at 08:26 PM (GMT -05:00)

Check out the Pretzel Bites With Dip Recipe in Urdu. Learn how to make best Pretzel Bites With Dip Recipe , cooking at its finest by chef Zarnak Sidhwa at Masala TV show Food Diaries. Check all the Pakistan Cooking recipes in Urdu of Masala TV. Also Check Pretzel Bites With Dip Recipe , ingredients and complete Method.
Pretzel Bites With Dip is one amazing dish that will make your day. Give it a try today!
Watch this Masala TV video to learn how to make Pretzel Bites With Dip and Chilli Chicken Recipes. This show of Food Diaries with Chef Zarnak Sidhwa aired on 11 October 2021.
Ingredients For Pretzel Bites:
Yeast 2 tbsp
Warm water 1 cup
Caster sugar 2 tbsp
Light brown sugar 2 tbsp
Oil 1 tbsp
Salt 1 tsp
Flour 2 ¾ cups
Hot water 3 cups
Baking soda 1/4 cup
For The Coating:
Butter (melted) 1/2 cup
Caster sugar 1/2 cup
Ground cinnamon 1 tbsp
For Cream Cheese Dipping Sauce:
Cream cheese 4 oz
Butter 2 tbsp
Icing sugar 1 cup
Vanilla essence 1/2 tsp
Cream 2 tbsp
Method:
For the pretzel bites, combine 1 cup warm water, yeast and 1/2 tsp caster sugar, whisk to dissolve and allow to rest 10 minutes. Fit mixer with whisk attachment and mix in remaining caster sugar, brown sugar, oil and salt. Switch attachment to the hook attachment and slowly add in all the flour. Knead mixture on low speed until smooth and elastic. Transfer to a lightly oiled bowl, cover with plastic wrap and allow to rest in a warm place until doubled in size for 1 1/2 hours.
Punch dough down and divide into 6 equal portions. Roll each portion into a rope about 24 inches long. Cut into bite size pieces. Pour hot water and baking soda into a mixing bowl and whisk to dissolve. Using a slotted spoon, dip several pieces of dough into the water mixture, then lift and allow excess water to drip off, then transfer to a silicon-lined baking sheet. Re-warm water until hot between batches. Bake in preheated oven at 200 degrees C for 8 – 11 minutes until tops are nicely golden brown. Remove from oven and using a slotted spoon, dip into melted butter, toss to evenly coat then lift and shake off excess. Transfer to a plate and allow to rest 2 minutes, this just gave them time to absorb the butter, rather than having it all end up clumping the cinnamon sugar mixture. Mix caster sugar and cinnamon. Dip butter coated pretzels into cinnamon sugar and toss to evenly coat. Serve warm with cream cheese dipping sauce.
For the cream cheese dipping sauce, beat cream cheese and butter until smooth. Stir in icing sugar and vanilla essence and mix until combined. Add cream and whip until fluffy. Store in refrigerator in an airtight container.
Ingredients:
Chicken ½ kg
Green chili sauce as required
Dry Rub:
Dark brown sugar 3 tbsp
Paprika 2 tsp
Red chili powder 2 tsp
Black pepper 1-1/2 tsp
Onion powder 1 tsp
Dry mustard 1 tsp
Salt 1 tsp
Cayenne pepper 1/4 tsp
Yogurt 3 tbsp
Method:
Mix all dry rub ingredients together. Thoroughly coat the chicken with the spice mix. Cover the chicken and refrigerate for 30 minutes. Grill chicken till done. Remove chicken from grill and add Green Pepper sauce and serve.

Pretzel Bites With Dip Recipe in Urdu and English
At Masala TV you can check complete Pretzel Bites With Dip Recipe in Urdu and English. This is one of the best recipes by chef Zarnak Sidhwa at Masala TV show Food Diaries. Check out the other best recipes of chefs Zarnak Sidhwa.
Top relevant recipes of Pretzel Bites With Dip Recipe in Urdu