Qeema Ghotala Rolls Recipe | Food Diaries | Zarnak Sidhwa | Desi Food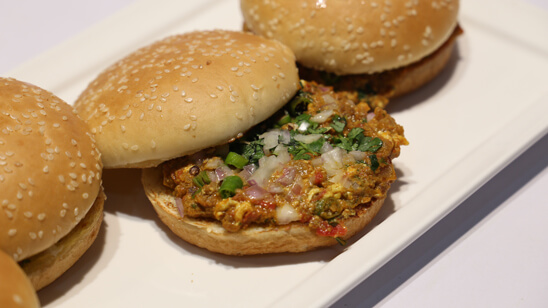 Dec 01, 2022 at 01:23 AM (GMT -05:00)

Check out the Qeema Ghotala Rolls Recipe in Urdu. Learn how to make best Qeema Ghotala Rolls Recipe , cooking at its finest by chef Zarnak Sidhwa at Masala TV show Food Diaries. Check all the Pakistan Cooking recipes in Urdu of Masala TV. Also Check Qeema Ghotala Rolls Recipe , ingredients and complete Method.
Qeema Ghotala Rolls are uniquely special because of the fusion of taste; Anda Ghotala patties with roll buns.
Watch this Masala TV video to learn how to make Qeema Ghotala and Real Chocolate Brownies Recipes. This show of Food Diaries with Chef Zarnak Sidhwa aired on 16 September 2020.
Ingredients:
Minced mutton 500 gm
Oil 3 tbsp
Onions, chopped 2-3
Ginger garlic paste 2 tbsp
Green chilies, chopped 4-5
Ground turmeric ½ tsp
Red chili powder 1 tsp
Ground coriander 2 tsp
Ground cumin 1 tsp
All spice powder 1 tsp
Salt to taste
Lemon juice ½ lemon
Chopped coriander and mint 2-3 tbsp
Tomatoes, chopped 2
Tomato ketchup 3 tbsp
Eggs 4
To serve:
Soft rolls 4
Butter as required
Onion, chopped 1
Green chili, chopped 1
Chopped mint and coriander 2 tbsp
Method:
Heat oil. Add the ginger garlic paste and the green chilies and fry gently, add the chopped onions and continue to cook, adding little water until the onions get reduced to nearly a pulp. Add the dry spices and fry gently until you see the oil emerge. Add the mince. Cook, stirring regularly until the mince is cooked. Season and stir in the lemon juice and chopped mint and coriander, chopped tomatoes and ketchup and cook until done. Beat the eggs and add them to the hot mince and stir gently over the heat until they are softly scrambled. Serve immediately in buttered rolls with the onion, chili, mint and coriander to taste.
Ingredients:
Unsalted butter 175 gm
Dark chocolate, chopped 150 gm
Eggs 3
Caster sugar 300 gm
Flour 75 gm
Cocoa powder 40 gm
Icing sugar to dust
Salt as required
Method:
Melt the butter and chocolate together in a heatproof bowl set over a pan of barely simmering water .When the mixture is melted, lift the bowl off the pan and set aside to cool for 20 minutes. Beat the eggs and sugar. Add the melted and cooled chocolate mixture. Sift over the flour, cocoa powder and a pinch of salt and fold together. Scrape the mixture into a greased and lined 8" tin, bake at 180 degrees C for 30 minutes. Check by inserting a skewer if it comes out with few crumbs sticking to it, that is the time to remove the tin from the oven. Cool completely in the tin before dusting with icing sugar and cutting into squares.

Qeema Ghotala Rolls Recipe in Urdu and English
At Masala TV you can check complete Qeema Ghotala Rolls Recipe in Urdu and English. This is one of the best recipes by chef Zarnak Sidhwa at Masala TV show Food Diaries. Check out the other best recipes of chefs Zarnak Sidhwa.
Top relevant recipes of Qeema Ghotala Rolls Recipe in Urdu