Qeema Matar Chawal Recipe | Dawat | Abida Baloch | Desi Food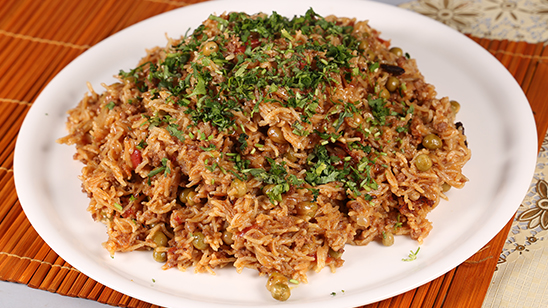 Jul 04, 2022 at 08:21 AM (GMT -04:00)

Check out the Qeema Matar Chawal Recipe in Urdu. Learn how to make best Qeema Matar Chawal Recipe , cooking at its finest by chef Abida Baloch at Masala TV show Dawat. Check all the Pakistan Cooking recipes in Urdu of Masala TV. Also Check Qeema Matar Chawal Recipe , ingredients and complete Method.
Qeema Matar Chawal are a classic dish. Pair it with a raita and you'll love it even more.
Watch this Masala TV video to learn how to make Qeema Matar Pulao , Hyderabadi Bhindi Ka Salan and Raita Recipes. This show of Dawat with Chef Abida Baloch aired on 24 March 2021.
Ingredients:
Beef mince 300gm
Green peas 1 cup
Rice soaked 2 cups
Oil ½ cup
Whole cumin seeds 1 tsp
Cinnamon stick 1
Green cardamom pods 3
Onion sliced 2
Red chilli powder 2 tsp
Coriander powder 2 tsp
Turmeric 1/2 tsp
Salt to taste
Tomato paste 2 tbsp
Tomatoes 2
Coriander for garnishing
Method:
Heat oil in a pan and add in cumin seeds, cinnamon stick and cardamom pods. Once they start to sizzle, add in onions and fry till lightly browned. Add in the spices, salt and tomato paste, and fry for a few seconds to mix well. Mix in the ground meat and cook for 5-6 minutes on medium heat, Slowly add in the peas, rice and water, give it a quick stir, and cook covered on medium-low heat till all the water evaporates.
Once the rice has cooked, garnish with fresh cilantro leaves. Serve warm.
Ingredients:
Okra 500 grams
Oil 1/2 cup
Mustard seeds 1 tsp
Fenugreek seeds ¼ tsp
Curry leaves 15-20
Onions paste 1 cup
Turmeric powder ½ tsp
Red chilli powder 1 tsp
Tamarind paste 1- ½ tsp
Salt to taste
Fresh coriander 2 tbsp
For the Masala paste:
Peanuts 2 tbsp
Sesame seeds 2 tbsp
Grated fresh coconut 2 tbsp
Dry red chilies 3-4
Ginger garlic paste 1tsp
Method:
Heat oil in a pan for frying the okra and deep fry them until slightly browned on medium heat. Drain on a plate and keep aside. Dry roast peanuts, sesame seeds, coconut and dry red chilies until slightly browned and fragrant. Add in a blender along with ginger and garlic and make a smooth paste. Add some water to make the paste. Heat oil in a pan. Once the oil is hot, add mustard seeds, fenugreek seeds and curry leaves and let them splutter for a few seconds. Add onion and fry until they turn slightly brown. Add the masala paste, turmeric powder, red chili powder and salt along with some water. Cover the pan and cook the curry for 15-20 minutes on low heat. Add the fried bhindi and again cook for 10 minutes. Now add tamarind paste and cook for a minute. Garnish with fresh coriander and serve hot.
Ingredients:
Boiled potatoes ½ cup
Yogurt 1 cup
Black pepper ½ tsp
Salt ½ tsp
Mint leaves 2 tbsp
Green chili 1
Crushed garlic 1 tbsp
Method:
In a bowl whisk yogurt, add boiled potatoes, salt, black pepper, mint leaves, green chili and crushed garlic. Mix well and serve.

Qeema Matar Chawal Recipe in Urdu and English
At Masala TV you can check complete Qeema Matar Chawal Recipe in Urdu and English. This is one of the best recipes by chef Abida Baloch at Masala TV show Dawat. Check out the other best recipes of chefs Abida Baloch.
Top relevant recipes of Qeema Matar Chawal Recipe in Urdu