Qorma Pulao Recipe | Masala Mornings | Masala TV | Shireen Anwar | Desi Food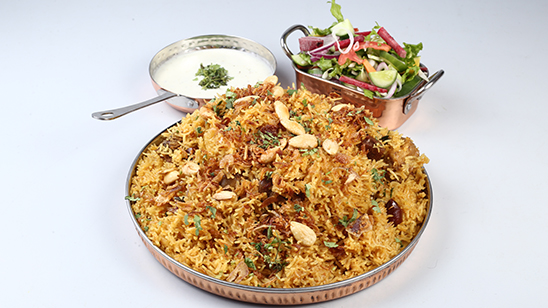 Oct 02, 2023 at 06:12 PM (GMT -04:00)

Check out the Qorma Pulao Recipe in Urdu. Learn how to make best Qorma Pulao Recipe , cooking at its finest by chef Shireen Anwar at Masala TV show Masala Mornings. Check all the Pakistan Cooking recipes in Urdu of Masala TV. Also Check Qorma Pulao Recipe , ingredients and complete Method.
Qorma Pulao is the ultimate guide to enjoy Desi Food. You must try this because everyone will love this one.
Watch this Masala TV video to learn how to make Qorma Pulao , Daal tarka and Quick kheer Recipes. This show of Masala Mornings with Chef Shireen Anwar aired on 30 June 2021.
Ingredients:
Mutton ½ kg
Rice ½ kg
Yogurt 1 cup
Brown onion 1cup
Ginger garlic paste 2 tsp
Turmeric ½ tsp
Salt 2 tsp
Chili powder 2-½ tsp
Whole red pepper 4
Whole mixed spices 1 tbsp
Almonds 10-12
Oil 1 cup
Method:
Soak rice for 20 mins, boil almonds and remove skin. Heat oil, add half qty of brown onion with mutton, ginger garlic paste, salt, chili powder, whole spices, whole red chili, fry well, add yogurt, fry well, add 2 cups water, cover and cook till mutton tender, when mutton tender add in soaked rice with enough water for rice to get tender, when water dries leave it on dum for 10 mins, remove in a platter, garnish with remaining brown onion, almonds, serve hot with kachoomber.
Ingredients:
Red lentil (Masoor) ½ cup
Split Bengal gram (chana) ½ cup
Clarified butter 2 tbsp
Mustard seeds 1tsp
Cumin seeds 1 tsp
Green chilies 3
Ginger chopped 1 tbsp
Garlic chopped 1 tbsp
Onion chopped 1
tomatoes chopped 2
Turmeric 1 tsp
Roasted & crushed cumin 1 tsp
Coriander leaves ½ cup
Coconut milk 1 can
Water 1 cup
Salt 1-½ tsp
Spinach finely chopped 1-½ cup
Ingredients to temper:
Clarified butter ¼ cup
Asafoetida pinch
Red chili dried 4
Onion chopped 2 tbsp
Lemon juice 1 tbsp
Parathas to serve
Method:
Soak both the daals and boil until done. Heat ghee in a pan, add mustard seeds, cumin seeds, chopped ginger garlic, green chilies, add chopped coriander leaves, fry for 30 secs, add chopped onion, salt, cook till onion soft, add chopped tomatoes till they turn mushy, add spinach, cook for 5 mins, add all the dry spices, coconut milk, add the daals, salt with 1 cup water, cover and cook in pressure cooker till done.
For tadka Heat ghee, add heing, add dried red chilies, sliced onion, pour over the daal, garnish with some chopped coriander leaves and lastly add lemon juice and allspice powder ½ tsp.serve with monosalwa parathas
Ingredients:
Water 1 cup
Milk 1 cup + 3 cups
Soaked rice 1 cup
Clarified butter 1 tbsp
Cardamom powder 1 tsp
Sugar 1 cup
Almonds and pistachios 2 tbsp
Saffron ½ tsp
Method:
In a pressure cooker add 1 cup water, 1 cup milk, 1 cup soaked rice and 1 tbsp ghee, cook on high heat for 5 mins, then lower heat for 10 min, one spoon open lid, add cardamom powder, remaining milk and lightly blend with hand blender till you see small grains of rice, don't blend too much or too little, add sugar, cook for 5 mins, transfer into a clay bowl, sprinkle nuts on top, serve chilled.

Qorma Pulao Recipe in Urdu and English
At Masala TV you can check complete Qorma Pulao Recipe in Urdu and English. This is one of the best recipes by chef Shireen Anwar at Masala TV show Masala Mornings. Check out the other best recipes of chefs Shireen Anwar.
Top relevant recipes of Qorma Pulao Recipe in Urdu