Raita Recipe | Tarka | Rida Aftab | Dessert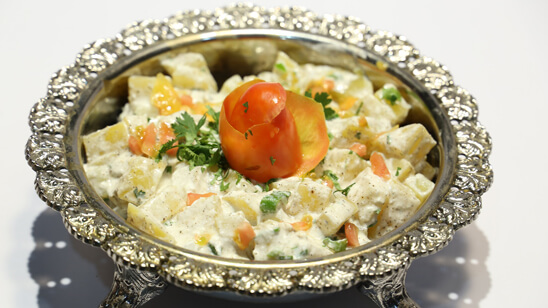 Aug 18, 2022 at 10:02 PM (GMT -04:00)

Check out the Raita Recipe in Urdu. Learn how to make best Raita Recipe , cooking at its finest by chef Rida Aftab at Masala TV show Tarka. Check all the Pakistan Cooking recipes in Urdu of Masala TV. Also Check Raita Recipe , ingredients and complete Method.
A good tasting Raita can make any type of Desi food feel amazing. Make this Raita will rice dishes, all bbq dishes, karahi and much more!
Watch this Masala TV video to learn how to make Raita ,Mutanjan and Malai Tikka Biryani Recipes. This show of Tarka with Chef Rida Aftab aired on 15 July 2020.
Ingredients:
Boiled potatoes 1cup
Yogurt 2cups
Black pepper ½ tsp
Salt ½ tsp
Mint leaves 2tbsp
Green chili (chopped) 1
Garlic chopped 1tbsp
Method:
Beat yogurt and mix boil potatoes, black pepper, salt, mint leaves green chili & chopped garlic then serve
Ingredients:
Rice (boiled) ½ kg
Sugar ½ kg
Water 1 cup
Mix Ashrafi 1 cup
Whole dried milk 250 gm
Yellow Food Color 1 pinch
Red Color 1 pinch
Green Color 1 pinch
Chum Chum sweets 250 gm
Screwpine essence few drops
Sterling Silver Leaves as required
Cardamom Powder ½ tsp
Clarified butter ½ cup
Dry Fruits ½ cup
Method:
In a pan, heat ghee ad sugar, cardamom powder, screwpine essence, water and cook well.
When Syrup is ready add boiled rice and mix, let it simmer for 45 minutes.
When simmer comes, add red and green color.
Now add whole dried milk, mix ashrafi, chum chum sweets and removes from the stove.
After this, take it out in a dish.
Garnish with dry fruits and silver leaves.
Ingredients:
Chicken (boneless) ½ kg
Rice (soaked) ½ kg
Green tomatoes ½ kg
Green chilies 50 grams
Star aniseeds 2
Green cardamoms 4
Bay leaves 2
Whole black pepper corns 1 tsp
Red chili powder 1 tsp
Whole white cumin seeds 2 tsp
Garlic, ginger paste 2 tsp
Fresh cream 1 cup
Yogurt (whipped) 1 cup
Mint leaves (chopped) 2 bunch
Screwpine essence 1 tsp
Yellow food color ½ tsp
Salt 1 tsp
Butter 50 grams
Oil ½ cup
Method:
Marinate chicken with yogurt, salt, cream, black pepper, cumin, star aniseeds, red chilies, cardamoms and ginger, garlic paste for an hour.
Heat oil in a pan.
Add tomatoes and fry for a while.
Add chicken and cook for 20 minutes on medium flame.
In a separate pot heat butter and add green chilies, salt, bay leaves and rice with water.
Cook until water dries.
Make space in centre of cooked rice.
Place chicken, mint, screw pine and food color in the centre and put on dum.
Smoke ingredients before serving.

Raita Recipe in Urdu and English
At Masala TV you can check complete Raita Recipe in Urdu and English. This is one of the best recipes by chef Rida Aftab at Masala TV show Tarka. Check out the other best recipes of chefs Rida Aftab.
Top relevant recipes of Raita Recipe in Urdu