Ras Malai Recipe | Tarka | Rida Aftab | 19 October 2022 | Masala Tv Recipes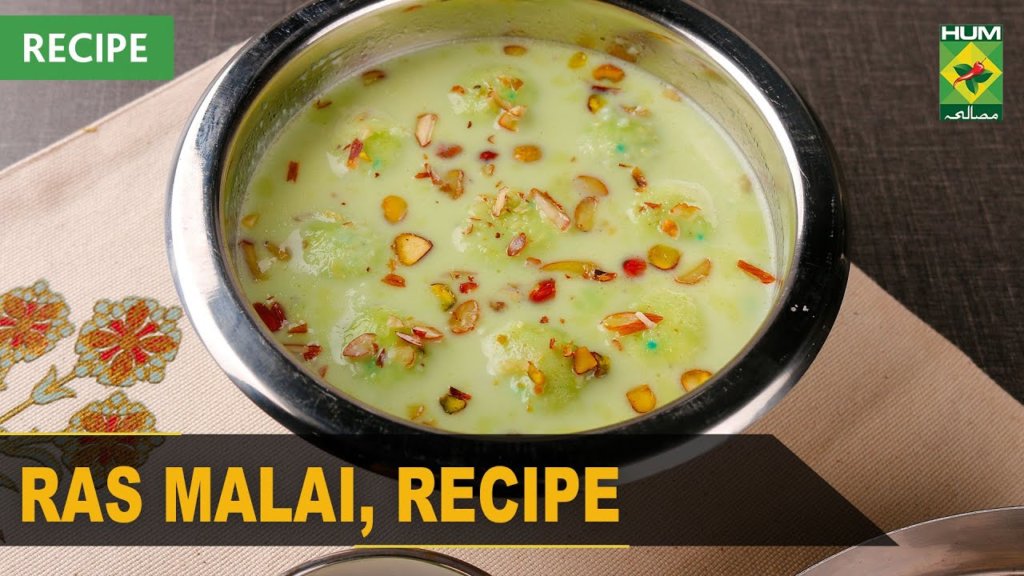 Sep 23, 2023 at 06:07 AM (GMT -04:00)

Check out the Ras Malai Recipe in Urdu. Learn how to make best Ras Malai Recipe , cooking at its finest by chef Rida Aftab at Masala TV show Tarka. Check all the Pakistan Cooking recipes in Urdu of Masala TV. Also Check Ras Malai Recipe , ingredients and complete Method.
Subscribe To Masala TV Recipes YouTube Channel! https://bit.ly/MasalaTV
The show is hosted by Chef Rida Aftab who not only cooks South Asian dishes but also offers solutions regarding storage of food and longevity of ingredients. It is the chef's relatable personality that is the unique selling point of the show.
This Ras Malai is filled with classic traditional flavours that you can never go wrong with this amazing recipes.
#RasMalai #khichdi #masalatv #Tarka #foodie
Click Here :https://www.masala.tv/karahi-chicken-…
to watch this Masala TV video to learn how to make Ras Malai, Moong Daal Khichdi And Aam choor bhari mirchein Recipes.
This show of Tarka with Chef Rida Aftab aired on 19 October 2022.
Ingredients
Fresh milk ½ litre
Sugar 1 cup
Cardamom 4
Corn flour 1 Tbsp
Vanilla essence few drops
For the ras malai balls:
Milk Powder 1 cup
Flour 2 Tbsp
Egg whites 1
Baking powder 1 Tbsp
Butter 2 Tbsp
Almond, pistachio for garnish
Method:
Boil fresh milk and add all the ingredients.
To make the balls:
Take 1 cup of dried milk, flour, egg white, baking powder, and butter and mix. After mixing shape into balls. Now put them in the cooked milk on low flame and continue cooking. Garnish with almonds and pistachio. Serve.
Ingredients:
Split green gram (soaked) 2 cups
Rice (soaked) 2 cups
Turmeric 1 tsp
Clarified butter ½ cup
Cumin 1 tsp
Mustard seeds 1 tsp
Green chilies 6
Garlic 2 cloves
Tomatoes 2
Salt 1-1/2 tsp
Water 4 glasses
Green coriander 1 bunch
Ingredients for oil tempering:
Onion 1
Whole red chilies 6
Cumin 1 tsp
Curry leaves 6
Oil 4 tbsp
Method
Heat oil and add mustard seeds, turmeric, cumin, garlic and salt. When aroma comes then adds tomatoes and sauté. Now add split green gram and rice with water and cover for 20 minutes. Then mix them well and add green chilies and green coriander. Now heat oil add onion, whole red chili, cumin and curry leaves and give sizzling effect.
Ingredients:
Dried mango powder 2 Tbsp
Red chilies (whole) 6
Roasted cumin 1 tsp
Black salt 1 tsp
Ginger powder 1 Tbsp
Garlic 6
Mint leaves 1 bunch
Yoghurt 1 cup
Water ½ cup
Green chilies 250 grams
Oil for frying
Method:
In a blender, mix mango powder, chilies, cumin, salt, ?, garlic, mint leaves, yoghurt, and water all together and blend. Now fill this mixture inside green chilies and fry them. Serve hot.

Ras Malai Recipe in Urdu and English
At Masala TV you can check complete Ras Malai Recipe in Urdu and English. This is one of the best recipes by chef Rida Aftab at Masala TV show Tarka. Check out the other best recipes of chefs Rida Aftab.
Top relevant recipes of Ras Malai Recipe in Urdu