Rasgullay Recipe | Flame On Hai | Irfan Wasti | Dessert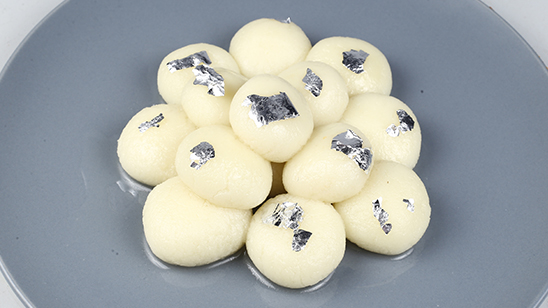 Mar 25, 2023 at 01:17 PM (GMT -04:00)

Check out the Rasgullay Recipe in Urdu. Learn how to make best Rasgullay Recipe , cooking at its finest by chef Irfan Wasti at Masala TV show Flame On Hai. Check all the Pakistan Cooking recipes in Urdu of Masala TV. Also Check Rasgullay Recipe , ingredients and complete Method.
Rasgullay taste like a piece of heaven on earth. These present beautifully and you won't be able to resist these !
Watch this Masala TV video to learn how to make Rasgullay, Lagan Kabab and Chimichurri Pasta Recipes. This show of Flame On Hai with Chef Irfan Wasti aired on 10 July 2021.
Ingredients:
Milk 1 liter
Lemon 1 to 2 large
Flour 2 tsp
Muslin cloth as required
SHEERA
Sugar 1 ½ cup
Green cardamom 2 to 3
Water 4 cups
METHOD:
Boil milk and turn off the flame and stir continuously for 2 minute. Add lemon juice to tear the milk. Sieve the milk from muslin cloth and leave for 4 to 5 hour. Add flour mix well and form into small balls. Be careful there is no crack in balls. For syrup, heat sugar, water with cardamoms and bring to boil. When boil comes add balls in syrup cover and cook for 5 minute. Cook more 20 minute turn the flame low. Remove from flame and keep rasgulllay for 2 to 3 hour, then used.
KABAB:
Beef mince 500 gm
Onion chopped 1 large
Ginger & garlic paste 1 tbsp
Poppy seeds 1 tbsp
Red chili crushed 1 tbsp
Coriander powder 1 tbsp
Salt to taste
All spice powder 1 tsp
GRAVY:
Clarified butter ¼ cup
Tomato puree 1 ½ cup
Red chili powder 1 tbsp
Turmeric powder ½ tsp
Salt to taste
All spice powder 1 tsp
Green chili big julienne 2
Fresh coriander chopped for garnish
Ginger julienne for garnish
METHOD:
For kabab mix minced with all ingredients well. Make shapes of kabab keep for 15 minute. For gravy heat oil adds tomato puree and all spices cook for 2 to 3 minute. Add all gravy on kabab leave for 15 minute for simmer. When kabab is done add green chilies, green coriander and ginger, serve well.
Ingredients:
CHIMICHURRI SAUCE:
Fresh coriander chopped 1 bunch
Onion chopped 1 medium
Garlic chopped 2 to 3 cloves
Oregano 2 tbsp
Salt 1 tsp
Red chili crushed 1 tbsp
Black pepper 1 tsp
Oil ¼ cup
Vinegar 2 tbsp
For Pasta Making:
Pasta boiled 1 cup
Chicken julienne ½ cup
Oil 1 tbsp
Garlic chopped 1 to 2 cloves
Chimi churri sauce as required
Tomato julienne 1 medium
METHOD:
For sauce blend all ingredients in blender well. Heat oil add garlic sauté well. Add julienned chicken fry well. Add chimi churi sauce cook for 1 minute. Add boiled pasta and julienned tomato mix well serve.

Rasgullay Recipe in Urdu and English
At Masala TV you can check complete Rasgullay Recipe in Urdu and English. This is one of the best recipes by chef Irfan Wasti at Masala TV show Flame On Hai. Check out the other best recipes of chefs Irfan Wasti.
Top relevant recipes of Rasgullay Recipe in Urdu