Rasmalai Mousse in a Pastry Recipe | Food Diaries | Zarnak Sidhwa | Dessert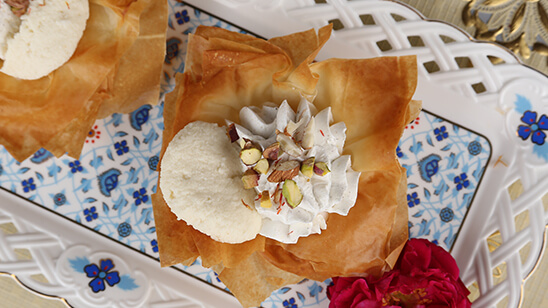 Jan 26, 2023 at 05:40 PM (GMT -05:00)

Check out the Rasmalai Mousse in a Pastry Recipe in Urdu. Learn how to make best Rasmalai Mousse in a Pastry Recipe , cooking at its finest by chef Zarnak Sidhwa at Masala TV show Food Diaries. Check all the Pakistan Cooking recipes in Urdu of Masala TV. Also Check Rasmalai Mousse in a Pastry Recipe , ingredients and complete Method.
Here is a recipe of Rasmalai Mousse in a Pastry. Doesn't it sound like the perfect fusion of desi and western desserts? What are you waiting for? Give it a try today!
Watch this Masala TV video to learn how to make Rasmalai Mousse in a Pastry and Natural orange jellies Recipes. This show of Food Diaries with Chef Zarnak Sidhwa aired on 15 February 2021.
Ingredients :
Rasmalai mix :
Milk powder 2 tbsp
Icing sugar 1 tbsp
Cardamom Powder ½ tsp
Powdered Pistachios and almonds 1 tbsp
Bite-sized phyllo cups:
Phyllo sheets 1 package
Unsalted Butter ½ cup
Rasmalaimousse:
Whipping cream 2 cups
gelatin 1 tbsp
icing sugar 7 tbsp
Cornflour 1 tbsp
Cardamom Essence 1 tsp
Rasmalai mix 4 tbsp
Saffron strands ¼ tsp
Garnish:
Rasmalai wedges as required
Crushed Pistachios as required
Saffron strands as required
Edible dried rose petals as required
Method:
Unwrap one roll of phyllo:
dough and lay it flat on a clean surface. Roll the remaining sheets. Wrap it in its plastic wrap and store the sheets back in the refrigerator. They dry out very quickly, so keep them wrapped or covered in a moist tea towel. Lay one sheet on a clean surface and brush the entire sheet with melted butter very gently. Lay the other phyllo sheet on top and butter it again. Press gently so that the sheets stick to each other. Repeat the process till 6 sheets are used. Split them into two halves vertically. Using a pizza cutter, cut the sheets into 6 squares horizontally. Keep the square slightly bigger than the muffin pan cavity. Grease a muffin pan with butter. Transfer a phyllo sheets square into the greased muffin pan. Gently press each square into the mold. Press the squares evenly around the edges to prevent air pockets. Poke a few tiny-sized holes at the bottom of each cup to let the steam escape. Bake at 180 degrees C for 10-12 minutes or until golden. Keep a watchful eye around 10 minutes as they burn easily. Once done, remove the phyllo cups from the oven. Let them cool for a few minutes, then remove them from the muffin pan.
For the Rasmalai mix:
combine milk powder, icing sugar, cardamom powder and pistachio powder and set aside.
For the Rasmalai mousse:
Take 1 cup of whipping cream in a cup. Add gelatin powder. Add rasmalai mix to the cream. Whisk it well into the cream, making sure there are no lumps in the mixture. Set aside. Pour the remaining 1 cup cream into a mixing bowl. Strain the rasmalai mix through the strainer. Push the rasmalai mix liquid through the strainer with a spoon. Discard the chunks left behind. Whisk the heavy whipping cream and rasmalai mix till thick. Add icing sugar and corn flour. Keep whisking for another 5 minutes or until it thickens. Lastly add cardamom essence and saffron. Transfer the mousse into a piping bag. Fill each phyllo cup with swirls of rasmalai mousse. Garnish with rasmalai wedge, chopped nuts and rose petals. Serve immediately.
Ingredients:
Gelatin 1tbsp Water 250 ml
Orange juice 250 ml
Granulated sugar 75gm
To decorate:
Dollop of yogurt as required
Orange 1
Mint leaves few
Method:
Place the water and sugar in a saucepan over a low heat and stir until the sugar dissolves. Sprinkle the gelatin over the surface of the water and stir in until dissolved. Remove from the heat and add the orange juice. Pour into individual moulds and place in the fridge until set. Decorate with a dollop of yoghurt, orange and mint leaves.

Rasmalai Mousse in a Pastry Recipe in Urdu and English
At Masala TV you can check complete Rasmalai Mousse in a Pastry Recipe in Urdu and English. This is one of the best recipes by chef Zarnak Sidhwa at Masala TV show Food Diaries. Check out the other best recipes of chefs Zarnak Sidhwa.
Top relevant recipes of Rasmalai Mousse in a Pastry Recipe in Urdu