Saag Kofta Recipe | Dawat | Abida Baloch | Desi Food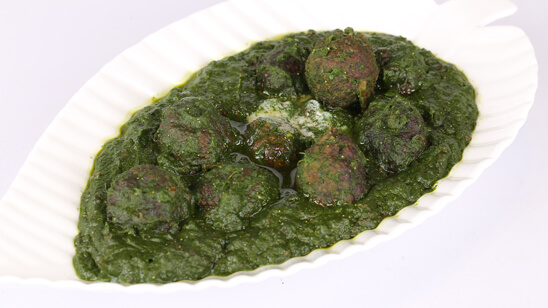 Dec 06, 2021 at 07:28 AM (GMT -05:00)

Check out the Saag Kofta Recipe in Urdu. Learn how to make best Saag Kofta Recipe , cooking at its finest by chef Abida Baloch at Masala TV show Dawat. Check all the Pakistan Cooking recipes in Urdu of Masala TV. Also Check Saag Kofta Recipe , ingredients and complete Method.
Saag Kofta is a winter favorite and if you miss out on this recipe, there will only be regrets, so give it a try and brace yourself for a flavorful feast!
Watch this Masala TV video to learn how to make Saag Kofta and Rajasthani Laal Maas Recipes. This show of Dawat with Chef Abida Baloch aired on 28 December 2020 .
Ingredients:
Beef mince 30 gm
Split chickpea (roasted) 2 tbsp
All spice 1tsp
Onion 1
Coriander few leaves
Poppy seeds 1tsp
Pieces of bread 2
Green chili (chopped) 3
Red chili 1tsp
Coriander powder 1tsp
Salt to taste
For The Gravy:
Spinach 1 kg
Fenugreek leaves 1 bunch
Dill 2 bunches
Turmeric 1tsp
Onion (sliced) 2
All spice powder 1 tsp
Oil 1 cup
Red chili powder 1tbsp
Ginger garlic paste 1tbsp
Butter 1tbsp
Salt as required
Green chilies 4
Method:
Take all the ingredients of kofta and chop it in a chopper. Take them a round shape and fry it in oil. Now spinach, fenugreek leaves and soya in a pan and cook it until water evaporate. Then blend it. Take oil, Heat up oil. Put onion in it and golden brown it. Now add all the ingredients of gravy and cook it well. When oil comes out then add saag, kofta and butter and leave it over slow flame for 5 minutes and serve.
Ingredients:
Beef 500 gm
Dry red chilies (soaked) 10
Yogurt 1/2 cup
Cumin seeds 1 tsp
Coriander powder 2 tsp
Turmeric powder 1/2 tsp
Ginger garlic paste 1 tbsp
Clarified butter 1/2 cup
Black cardamoms 2
Green cardamoms 2
Cinnamon stick 1 inch
Cloves 3
Bay leaf 1
Onions (chopped) 3
All spice powder 1/2 tsp
Salt to taste
Coriander leaves (chopped) for garnish
Charcoal 1 piece
| Ingredient & Recipe
Add the soaked dry red chilies and all the dry spices including cumin seeds, black cardamoms, green cardamoms, cinnamon stick, cloves and bay leaf. Then grind the spices into a fine paste in a mixer grinder. In a large mixing bowl, add mutton, yogurt, coriander powder, turmeric powder, ginger garlic paste and the dry red chili paste. Mix everything well and set aside to marinate in the refrigerator for an hour. Heat clarified butter in a heavy bottomed pan. Add onions and sauté till they turn light brown in color. Add the marinated mutton to the onions and sauté on high heat for two to three minutes. Add the required salt and water. Cover the pan with a lid and let it cook for 20 to 25 minutes. Once the beef is cooked and curry is according to your desire, add all spice powder and give a quick stir before removing from heat. Light the piece of charcoal, place it in a small metal bowl and place the bowl in the centre of the pan. Pour some ghee and quickly cover the pan with a lid and set aside for two to three minutes. Remove the charcoal bowl. Transfer to a serving bowl and garnish it with coriander leaves.

Saag Kofta Recipe in Urdu and English
At Masala TV you can check complete Saag Kofta Recipe in Urdu and English. This is one of the best recipes by chef Abida Baloch at Masala TV show Dawat. Check out the other best recipes of chefs Abida Baloch.
Top relevant recipes of Saag Kofta Recipe in Urdu