Saib ka Murraba Recipe | Flame On Hai | Irfan Wasti | Dessert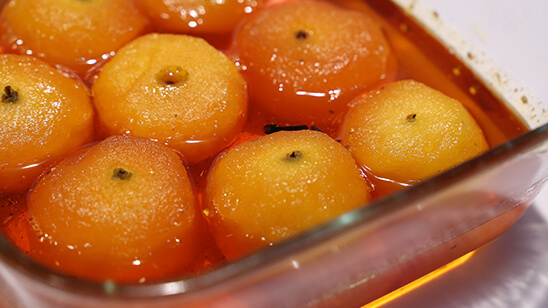 Oct 28, 2020 at 02:28 AM (GMT -04:00)

Check out the Saib ka Murraba Recipe in Urdu. Learn how to make best Saib ka Murraba Recipe , cooking at its finest by chef Irfan Wasti at Masala TV show Flame On Hai. Check all the Pakistan Cooking recipes in Urdu of Masala TV. Also Check Saib ka Murraba Recipe , ingredients and complete Method.
This Saib ka Murraba is a traditional form of apple jam that you can easily make at home with this step by step guide.
Watch this Masala TV video to learn how to make Saib Ka Murraba , Chicken Stew With Appam and Bhaji Masala Recipes. This show of Flame On Hai with Chef Irfan Wasti aired on 19 September 2020.
Ingredients:
Apple 1 kg
Sugar 1 kg
Cloves 3- 4
Cardamom powder ½ tsp
Lemon juice 2 tbsp
Water 1 liter
METHOD:
Heat water in pan, add peeled apples in it and cook for 10 to 12 minute. In pan add water, sugar, cloves and cardamom to form syrup. When it thick add apple cook till it's done. Add lemon juice cook for 2 to 3 minute. Cool and freeze in air tight container.
Ingredients:
Chicken boneless cubes 500 gm
Oil ¼ cup
Garlic chopped 1 tbsp
Green chili chopped 1 tbsp
Fenugreek 1 tsp
Whole red chilies 4 – 5
Bay leaves 2
Cinnamon sticks 2 -3
Cumin 1 tbsp
Black cardamoms 2 – 3
Salt as required
Red chili powder 1 tbsp
Coriander powder 1 tbsp
Crushed coriander 2 tbsp
Black pepper 1 tsp
Onion sliced 2- 3
Tomato chopped 2 medium
Water as required
Yogurt 250 gm
For Appam:
Rice 1 cup
Coconut crushed 2 tbsp
Salt as required
Soda bi carbonate ½ tsp
Water as required
METHOD:
Soak rice for 4 to 5 hour. Dissolve coconut in water to form paste. Add rice, coconut paste and water in blender, blend well. Cover, leave for whole night. Add salt, soda bi carbonate and half coconut paste mix. Heat oil in pan add batter and cover cook for 1 to 2 minute for stew heat oil add fenugreek, whole red chilies, cardamoms, bay leaves, cinnamon and cumin fry well. Add garlic and green chilies cook. Add chicken fry well. Add yogurt and all spices cook. Add water leave for simmer. When chicken is done and oil is separate add onion and tomatoes leave for simmer for 10 to 12 minute. Mix and serve.
Ingredients:
Potato cubes boiled 1 cup
Carrot cubes boiled ½ cup
Green peas boiled ¼ cup
Cauliflower boiled ½ cup
Oil ¼ cup
Fenugreek 1 tsp
Onion chopped 1
Ginger garlic paste 1 tbsp
Tomato puree ½ cup
Salt as required
Cumin 1 tsp
Red chili powder 1 tsp
Red chili whole 4-5
Coconut milk powder 1 tbsp
Green coriander chopped as required
METHOD:
Heat oil add fenugreek and whole red chilies fry well. Add onion fry well. Add tomato puree and spice cook well. Add vegetables cook. Add dissolved coconut milk powder cook till becomes thick. Garnish with coriander, serve.

Saib ka Murraba Recipe in Urdu and English
At Masala TV you can check complete Saib ka Murraba Recipe in Urdu and English. This is one of the best recipes by chef Irfan Wasti at Masala TV show Flame On Hai. Check out the other best recipes of chefs Irfan Wasti.
Top relevant recipes of Saib ka Murraba Recipe in Urdu