Sajji Rice Recipe | Tarka | Masala TV | Rida Aftab | Desi Food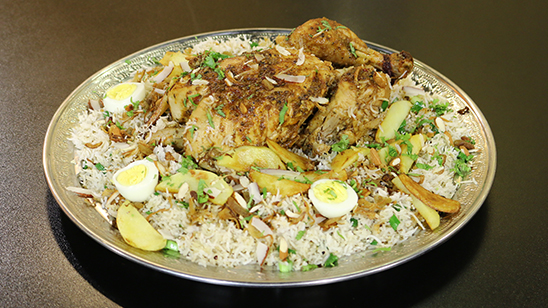 Jul 06, 2022 at 06:46 PM (GMT -04:00)

Check out the Sajji Rice Recipe in Urdu. Learn how to make best Sajji Rice Recipe , cooking at its finest by chef Rida Aftab at Masala TV show Tarka. Check all the Pakistan Cooking recipes in Urdu of Masala TV. Also Check Sajji Rice Recipe , ingredients and complete Method.
Now you can make Sajji Rice at home. This recipe will help you achieve the perfect taste and texture.
Watch this Masala TV video to learn how to make Sajji Rice and Barbeque Pizza Recipes. This show of Tarka with Chef Rida Aftab aired on 31 August 2021.
Ingredients for Sajji:
Whole chicken 1
Vinegar ½ cup
Chaat masala 2 tsp
Cumin 2 tsp
Salt 1 tsp
Ginger garlic paste 2 tsp
Red chili powder 1 tsp
Black pepper 1 tsp
Oil 4 tbsp
Ingredients for Rice:
Boiled rice 750 gm
Crushed black pepper 1 tsp
Salt ½ tsp
Fried potato ½ kg
Green onion 250 gm
Green chilies 4
Fennel crushed 2 tsp
Star anise ½ tsp
Fried onion 1 cup
Milk 1 cup
Mix dry fruit 1 cup
Method:
For Sajji:
Marinate chicken with vinegar, chaat masala, cumin, salt, ginger garlic paste, red chili powder, black pepper and oil for 1 hour. Add in pan cook on low flame till done. Add rice, crushed black pepper, salt, green onion, green chilies, crushed fennel and star anise mix well. Add chicken. Add milk and fry onion cook for 15 minute. Remove and serve with fried rice and mix dry fruit.
Ingredients:
Flour 2 cups
Yeast 1 tsp
Salt ¼ tsp
Baking Soda ½ tsp
Butter 2 tbsp
Milk as required
For Filling:
Tikka boti 1 packet
BBQ Sauce ½ cup
Tomato Ketchup 1 cup
Cheddar Cheese 1 Packet
Chopped Garlic 1 tbsp
Salt ¼ tsp
Crushed Red Chili ½ tsp
Oregano 1 tsp
Black Pepper 1 tsp
Butter 2 tbsp
For Topping:
Mushrooms 1 cup
Onion Slice 1
Method:
• In one dish add flour, yeast, salt, baking soda, butter along with milk as required. Knead smoothly and make rotia from the kneaded flour.
• Take another fry pan and add butter, chopped garlic and fry well.
• After this add tikka boti and cover.
• Also add salt, crushed red chilies, oregano, black pepper, BBQ sauce. Mix well and turn off the flame.
• Roll the rotia with the help of rolling pin and then add tomato ketchup.
• Now pour ready chicken, mushrooms along with sliced onion.
• In the end add cheddar cheese and bake on 200 c for 20 minutes.
• BBQ Pizza is ready to serve.

Sajji Rice Recipe in Urdu and English
At Masala TV you can check complete Sajji Rice Recipe in Urdu and English. This is one of the best recipes by chef Rida Aftab at Masala TV show Tarka. Check out the other best recipes of chefs Rida Aftab.
Top relevant recipes of Sajji Rice Recipe in Urdu