Schezwan Soup Recipe | Mehboob's Kitchen | Chef Mehboob Khan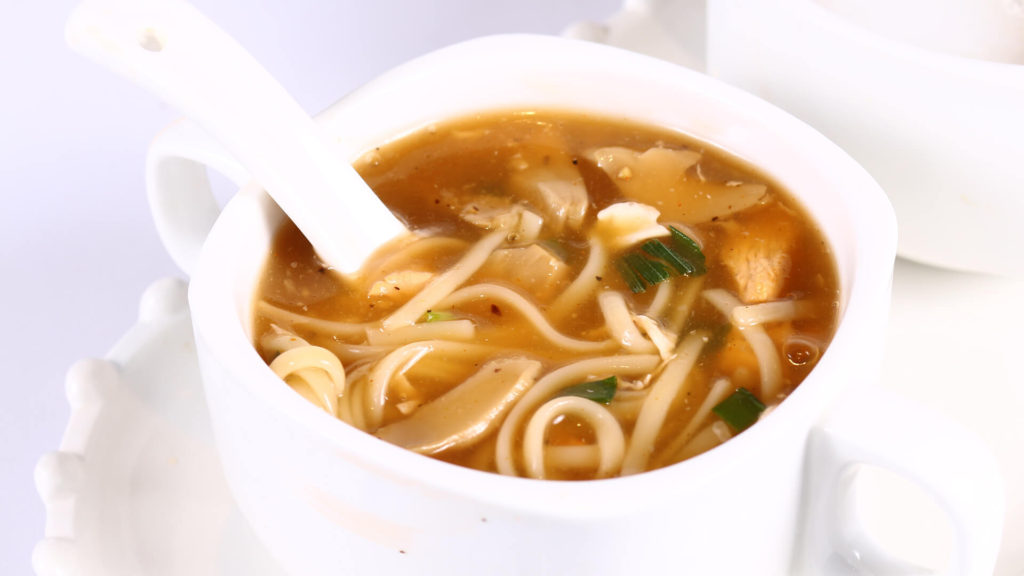 Dec 05, 2021 at 04:06 PM (GMT -05:00)

Check out the Schezwan Soup Recipe in Urdu. Learn how to make best Schezwan Soup Recipe, cooking at its finest by chef Mehboob Khan at Masala TV show Mehboob's Kitchen. Check all the Pakistan Cooking recipes in Urdu of Masala TV. Also Check Schezwan Soup Recipe, ingredients and complete Method.
Here is the super easy step by step recipe of our favourite Schezwan soup. Try it and share your feedback.
Watch this Masala TV video to learn how to make Schezwan Soup,Schezwan Chicken and Kabab Pizza Recipes. This show of Mehboob's Kitchen with Chef Mehboob Khan aired on 9 December 2019.
Ingredients:
Egg noodles boiled 1-1/2cup
Chicken (chopped) 1cup
Mushrooms sliced 1cup
Soy sauce 4tbsp
Sugar 1tbsp
Chicken stock 2liter
Prawns chopped 1cup
Vinegar 6tbsp
Eggs 6
Cornflour 7tbsp
Salt 1tsp
Black pepper 1tsp
Spring onions sliced 1cup
Chili sauce 1/3cup
Coriander chopped 2tbsp
Method:
In a pot add chicken stock. Bring it to a boil and add chili sauce, vinegar, salt, sugar, soy sauce, pepper, chicken and prawns. Cook for 5mins.remove the serum from top. Add noodles, mix cornflour in 1 cup of water and add it in the soup. Add eggs, mushrooms, coriander and spring onions to serve.
Ingredients:
Chicken boneless (cubed) 2cups
Ketchup 1-1/2cups
Peanuts 1/2cup
Garlic 1tbsp
Ginger 1tbsp
Oil 6-8tbsp
Salt 1/2tsp
Soy sauce 3tbsp
Green chili (cubed) 4
Red chili chopped 1-1/2tbsp
Capsicum (cubed) 1large
Carrots (cubed) 1large
Spring onion (cubed) 2
Sugar 2tbsp
Method:
In a pan heat oil and fry ginger, garlic. Add chicken and cook for a minute. Then add ketchup, sauce, salt, red chili chopped, sugar and 2cups of water and give it a boil. Now add corn flour then add peanuts and vegetables to mix and serve.
Ingredients:
Pizza sauce 1 ½ cup
Chicken chapli kabab 1 packet
Cheddar cheese 1 ½ cup
Mozzarella cheese 1 ½ cup
Sliced mushroom 1 cup
Sliced capsicum 1 cup
Sliced Onion 1 cup
Oil for frying
Thyme as required
Oregano as required
For the Dough:
Flour 750 gm
Yeast 1 ½ tbsp
Sugar 1 tsp
Salt 1 tsp
Eggs 2
Oil 6 tbsp
Method:
Mix the ingredients of the dough. Knead with lukewarm water. Cover and set aside to rise. Then fry the Chicken chapli kabab and set aside. Now roll out the dough in a pizza pan. Spread pizza sauce, thyme and oregano on top. Then sprinkle cheese, add Chicken chapli kabab and then vegetables. Bake on 200 c for about 25 minutes. Remove and serve hot.

Schezwan Soup Recipe in Urdu and English
At Masala TV you can check complete Schezwan Soup Recipe in Urdu and English. This is one of the best recipes by chef Mehboob Khan at Masala TV show Mehboob's Kitchen. Check out the other best recipes of chefs Mehboob Khan.
Top relevant recipes of Schezwan Soup Recipe in Urdu